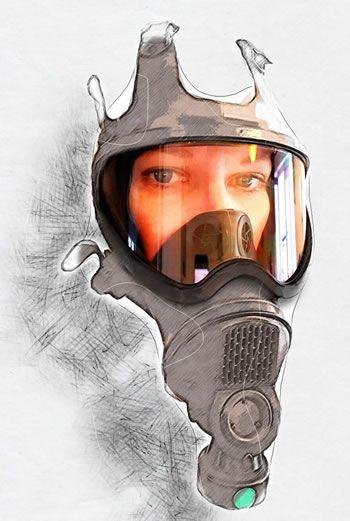 No doubt you have as many questions about gas masks as I did when I received it and I hope to answer them all here. This kinky rubber BDSM device is used for breath control or just for looking totally bad ass. Like an extra from a Mad Max film or for living out role play fantasies about the end of the world.
Gas masks can easily bring out all sorts of emotions in people for varied reasons. I personally love all that black shiny rubber and the feeling of being encased in it.
Obviously, this is not a covert kink device so you can't wear it out and about unless you like turning heads of course. Having two pounds of rubber and glass strapped to your face is certainly a statement. There is no mistaking the fact if you are seen wearing it you are either extremely kinky or there is a hazmat spill somewhere and you are a first responder.
In the past, I have often admired rubber fetish dolls in their skin-tight outfits and gas masks. So for me if I see someone with one on I immediately think they are a kinkster. Having now experienced gas mask play for myself I can see why they are so popular in the kink and fetish world.
So, let's talk about this particular gas mask, the Breath Control model from meo.de. It arrives in very plain packaging. Basically, a plastic sealed bag containing a product flyer and that's about it.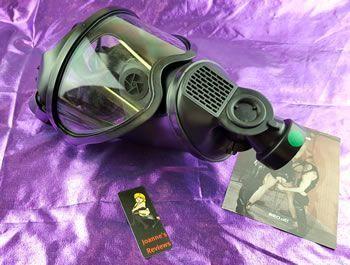 My delivery from Meo.de was very well packaged and it arrived in super quick time - German efficiency at its best.
It doesn't arrive with any instructions but that isn't a problem as it's pretty obvious how you put it on. Place your chin in the bottom of the mask and then draw the straps up and over your head. The six straps (two at the top and two on each side) will need to be adjusted to ensure that it fits snugly against your face. You need it to be an airtight fit.
You pull each strap in turn with it fitted and the straps adjust to the required length, then they stay in place. Once adjusted properly it will be a bit tighter to fit and remove.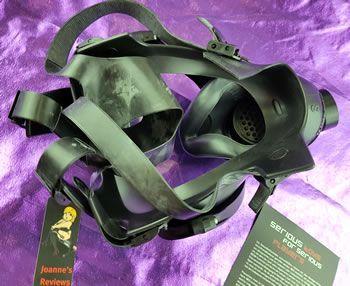 When you fit this gas mask your mouth and nose are inside a triangular section of the mask with its own seal. This keeps your breath away from the glass helping to prevent it misting up. It looks and feels like a separate mask within the gas mask itself.
This lower section of the gas mask is where all the action takes place. It has two rubber valve that opens in turn as you inhale and exhale. Basically the air you breath comes in through the bottom of the mask and then is expelled from the front.
The bottom of the mask has a threaded section (40mm) where you can fit a filter, hose or a gas mask air flow reducer. This is a white plastic attachment that can be fitted to restrict breathing as you will have to then breathe through a 6mm hole. The gas mask has a standard 40mm thread which is the same as on the British S10 respirator as well as Russian and Isreali ones.
It's a gas! Check out the breath control gas mask from Meo.de @MEO_TEAM
Click to Tweet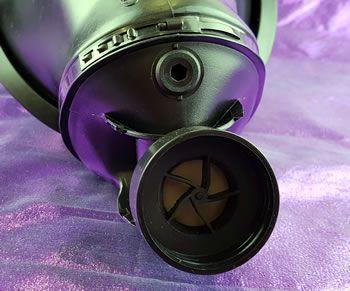 Breath play is a dangerous and an extreme practice within the scope of BDSM. Whether it is still in line with the SSC concept (safe, sane, consensual) or the RACK concept (risk aware, consensual kink) is a topic of controversy within the subculture. Yet, equipment like gas masks doesn't hurt people. Injuries happen when people don't know how things work or fail to adequately assess the risks.
This gas mask fits very snugly indeed and is surprisingly comfortable to wear even for extended periods. The large glass window on the front means that it is much less claustrophobic to wear than some of the other available gas masks. This makes it ideal for someone new to gas masks.
It doesn't wobble around as you move your head as it's so snug against your face like a little black alien face hugger.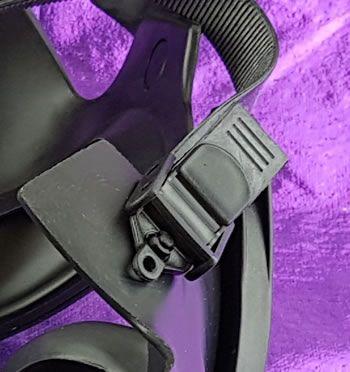 Once you fit it you will immediately smell the rubber and its a very relaxing smell for me and I love it. The tight feeling I experience when it's worn feels very good especially if I am wearing it with my latex hood. It feels like my whole head is being gently held and squeezed. It's a hard sensation to describe but the feeling you get when looking out at the world through the glass vision window sort of seperates you from reality. I guess that's how astronauts feel when looking through their helmets. As a submissive it certainly put me into my place.
So what can you do with it?
Well, apart from looking badass in it you'll find that it restricts your ability to communicate. When wearing it your voice is muffled. It doesn't restrict your hearing. But when I wear it with my Latex hood the combination of the two does affect my hearing. You could use it with a blindfold for further sensory deprivation fun and games.
It can obviously be used for breath control where you can have your breathing curtailed or even stopped by a partner if you have a safe method of play agreed. I generally hold something when playing like this. If I drop it then it's considered a sign of distress and the mask is immediately removed by my Dom. Placing a hand over the inlet will prevent you from breathing. As you struggle and try to breathe, the mask is sucked onto your face and this is a very scary sensation.
As a Dominant, it's important that you pay close attention to your submissive if he/she is wearing a gas mask. Concentrate on their eyes and know what to do if a panic attack or loss of consciousness sets in. Always have a safe system of play and easily understandable safety signals.

Stunt Cock
It can also be used for forced intoxication using poppers (alkyl nitrate) or even nitrous oxide if you had the required equipment like a hose. Meo.de do sell hoses for their gas masks for this purpose.
Think Safety when using a gas mask in a kinky play session and have clear safety signals in place.You can stuff a hose full of cotton wool to restrict breathing and if you add some drops from a popper you can force inhalation very efficiently. Lots of people use odorisers or poppers to help them relax especially for anal sex. I did try a popper in this gas mask and the effect was almost immediate. It was much more effective than just using it as a room odorizer.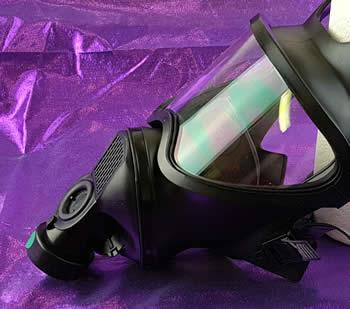 It isn't really my thing but I had to try it and you do have this option. You could even pack the inlet of the gas mask with cotton wool if you wanted to try this style of play.
If you're tempted to try some play with poppers then please make sure that you understand the risks of doing so. A hose would make it much easier for using them whilst moving around or having sex.
If you are bringing a gas mask into a play scene then only do so with someone that you trust 100%. Also, make sure that you discuss safe signals and what exactly the scene will consist of. You need someone who won't get carried away and will keep a close eye on you and be trusted to act in your best interests. It's important that you know how to get out of a tricky situation before it develops into something serious.
Key Features
Key features:
Rubber gas mask
Six adjustable straps
Wide and clear vision window
40mm Hose/Filter connection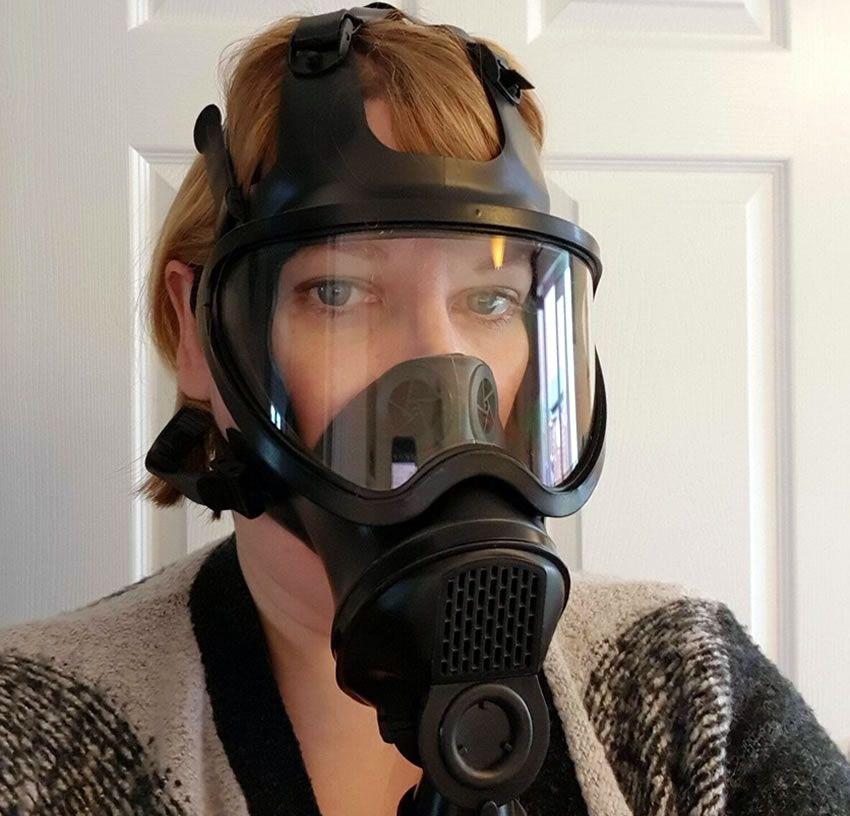 Final Thoughts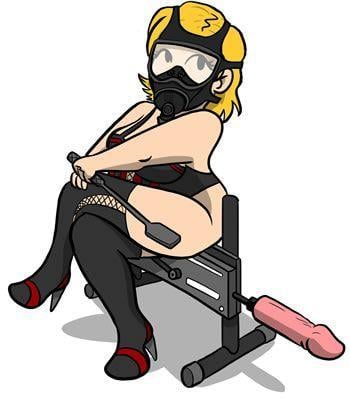 I really enjoyed playing with the Breath Control Gas Mask from meo.de. It's very good quality and extremely effective whilst also being very comfortable to wear.
With excellent vision and features, I can give it a strong recommendation for anyone looking for a great gas mask. It would make an ideal first-time gas mask or an addition to anyones kinky collection of BDSM toys.
If you're looking for a kinky way to add some rubber into your life or to experiment a little then grab one of these gas masks but remember to always play safe.
I was sent the Breath Control Gas Mask by Meo.de and I would like to thank them for giving me the opportunity to review it for them. Check out their site for more kinky products like this one.
Joanne's rating
If you're interested in gas mask play then check out my range of Gas Mask Breath Restrictors.
Where Can I Get One From?

Grab one of these amazing gas masks from Meo.de and check out the rest of their wares. They carry a huge range of kinky products and this isn't the only gas mask that they offer. Grab one for just 119,00 € or £105.47 at todays exchange rate.
Check them out and don't forget to tell them that Joanne says "Hi".
---
---
Disclaimer - I was sent the Breath Control Gas Mask to review free of charge and this has in no way affected the outcome of this review. This post contains affiliate links and if you purchase something when you follow one of these links I may receive a small commission at no cost to you. For more information check out my disclosure page.