Delivery and packaging
These candles arrived together with the other review items I was sent, a whip and some Shibari ropes.
All of the items arrived well packaged in a plain cardboard box. That is good news as discretion is a must when shopping for BDSM kit online, and it is a massive concern for many people. PCS realise that and ship their products discreetly.
The candles themselves came wrapped in foam to protect them in transit, and I can confirm that all four of them were in perfect condition when they got here. They had no chips or cracks, and I couldn't wait to get started playing with them.
But of course, that had to wait while I took some photos of them before introducing them to fire and then introducing the wax to my submissives naked form.
Product design and materials
I love the branding on these candles, PCS wrap a card label around their candles that carry their logo, and it looks great.
You should, of course, remove these labels before lighting the candles, but I can't bring myself to do so. I love the look, and once I burn the candle down closer to the label, I will remove it. But for now, they are staying put.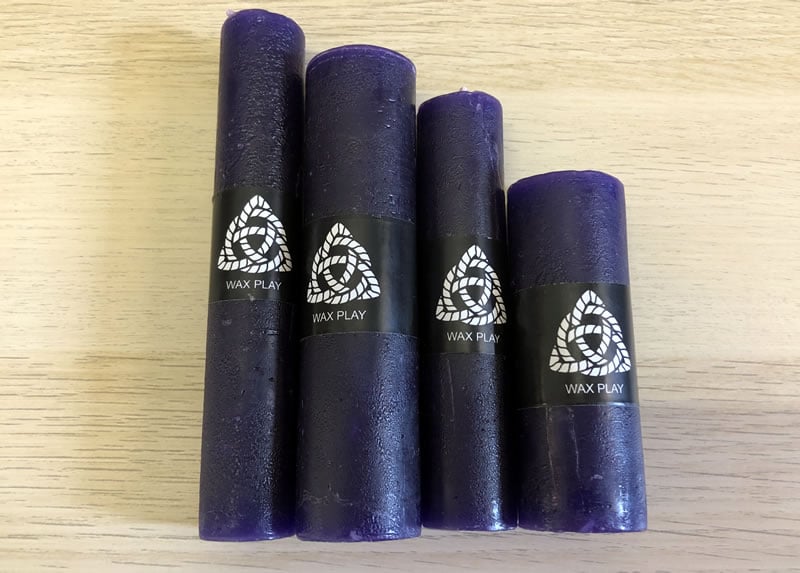 The PCS branding on these candles looks really good.
You get four candles in this wax play kit, and each is a different size. The wider candles are perfect for building up a large pool of molten wax that you can then drip onto your play partner or yourself, of course. Each candle has a different length (from 6.8cm/2.69" to 16cm/6.38") and width (from 2.5cm/1" to 3.5cm/1.4") and each will last for multiple sessions
The range of sizes means you can easily choose one that is most comfortable, as holding a candle with your arm stretched out for some time can be tiring.
Now a word on safety before continuing with this review. If you are new to wax play, then you should hopefully find this helpful. If you are a seasoned pro, then please bear with me, as safety is important.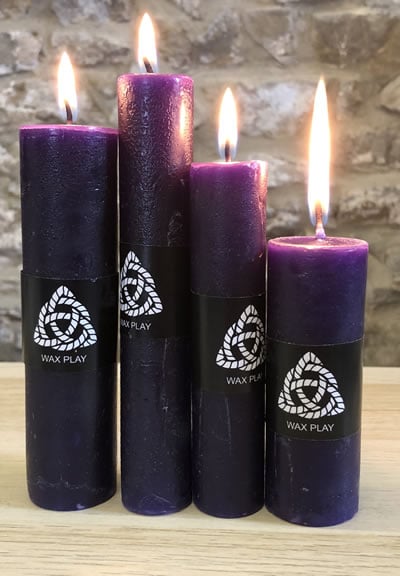 Wax play is a milder form of fire play that brings risks, manageable ones, but you should think safety before a wax play session.
Never use household candles for wax play as the wax used in them melts at a much higher temperature and can cause burns on bare skin.
Wax play candles are made from soy or paraffin wax, which melts at a much safer lower temperature. These candles are paraffin-based.
Always have a bowl of cold water and a flannel on hand; this isn't to put out any fires, but heaven forbid you need to do that, then it's good to have. It is more for care and support. If the wax play becomes too intense or you need to cool down an area of the body quickly, the cold flannel does that effectively and rapidly.
You can also tie it in with temperature play, offsetting the hot wax with moments of cool soothing sensations.
When trying out new candles, always test on a small area to make sure you don't get any reactions. I like to drop a few drops onto the inside of my wrist, and I leave it there for about thirty minutes before peeling the wax off. Any redness is a sign that you may be allergic to some of the ingredients in the wax.
I am delighted to confirm that even with my sensitive skin and sub'r' is the same, neither of us had any problems with these candles. In fact, the blend of wax is fabulous and much better than candles we have used in the past.
That brings me nicely to how these candles performed in use.
Performance
We had so much fun with these candles. If I had to describe how they feel in your hand, I would ask you to think of crayons. These candles have a nice surface texture, and the paraffin wax feels just like a crayon.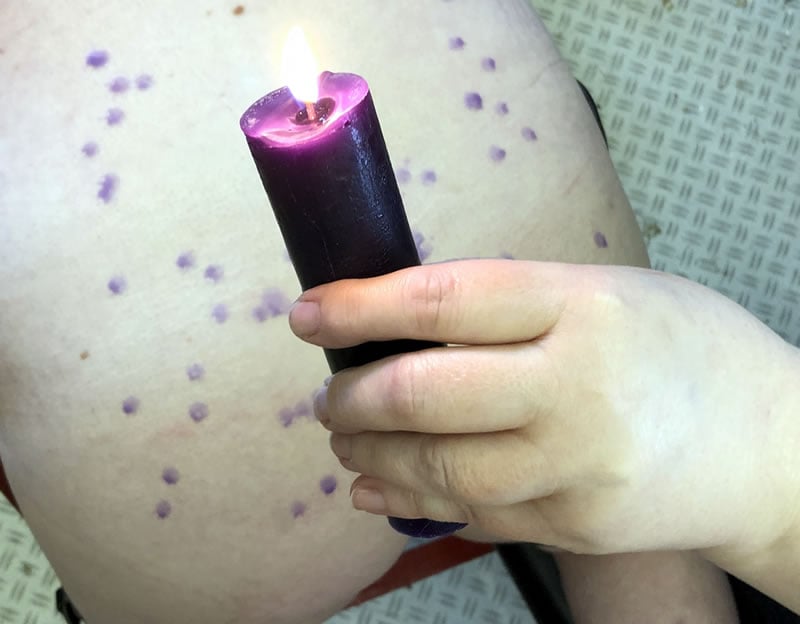 The wax used in these candles is fantastic, you can vary the temperature and it freely comes away from the skin after play.
With some candles I have played with in the past, I have had problems scraping the wax off the skin as it is incredibly sticky at skin temperatures. I usually rub some baby oil into the skin before play to help with wax removal afterwards, but that isn't needed with the PCS candles.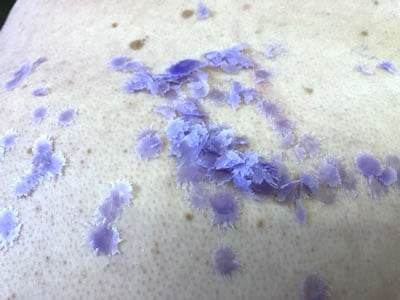 This wax is excellent; it just quickly and cleanly scrapes away from the skin, leaving no residue afterwards. I like to use a knife for wax removal (blunt bladed for safety), but an old bank card is just as effective. Just angle it and push it along the skin, and the wax will just come away and be collected on the card/blade for disposal.
Wax play is a delicious sensation, and depending on how you hold the candle and allow the wax to fall, you can tweak the sensations. I recommend starting with the candle held high above the recipient. This will means the wax is a little cooler when it lands on the skin. Allowing it to drip from lower will create a hotter sensation.
Areas like the shoulders and other fleshy areas are good to start with before you get more intimate. Once warmed up, we enjoy genital wax play, and on shaven regions, the sensations can feel intense and highly enjoyable. Obviously, I can't show pictures of that area of play, but you get the idea from these wax pics all over the loverly sub'r'.
You can get creative and artsy with your wax play concentrating the wax to create icons or pictures or just let it drip all over to keep your submissive guessing as to where the wax is going to fall next. Try alternating single drips with letting the wax melt and build up so you can apply a nice run of them in quick succession.

Wax play can be devlishly good fun and is a fantastic form of temperature play.
Wax play is a lot of fun, and these candles are fantastic; my others have been pushed to one side now as these are my favourites by far.
Passion Craft Store has a great range of BDSM Candles to check out and enjoy. I must admit to loving their red ones; the colour looks so vibrant and rich.
If you are interested or curious about BDSM Wax Play then check out Joanne's review of the set of four candles from Passion Craft Store.
Click to Tweet
Key Features
Key features:
Paraffin wax.
Different lengths and diameters allow you to mix thing up a bit.
Low melting temperature.
Custom colours available on request.
I would recommend it to:
Anyone looking to explore wax play.
Anyone who enjoys temperature play.
Anyone looking for candles that look good and feel great.
I wouldn't recommend it to:
Anyone sensitive to paraffin based products.
Final Thoughts
Passion Craft Store has a reputation for quality products, and this is proven once again with this wax play kit.
The paraffin wax blend is superb; it melts freely and is so easy to clean up after play. We found the temperature of them just right, and varying the height of the candles above skin allows you to tweak the sensations to suit your play style.
If you are looking to restock your wax play items or fancy giving it a go, then this is a wax play set that I can strongly recommend.
I was sent these BDSM Wax Play Candles by Passion Craft Store and I would like to thank them for giving me the opportunity to review it for them.
Joanne's rating
Where Can I Get One From?
Grab one of these sets of four BDSM WaX Play Candles from Passion Craft Store for 42$ (about £29.80) which is good value for money.
Check them out and don't forget to tell them that Joanne says "Hi".
Disclosure
This review does not contain affiliate links, for more information about affiliate links check out my disclosure page.