Bathmate Direct is a UK company, and they are the manufacturer of the fantastic Bathmate Hydromax X30 Wide Boy Penis Enlarger that I reviewed earlier this year - it really does work. They always delivery their products quickly and under plain wrapper, so you needn't worry about your postie knowing you like to improve your performance in bed with some cool aids.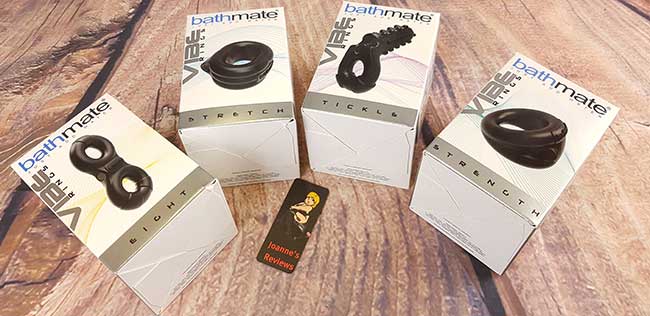 I like the retail display boxes, they are big and hint at big things to come
Before I talk about each, in turn, I want to tell you what cock rings do and how they can improve, size, pleasure and also stamina in the bedroom.
Joanne wrote an excellent article on correct sizing for cock rings which is well worth reading, it is imperative that you get a cock ring that fits snugly but not too tight. That is crucial with metal cock rings, but one of the great things about the Bathmate cock rings is that they are stretchy and so will cater for all penis girths.
Cock rings apply pressure around the base of the penis, and this allows blood to enter the penis while restricting its ability to leave. This simple fact allows for bigger and harder erections, yes cock rings can make your happy chap much harder, and that can not only increase your pleasure but also your partners as they reap the benefits as well.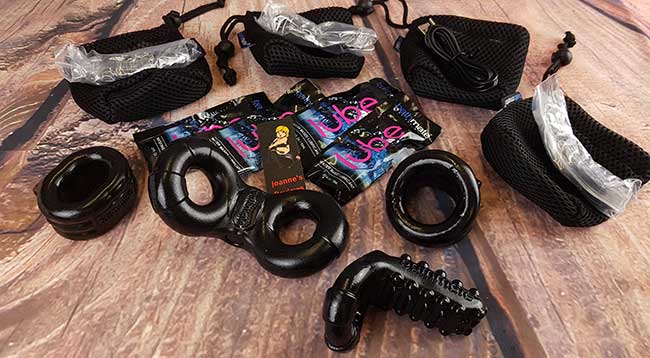 I love the storage bags and it is a nice touch receiving a sample sachet of lube to enjoy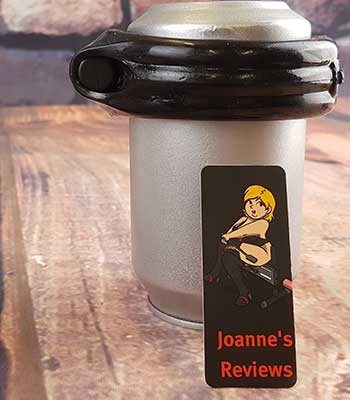 Each cock ring is supplied in its own attractive retail display box which carries lots of product information. Inside you will find a good set of instructions, the cock ring itself inside a drawstring mesh storage case which is a great feature, a USB charging cable and also a sample sachet of Bathmates own brand of water-based lube.
I love the storage bags, they are a nice touch and very functional too. The lube was a lot of fun to use, lube can really help with fitting and comfort of cock rings, and of course, it is also great for masturbation of fucking too.
These cock rings are made out of Elastomex TM, a blend of TPE and TPR that is unique to Bathmate. It is very stretchy and soft to the touch.
What makes these rings different from most of the others on the market is their bespoke rechargeable vibrating micro-bullet vibe. This is a three-speed rechargeable bullet vibe that slots into recesses on the cock rings. You get a USB charging cable with each cock ring, and this plugs into any power source, and the other end directly plugs into the socket on the vibe that is located just above the power button. A charging light on the micro-bullet vibe will flash whilst charging and then liht up steady once fully charged.
These rechargeable micro-bullet vibes are incredibly small, and I am at a loss as to how they manage to pack all the required electronics, battery, motor and offset weight into something so small. The mind boggles, from an engineering perspective it is a fantastic job that they have done.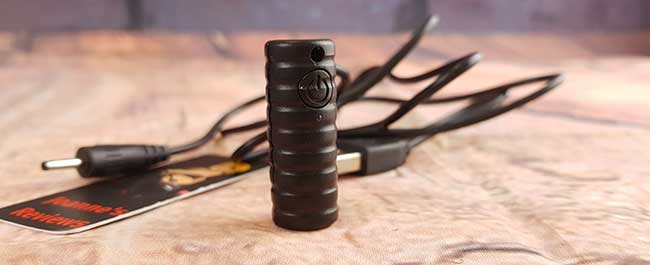 These little micro-bullet vibes are an engineering marvel and pack quite a punch with three speeds
Now power wise, you get surprising levels of vibrations from these miro-bullet vibes. You press and hold the power button to switch in on and off again and briefly pressing it cycles through the three power levels. The micro-bullet vibes are very, very quiet in use.
Obviously, you don't get Doxy levels of power out of them but they are surprisingly good, and as they are rechargeable there is no messing around with stupid expensive watch batteries that don't last very long anyway. I doff my cap to Bathmate for the work they have done designing these.
Now onto the four different vibrating cock rings, let me tell you what each does and let's see if you can guess my favourite which I will tell you at the end of the review.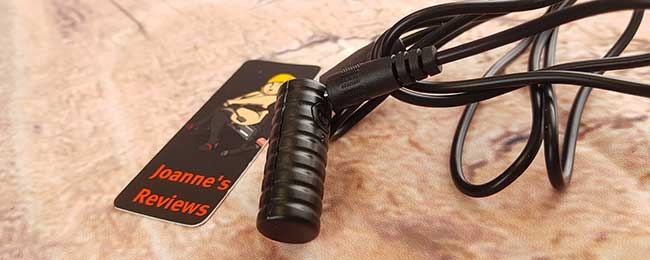 It is quick and easy to charge these micro-bullet vibes with the included USB charging cable
Tickle Cock Ring
This ring is placed either at the base of the penis shaft or around the cock and balls to provide a very lovely squeezing sensation. This cock ring has a textured extension that contains the vibrating micro-bullet vibe.
The ridges and bumps are designed to stimulate with the micro-bullet vibrator switched on or even off.
This textured extension is designed to line up with a partners clitoris and when you thrust it is drawn up and down the clitoris where the vibrations and the texture do their work.
For best results get your partner to spread her outer labia so that you can get full contact with the clitoris as you thrust.
This cock ring got a huge thumbs up from Joanne and also sub'r' for the enjoyment that they got from it as well. I also benefited from the extra hardness it caused in my penis. So this one gets a big thumbs up from the girls and me.
Strength Cock Ring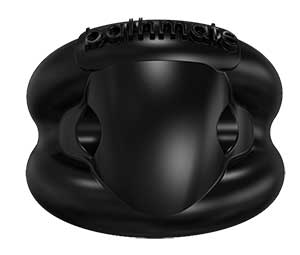 The strength cock ring is worn at the base of the penis, and it gives much more of a squeeze that the Tickle Cock Ring.
It produced some great erections, and my cock got really hard which again meant I had a fantastic time with it.
I found that with this cock ring around the base of my penis the vibrations were really ncie and when deep inside a partner some of those vibrations could be felt by her.
Joanne and sub'r' also really enjoy the added girth and hardness of my penis when wearing this one. The vibrations at the base of your shaft feel exquisite.
Eight Cock Ring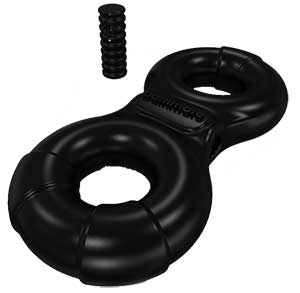 As its name suggests, this is the one that looks like a figure eight. You insert your balls through one loop, and the other is where your happy chap slides through.
This one is best fitted when you are flaccid as otherwise, it can be a bit of a problem. The super stretchy material can be stretched wide to get the ring over your testicles which is always a tricky job with rings like this. I had no problem at all fitting it as long as I was flaccid, when erect it makes it a bit harder (no pun intended).
The vibrating micro-bullet on this one sits between the base of your cock and your balls. You partner won't feel much of it but you will, and the vibrations transmitted to your balls feels very good.
Again this cock ring gave me very hard erections which both of the girls loved, and I must say I did too - its a hard job but someone has to do it I suppose.
Stretch Cock Ring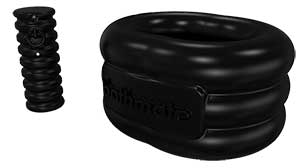 The Stretch can be worn around the base of the cock or also over the balls, it is the widest of the four cock rings and acts like a ball stretcher.
When worn on the scrotum it will resist the action of the scrotum tightening and drawing your balls upwards as you cum and this prolongs things feeling incredible when you do come.
Placed around the cock, it acts like a regular cock ring but with added vibes.
All four cock rings feel uniquely different with each focussing on a different facet of cock ring play. One this that they all have in common is their ability to give you rock hard erections with more girth that you are used to which is never a good thing.
One thing to remember is always remove cock rings regularly to allow blood to circulate so don't be tempted to keep your boney all day.
Looking for a new Cock Ring? Check out the amazing rechargeable vibrating ones from @Bathmate.
Click to Tweet
Bathmate Vibe Cock Rings Video Clip
Behold through the wonders of Youtube, here is a video of the four Bathmate Vibe Cock Rings in all of their glory.

Key Features
Key features:
Each cock ring comes with a rechargeable micro-bullet vibe and cable
Made out of super stretchy Elastomex
Storage bag included
Charging cable included
Sample sachet of lube included
Four distinct designs available
Final Thoughts
It has taken me literally weeks to review these cock rings as I had to use them multiple times on both Joanne and sub'r' (yes I have an amazing life). This review has been a lot of work in the making, but I'm not complaining. Bathmate has done it again with some new cock rings that break the mould.
Having a rechargeable cock ring gives you a cock ring with bells and whistles, why settle for just a piece of silicone stretched around your cock when you can have the same but also with the benefit of strong vibrations as well if you wish. Bathmate have come up four vibrating designs that all work extremely well as cock rings in their own right.
My favourite was the Tickle with the Strength coming a close second. The reason why I enjoyed the Tickle so much was the look and reaction of both Joanne and sub'r' while I fucked them while wearing it. The clitoral stimulation that they got from it was great, and that turned me on even more. You can always wear it upside down for some anal tickling fun.
The Strength gave me the most support and seemed to provide me with the hardest erections, I am not saying the others aren't any good as they are but these two are my go-to cock rings now.
I was sent the a set of four Bathmate Rechargeable Cock Rings by Bathmate Direct and I would like to thank them for giving me the opportunity to review it for them.
Where Can I Get One From?

Grab one of these amazing cock rings from Bathmate Direct for just £19.99 which is great value for money for a rechargeable sex toy like this. Check out the other products that they sell if you fancy making your penis even larger and their lubes and jelqing solutions and delay creams are a lot of fun too.
Check them out and don't forget to tell them that Joanne, Stunt Cock and sub'r' say "Hi".
Disclaimer - I was sent a set of Bathmate Rechargeable Cock Rings by Bathmate Direct to review free of charge and this has in no way affected the outcome of this review. This post contains affiliate links and if you purchase something when you follow one of these links I may receive a small commission at no cost to you. For more information check out my disclosure page.