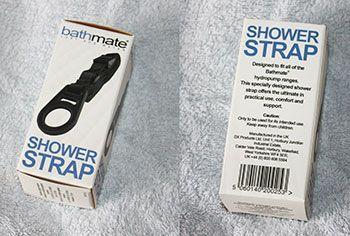 It has been so nice to be able to use the genuine thing now as my Heath Robinson attempt at creating one wasn't that good. Retailing at £19.99 it is a fair price for something that is going improve your chances of enlarging your penis while also saving you time in the process.
Before I started using a strap, my usual showering ritual consisted of using the Hydromax X30 Wide Boy enlarger as part of my regime, but I had to focus on that and then clean myself. As I had to hold it in place, it means that showering took second place and this meant I was in the shower longer.
This has two negative implications; firstly it cost me more as I was using more hot water, secondly and more importantly it meant that the bathroom was tied up for longer upsetting the 'long-haired General' - Jo.
Another bad thing about not using a shower strap is that actually the Hydromax when full of water is quite heavy and holding it in place is essential. You need to keep it against you so that you can maintain the seal. Otherwise, you have to go through the process of filling it and pumping again.
The shower strap takes all the pressure off your hands and once you fit your Hydromax to your happy chap and get the vacuum formed it will hold it in place at the correct angle securely and efficiently.
This leaves both of your hands-free to wash, shave or whatever you want to do.
I would often lose the vacuum when trying to hold the X30 still and at the correct angle, and that was a real pain.
How it works and what it's made from
The shower strap consists of a black webbing strap that ends in a fitting that simply slides over the valve unit of your Bathmate. Once fitted in place it is held securely in place. The shower strap is very sturdy and well made, it also has a wide range of adjustment which means that it is suitable for all body shapes and sizes.
The other end of the strap features two adjustments; the first is used to get the shower strap to roughly the right length for you. The second is a quick release catch that allows you to quickly adjust the length of the strap so that you can have the Bathmate sit at just the right angle in front of you to keep the seal.

You get plenty of strap and it is really easy to adjust
Having this angle set is vital for two reasons, firstly you want and need to maintain the vacuum, and for that, you need the seal to be pressed tightly against you. Secondly, you want your penis to sit in the middle of the enlarger and not up against the wall of it so that all of it is under the vacuum.
Fitting and adjusting is straightforward, the strap once adjusted holds the Bathmate enlarger in place correctly. I have noticed how much easier it is to use the enlarger while in the shower. It gets a big thumbs up from me.
While I have your attention, I just wanted to give everyone a quick update on my progress with the X30. I have now been using it daily for two months, and the improvements are as follows.

The strap holds your Bathmate developer securely and at the right angle and height
It has now increased my girth by 2cm in circumference, and I have an extra 1.5cm in length. That is 0.5cm growth in both dimensions this month.
Joanne has actually commented on the added girth, and that put a huge smile on both of our faces.
While sometimes especially if you are in a rush, it is tempting to miss a training session, it actually does work so stick with it.
I will continue using my X30 Wide Boy which is an excellent choice if you are looking for a new or even your first one as it is showing results and I want to see where these results will peak. So watch out for my regular updates on the site.
If you use a @Bathmate penis developer in the shower then a Bathmate Shower Strap is a must.
Click to Tweet
Key Features
Key features:
Sturdy neck strap that is easy to fit
Gives you hands free use of your developer
Easy to adjust and use
Makes you less likely to lose the vacuum

The strap is a must have item if you use your Bathmate in the shower
Final Thoughts
I am really happy to have been able to review the Bathmate Showerstap, it has made my use of the Bathmate X30 Wideboy much easier and more efficient. As far as I'm concerned, if you shower with a Bathmate this is an essential piece of equipment that will greatly improve your developement progress and speed it up as well.
I have no hesitation is giving it a very strong recommendation to any bathmate users out there.
I was sent the Bathmate Shower Strap by bathmatedirect.com and I would like to thank them for giving me the opportunity to review it for them.
Where Can I Get One From?
Grab one of these Bathmate Shower Straps for £19.99. This is the one item that I think you really can't do without if you are using a Bathmate enlarger in the shower. It makes it so easy to maximise your potential whilst carrying out your normal cleaning routine and it's going to save you so much time.
Check them out and don't forget to tell them that Joanne and Stunt Cock say "Hi".
Disclosure
This review does not contain affiliate links, for more information about affiliate links check out my disclosure page.