The Bathmate USB Rechargeable Bullet Vibe is available in two colours, these being chrome silver and matt black. Both look great, but I prefer the chrome look as I just love shiny things.
It arrived plainly packaged and in an attractive retail display box with a transparent window so that you can see the vibe inside. This vibrator comes with a 1-year peace of mind warranty.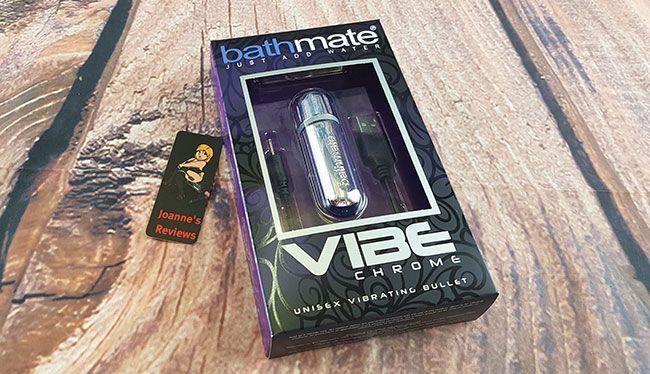 As usual with Bathmate products the packaging is beautiful
This is a waterproof (IPX7 rated) USB rechargeable bullet vibe and when it arrives give it a good charge before use.
The body of this vibe features the manufacturer's name embossed into the side with a textured cap at the base end. There is a black 'o'-ring between the two to seal the inner workings from water ingress. In transit it also has some white 'o'-rings and th iy are used as a form of travel lock so that the vibe can't be activated in transit. Keep hold of these as if you ever pack it in your suitcase to take on holiday they will come in handy.

Two white 'o'-rings act as travel locks which is very clever
The textured cap and the embossed name makes gripping it easy to unscrew the cap. Once the cap is removed, you will see the socket for the USB charging cable to be inserted. Insert the cables plug and then attach the other end to a power source to commence charging.
This vibe has been designed for use in the bath or shower where using it under water can actually help to amplify and focus the vibrations. I personally love using vibrators in the bath. The combination of warm water and powerful vibrations always relaxes me and helps me to really enjoy my slippery aquatic orgasms.
The textured cap also helps you hold the bullet vibe with lubed or vag-goo soaked fingers. This is sometimes a problem with other bullet vibes as they are so short you inevitably get sticky fingers when using them.
Top Tip: With any vibe you can wrap an elastic band around the base to aid in holding it if you plan on getting really slippery. The elastic band makes gripping a smooth vibe easy.

This vibe is charged by removing the cap and using the included USB charging cable
The cap also carries the on/off button and controlling the vibe is really easy. Just press and hold this button to turn the vibe on and off again. Briefly pressing it allows you to cycle through all ten different intensity patterns.
The first three are continuous vibrations with each higher than the previous, and then you go into the pattern modes. Some of which didn't do much for me but that is normal as my clitoris is tuned to specific patterns of stimulation.
The fourth and tenth pattern were my favourites. There is something about those particular vibration patterns that really agrees with my clitoris.
This bullet vibe is made out of ABS plastic, and that is great as this material is non-porous and body safe. So you have no phthalates to worry about. It's also ery straightforward to clean, you can just wash it with warm soapy water before using an anti-bacterial sextoy cleaner on it.

The base of the vibe carries the on/off switch that is also used to cycle through the settings
It's an exceptionally quiet vibrator, and no-one is going to hear it if they are in the next room, so it is a nice and discreet vibe.
Performance
I really enjoyed getting to know this vibe, not only does it feel fantastic on your clitoris, but it is also great for nipple play too. Don't be mistaken by thinking this sex toy is just for vulva owners, oh no, it is a lot of fun for penis owners also so don't brush it aside if you have meat and two veg dangling between your legs.
Try using it on your frenulum (banjo string) if you have a penis to see just how much fun bullet vibes can be.
I used it for nipples and clitoral play though (obviously), and I have to say it feels pretty damn fine on both. I love the deep rumbly sensations on the lower settings.

The end cap conceals the charging socket and power switch while sealing them from water ingress
Unlike some cheap bullet vibes this one delivers some very powerful vibrations that are not just concentrated at the surface, but they penetrate stimulating more of your clitoral tissue.
Needless to say, I have no problems reaching an orgasm with this bullet vibe, these orgasms are robust and reliable. I know that I can grab this bullet vibe and slide it between my labia for some intense pleasure.
Its small size makes it ideal for keeping in a handbag or even a pocket for those moments when you just have to get yourself off.
I found the ridged end cap great for keeping control of this bullet vibe even when I ended up with vag-goo coated fingers. In use, the control button is straightforward to operate with the only downside being you have to keep cycling through the vibration patterns to get to the one you want. If you miss it, then it means cycling through them all again. With only one control button though this is unavoidable.
Most of the vibrations are focussed on the tip of the vibe due to its small form and light weight. Your hands do get a good dose of vibrations too though so I ended up changing hands every so often to prevent my fingers from going numb.
This tiny vibe packs a big punch and the fact that it is rechargeable means that you won't be spending a fortune on batteries. I think that Bathmate has done a great job with their selection of motors and the design of this vibe. I don't often enjoy pattern vibrations, but this one has some that are unusual and a lot of fun to use. It's a great little bullet vibe and one that I am happy to recommend to anyone looking for a nicely priced rechargeable bullet vibe.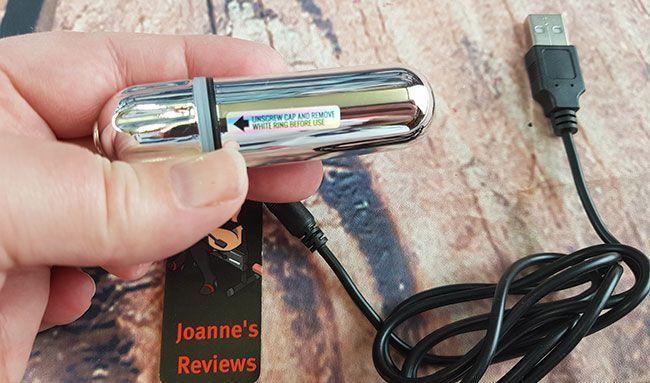 The Bathmate Rechargeable Bullet Vibe is a great little vibe that packs a real punch
Looking for a rechargeable waterproof bullet vibe? Check out the @Bathmate Bullet Vibe.
Click to Tweet
Key Features
Key features:
100% waterproof for bathtime fun
10 power and vibration settings
Body safe ABS construction
USB Rechargeable
White 'o'-rings included that act as a travel lock
Final Thoughts
Bathmate has done a fantastic job with this waterproof and rechargeable bullet vibe. It's quiet while still packing a punch and its ten speeds and patterns will certainly provide you with lots of choices. Number four and ten rocked my world and this little bullet vibe delivers strong and reliable orgasms when I use it.
For only £19.99 it is a good choice for anyone looking for a cheap rechargeable vibe. Keep hold of the white 'o'-rings if you plan on packing this little sextoy for some holiday fun and games.
I look forward to seeing what the "OrgasmAtrisans" at Bathmate come up with next.
I was sent the Bathmate Rechargeable Bullet Vibe by Bathmate and I would like to thank them for giving me the opportunity to review it for them.
Joanne's rating
Where Can I Get One From?
Grab one of these Bathmate Rechargeable Bullet Vibe for £19.99 which is great value for money. Check out the other great products on their site and check out our review of the Hydromax Wide X30 Boy Penis Enlarger that really did deliver some surprising results.
Check them out and don't forget to tell them that Joanne says "Hi".
Disclaimer - I was sent the Bathmate Rechargeable Bullet Vibe to review free of charge and this has in no way affected the outcome of this review. This post contains affiliate links and if you purchase something when you follow one of these links I may receive a small commission at no cost to you. For more information check out my disclosure page.