Delivery
The X30 (I am going to call it that as Hydromax X30 Wide Boy just takes too long to type, lazy I know) arrived quickly under very plain packaging. As you would expect, I am happy to report that they naturally take customer discretion very seriously.
I'm also delighted to report that bathmatedirect.com offer free worldwide delivery and that is pretty impressive and not common at all.
What do you get?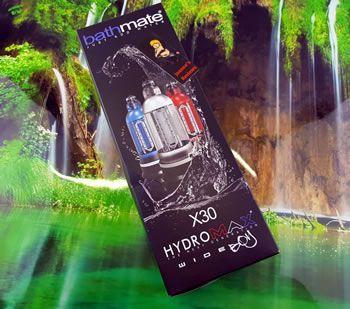 The X30 arrives in an attractive retail display box containing a picture of the three colour options on the front and a brief rundown of how it works in multiple languages on the side.
One thing that is highlighted on the packaging is the Bathmate 2 years manufacturers warranty - that is impressive. You need to register for the warranty online though, and the details of that can be found on the back of the instruction manual including the serial number of your X30.
Inside the box, you will find the X30 itself together with an informative multi-language user manual and a promotional sachet of the Bathmate Max Out Jelqing serum.
This is a serum that you massage into a semi-erect penis to stimulate blood flow and growth. In essence, you massage it in while moving the blood around inside your penis, stroking it 100 times. Now I must hold my hand up to enjoying this process but having only one sachet it is hard to tell if it worked or not.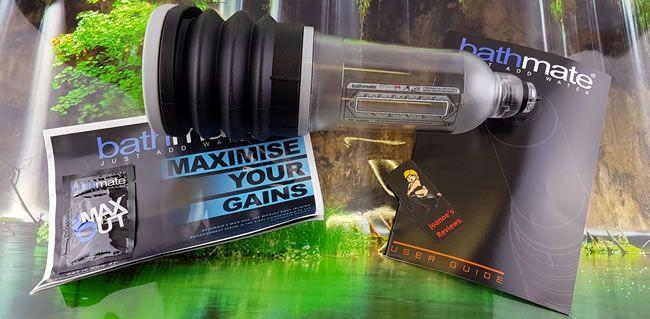 You get the x30 Wide Boy, a set of instructions and a sample sachet of Bathmate Max Out Jelqing serum
How does the X30 work?
It uses a vacuum to increase the flow of blood into your penis. The penis is constructed mainly of a spongy form of tissue called "Corpora Cavernosa" & "Corpus Spongiosum" (thanks, Wikipedia). This tissue is flooded with blood when you get an erection, and it is this blood that inflates the penis like a balloon by filling this tissue causing the erection.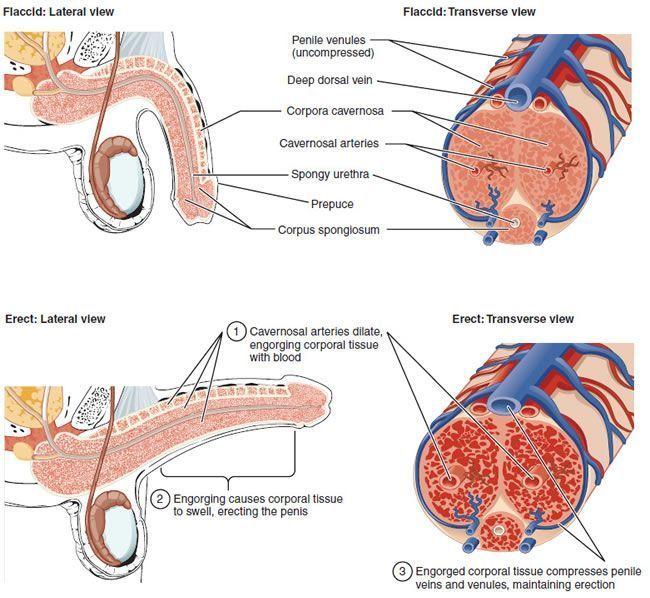 Picture depicting erection caused by blood filling penile tissue. Source CC BY 3.0 - https://en.wikipedia.org/wiki/Erection
This tissue can be stretched and trained but it takes time to do so. Bathmate pumps are designed to use a vacuum to increase the flow of blood to these tissue areas causing them to swell. Over time the tissue will stretch and grow to extend both the girth and length of the penis.
The vacuum is caused by the very strong rubber bellows at the base of the X30, the X30 is filled with warm water, and then this water is used to transfer the vacuum to your penis in the form of negative hydraulic pressure.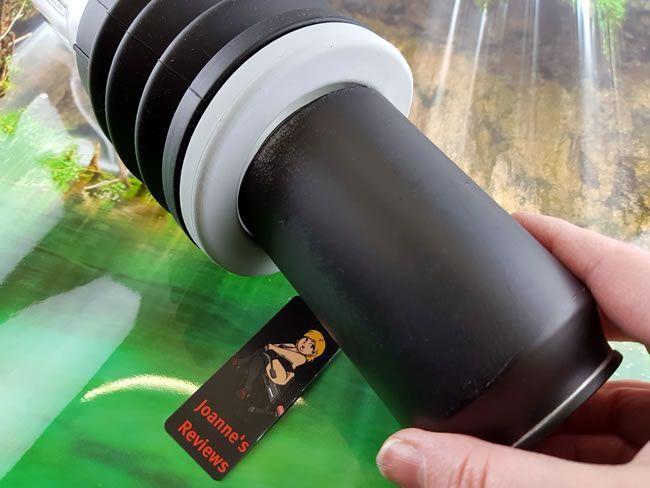 The Bathmate x30 Wide Boy is very wide as its name suggests
The X30 Wide Boy range of enlargers was designed to increase the area around the penis so that it doesn't rest against the tube walls, therefore, ensuring equal vacuum all around the penis. This is important if your penis is already quite wide as if it expanded to come into contact with the body of the X30 then no further enlargement can take place.
Using a vacuum this way does have its risks, but the design of the X30 and the rest of the range is such that you can't create a vacuum stringer what is recommended by medical experts. Make sure you heed the warnings in the manual about medical conditions and stop if you experience pain at any time though.
So, in summary, you use the X30 to pump extra blood into your penis through the vacuum caused by it in use. This extra blood promotes tissue stretching and growth and this, in turn, enlarges your penis. That's the theory anyway, what is it like in practice.
The Mechanics of the X30
The X30 is broken down into three sections; firstly you have the bellows these are rubber (they are phthalate free) and act as a spring, there is a comfort insert that you remove to fill the X330 with water then refit before use. The bellows and comfort pad are profiled to fit your body comfortably in use.
The main body is the see-through clear plastic portion (it could be red, clear or blue depending on your model). This clear section has a handy measuring window on the top so that you can note your penis size.
The tip of the X30 houses the valve and release mechanism. It has a small black lever on the end that usually sits in the centre position, but you can move it left and right to close the valve for filling.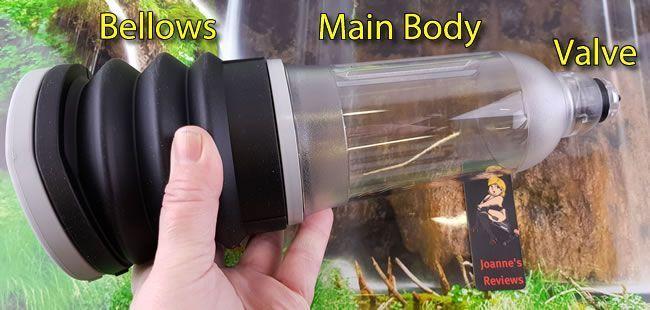 The Bathmate x30 Wide Boy has three main section, the bellows, the main body and a valve
How do you use it?
Before your first use wash it thoroughly with warm soapy water to get rid of any oils from the manufacturing process.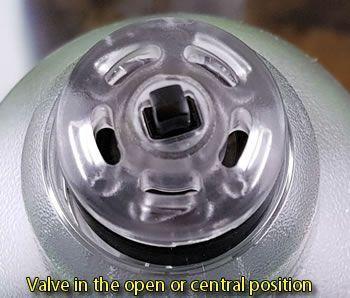 The X30 can be used in the bath or shower, and the usage is the same in each, but the biggest drawback of using it in the shower is you need to hold it in place. If you plan on using it in the shower, then I recommend that you buy the Bathmate Shower Strap, this goes around your neck and clips to the tip of the Bathmate holding it in place and freeing up your hands to clean yourself. I jury rigged something for myself to carry out this function.
Close the valve and remove the comfort pad then fill the bath mate with warm water. Once full refit to the comfort pad and then insert your penis. You can insert your penis when flaccid, semi-erect or with a full erection.
The comfort pad is profiled, and the profiled section can go at the top of the bottom. It's your preference which way round you use it; I had mine at the top. You then place the comfort pad against your body to get a good seal. Then with it angled slightly upwards release the little black lever to the central position to unlock the valve.
You then pump the X30 towards and away from your body. Water will be displaced out through the valve as your erection grows. You have done it right when you have an erection, and the bellows stay compressed. This means you have the optimum vacuum. You can use the measuring scale on the main body to see the length of your penis when under vacuum.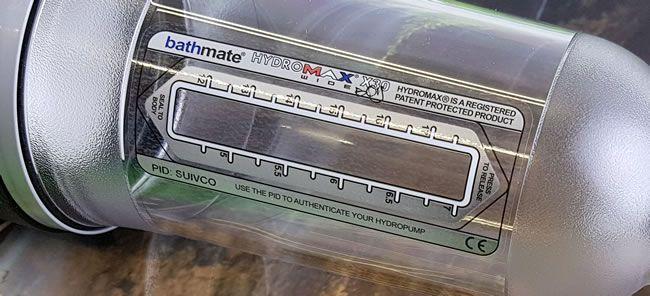 The Bathmate x30 Wide Boy features a handy measuring scale on the top
Things you need to watch out for are, ensure that your testicles are loose and nowhere near the comfort pad, you do not want one sucked inside the Bathmate (ask me how I know this) as it hurts like hell. You also need to ensure you have a good seal between the comfort pad and your body.
You should maintain a vacuum for five minutes then release it and massage your penis then repeat twice more giving you a total of fifteen minutes of vacuum training every day. this can be increased over time but I just went with the recommended regime.
I initially struggled to get a good seal but that is all part of the learning process and once I got the hang of it I found it quick and easy to set up.
I also found that I got quite sore the first few times that I pumped, but once I made sure that I didn't create such a hard vacuum that didn't happen again. You can overdo these things. A moderate vacuum works well for me, and I get very hard erections when using the X30.
Watch out for bruising or swelling particularly around the foreskin (if you have one) during use, as this area is prone to swelling in a vacuum and that can be uncomfortable.
To release the vacuum merely press the valve on the end of the X30 into it and it will immediately let air into the system breaking the vacuum. The results fade until you have been doing it for a few weeks and then you notice the difference in girth and length even when you naturally get an erection.
Top Tip: If you struggle to keep a seal you can either trim or shave down there or do as I did apply a thin film of vaseline to the comfort pad This worked well for me and simply washes off after you have finished your session.
I use it in the shower and it is tricky to get and maintain a good seal but using it in the bath would be much easier. Whichever way you use it you can expect a period of having to work out the best way of sealing the X30 to your body but once you have a workign system it is relatively straight forward.
Further Reading: Bathmate have produced an excellent article covering How To Use A Penis Pump that you may find useful.
Did it work?
I have been only using it for four weeks, but I can say that yes it does work, but with only modest results so far. I guess it's early days though and so I will continue using it and then update this review at the three months and six months mark.
So did my happy chap swell like Popeyes biceps after eating a can of spinach? Well no, not exactly, but it did increase my girth by just under 1.5cm in circumference, and I got an extra 1 cm in length which isn't bad for only four weeks of pumping. That has put a smile on Joanne's face.
Determined to increase your penis length and girth? Well, check out my review of the Hydromax X30 Wide Boy from @bathmateuk to see how well it worked.
Click to Tweet
Key Features
Key features:
Extra wide body for girthier penises
Quality construction
Simple and easy to use
Uses warm water to transfer negative hydraulic pressure to your penis
Continued use does work
Can be used in the bath or in a shower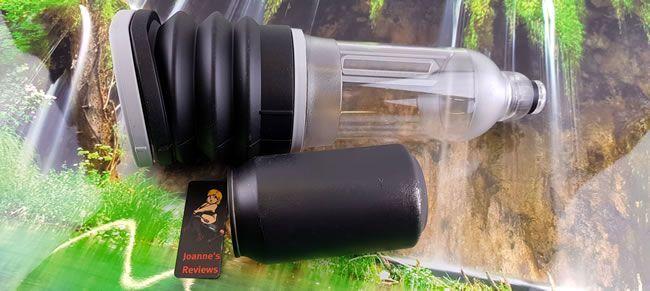 The Bathmate x30 Wide Boy was fun to review and delivered real results
Final Thoughts
Using the Bathmate system isn't a quick fix solution, it requires dedication, so set yourself a long-term goal. Don't expect miracles overnight. Unless you are prepared to do the work, you won't get much out of it, but yes it does work. The added length and girth attained in only four weeks can definitely be felt by Joanne during PIV sex. I also feel more confident too.
Using it in the shower takes time, using a lanyard speeds things up as you can then wash while using the X30. But you do need to give it the time it needs to work. One of the best features of this system is that it slots into your normal daily routine and so you aren't doing anything extra with your time which we all know is valuable. You can now work on maximising your potential while showering or bathing which kills two birds with one stone.
As an engineer, I can appreciate this simple solution and its flawless delivery. It's something that I am happy to recommend to friends, and I have done so. It is especially useful if you have a disability whether temporary or permanent and struggle to obtain an erection.
I was sent the Bathmate Hydromax X30 Wide Boy Penis Enlarger by bathmatedirect.com and I would like to thank them for giving me the opportunity to review it for them.
Where Can I Get One From?
Grab one of these Bathmate Hydromax X30 Wide Boy Penis Enlargers for £115. Can you put a price on this sort of personal development? I enjoyed reviewing it and actually saw gains in terms of length and girth. I will be continuing to use it to see just how much it can give me. With over 1 million units sold, they are definitely doing something right.
Check them out and don't forget to tell them that Joanne and Stunt Cock say "Hi".
Disclosure
This review does not contain affiliate links, for more information about affiliate links check out my disclosure page.