As usual, this product arrived from Meo.de quickly and under very plain packaging. The knee pads come in minimalistic packaging which is typical of lots of products from Meo's own brand. I like this as it is good for the environment and it also keeps costs down.
You get two knee pads together with a dog tag (more on that later) and a free Human Puppy Training Guide which is a lot of fun and good for communication issues between pup and owner/trainer.
I was impressed with the standard or the stitching and the softness of the padded areas when I first got my hands on them. I do like to give new products a good mauling when they come out of the bag or box.
One of the most significant problems with pet play scenes is that of knee pain, especially if you are on a hard surface or on your knees for any length of time. I suffer from this problem more than most as I have knee issues but even sub'r' doesn't like to kneel or be on her knees for any length of time.

These knee pads have a lovely design to the padding
These knee pads were like a godsend, they completely change the scene from one where you suffer your knee pain for the enjoyment of pet play and to please your dominant to one where you can kick back and enjoy it to the full.
They are so comfortable, and they fit very snugly indeed. They consist of a nylon/elastic tube with an outer textured soft covering shaped like a stylised puppies paw. The tube is nice and stretchy which means that they can be worn by pups of all builds. They will cater for circumferences of 15"/38cm to 21"/52cm which is great news.
When you slide them up your shins until they fit snuggly around your knees, they stay in place well without restricting movement at all. This allows you just to forget that they are there and just enjoy your scene.
The material is breathable, and so you don't get all sweaty when wearing them. The padding on the front is formed for a comfortable fit, and in use they allow you to slide and bound around without encountering damaging impact to the patella or your knee joints. They also protect both the medial and lateral meniscus from tears and impact damage.
One added bonus if you are on a cold floor is that they insulate the knee keeping it warm, thus allowing your pup to enjoy extended periods of playtime.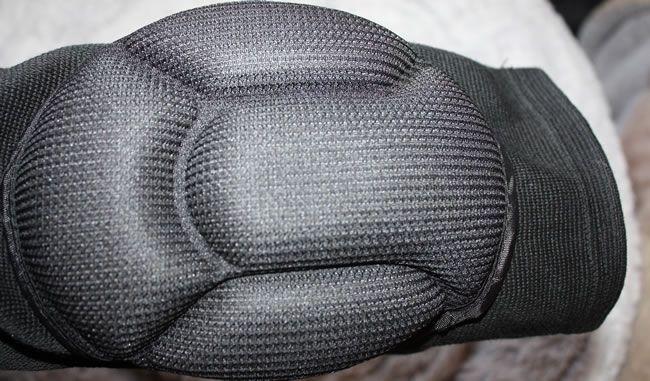 The elastic/nylon blend is comfortable and very stretchy
As modelled in these pics by sub'r' you can see that they fit very snugly and are perfect for pup play. But they are also useful for other kinky sex activities.
A submissive can use them to make kneeling in front of his or her dominant a more comfortable process. This is ideal for hard floors where a submissive could become injured through extended kneeling. You can also use them to make glory hole fun more comfortable. I am neither confirming or denying that I have put that to the test, I will just leave it to your imagination.
Basically, think of a sexual activity where it involves one party on their knees, and this product can make it better.

These knee pads fit sub'r' like a glove and she loves how comfortable they are
The Meo puppy collection also features collars, puppy gloves and fist mitts. I really enjoyed reviewing a black and white puppy play collar. It is one of my all-time favourite collars as it is just so comfortable (and the Bad Pup dog tag is fantastic too). You get one of theSE amazing Bad Pup dog tags with these knee pads and it looks amazing in black and silver.
It was when I put them on sub'r' for an impromptu puppy play scene that I really got to see how good they are. Generally, after about five minutes, her knees hurt and we have to change the scene but even after thirty minutes of rushing around on all fours fetching a ball and having a fantastic time her knees were still okay.
She has also commented how comfortable it is to kneel in the Nadu position at the feet of Stunt Cock. To be honest, I think I will lose them to her as sub'r' has taken a real fancy to them and she spends a lot of time on her knees, so that is only fair I guess.
Check out these great Puppy Play Knee Pads from @meo_team.
Click to Tweet

These knee pads are comfortable for extended periods of wear
Key Features
Key features:
Great product for protecting your knees whilst keeping them warm
Very flexible, elastic nylon mix
Will cater for leg circumferences of 15"/38cm to 21"/52cm
Soft pads and provides great support for the knees
Final Thoughts
I was delighted with this set of knee pads, they are both functional and a fantastic addition not just for puppy play but for anything that involves kneeling. They make doing so much more comfortable, and their generous dimensions make them ideal for a wide range of users.
If you spend time on your knees or your submissive does then getting a pair of these great knee pads is an excellent idea. Trust me, your submissive/pup will thank you.
Check them out on the Meo.de website and also look at the rest of the Bad Pup range of products, the leather paws look amazing.
I was sent the Bad Puppy Knee Pads by Wolf at Meo.de and I would like to thank him for giving me the opportunity to review it for them.

These knee pads will be getting a lot of use by sub'r'
Joanne's rating
Where Can I Get One From?
Grab one of these pairs of knee pads from Meo.de for just 39,00 € (£34.20). They are so very useful for all osrts of play and the comfort and knee protection that they afford will show that you care. We have all enjoyed reviewing them and they are something that I know sub'r' will be using a lot in the future.
Check them out and don't forget to tell them that Joanne says "Hi".
---
---
Disclaimer - I was sent the Bad Puppy Knee Pads to review free of charge and this has in no way affected the outcome of this review. This post contains affiliate links and if you purchase something when you follow one of these links I may receive a small commission at no cost to you. For more information check out my disclosure page.