Now, as the Avant P5 Fluid Silicone Butt Plug is a bit of a mouthful and typing it over and over again will wear my fingertips away I'm going to refer to it as the Avant P5 from hereon.
Delivery
I can always rely on Latex, Leather & Lace to take my privacy with respect. They always deliver products very discreetly in packages with no external branding or indications as to their contents.
This is important and is to be saluted. I can confirm that I trust them implicitly to delivery sex toys discreetly. Plus I always love finding flyers in the boxes that they send and that is a nice touch.
If you can do then I can highly recommend a trip down to them in Barwell, Leicestershire to visit their walk-in shop. You will always find a welcoming smile and a fantastic array of stock. Plus "Holly" the shop dog is a total slut for a fuss.
Product Packaging
I like to think that my reviewing process starts the moment that the doorbell rings which is why I always comment on packaging as it matters.

I really like the packaging and love to be able to see sex toys inside their boxes
It is always a special moment in time when I sit down with a delivery box on my lap and peer inside for the first time. I am always almost giddy to see what lays within.
The Avant P5 didn't disappoint, and as well all know first impressions do count.
The retail packaging is delightful, and it features a transparent window on the front so you can see the Avant P5. I much prefer to have packaging that actually allows me to see the product inside when browsing shelves in a sex toy shop.
This is especially important with things like butt plugs where size is critical. Too small and it will be underwhelming, too large and it is unusable. Pictures on boxes give no indication of scale which is why I prefer to be able to see a product in its packaging. Manufacturers, please take note, Joanne has spoken LOL.
I like the design of the box, and it features an unusual design where the outer sleeve slides up to reveal the butt plug inside. The back and sides of the box carry lots of product information in multiple languages which is also good. It screams that this is a luxury product and I looked forward to testing it out.
This was where the review took a sideways jump. Our submissive sub'r' immediately fell in love with the Avant P5. The colours, material and size were perfect for her, and she loved the fact that it is Pride-related too. It flicked all the right switched for her and so I had to let her review it (it may have been on the large size for me anyway so I can bow out with grace).
So, the testing, extended wearing and enjoyment were all for sub'r' to experience, and she loved it. The rest of the review is basically written by her but edited by me, well I am the boss after all. I am glad that she has enjoyed it so much.

This is quite a large butt plug which makes it ideal for intermediate users
Materials
I was delighted when I took the Avant P5 out of its box, and I squeezed it. It is really soft and flexible, and this blend of silicone is delightful, and it isn't a dust and lint magnet like some can be.
The Avant P5 is made out of platinum cure silicone, and that makes it non-porous, hypo-allergenic and both latex and phthalate free. It is suitable for anyone with sensitive skin, and it feels soft and silky to touch.
It is straightforward to clean, just wash with warm soapy water, and you can even boil it or clean it in a dishwasher on a sterilise cycle. I prefer to use wipes after cleansing it, and it is effortless to clean.
The blend of silicone used is very soft, and you can almost bend the Avant P5 in half. This makes it very comfortable to wear, even for extended periods of time.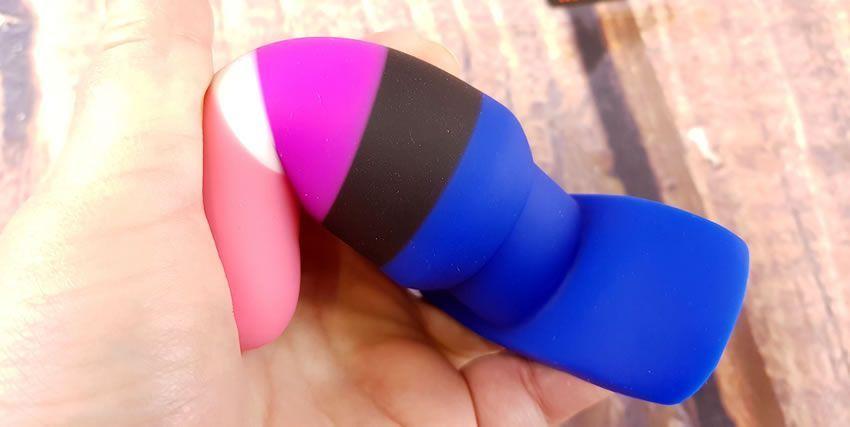 The silicone blend used in the Avant P5 is very flexible
As always use a good quality water-based lube like Sliquid H2O or Secret Play Natural but I used a hybrid with mine and had no problems at all. If you are concerned about using a hybrid lube, then test a small amount on the base and look for any reaction. You generally find that it is only the poorer quality silicone sex toys that have problems with hybrid lubes. This blend of silicone is first class.
Design
The coloured bands around the Avant P5 are amazing, and they make up the colours of the "gender fluid" pride flag. With its deep blue base followed by black, purple, white and pink it looks fantastic. I have no idea how they managed to cast it with such crisp layers with no colour bleed between any of them. It is a work of art, and as it is handmade, it was made by a real artisan.
It's so lovely to look at that it was almost a shame to push it into my butt, almost that is.
I am happy to say that it has a broad base which is essential for anything that goes up your butt. The base is actually comfortable between my cheeks even for long periods of wear. Some plugs get uncomfortable but not this one.

The broad base makes it safe and comfortable to wear
When inserted you can't tell I have it fitted even with tight underwear on, so it is very discreet.
The tip is nicely rounded, and the tapered design makes insertion a straightforward process. I love inserting butt plugs as that feeling you get when it 'pops' inside is fantastic. Once fitted your sphincter closes around its neck holding it tightly in place.
It measures in at 4.75"/12cm long, but you can only insert 4.25"/10.8cm, yes this isn't a beginner's anal toy. At its widest part, it has a circumference of 4.7"/12cm, so I would consider it an intermediate anal toy.
It isn't for beginners, but it is ideal for someone who enjoys butt plugs and wants that fuller feeling. Which is pretty much sums up the entire contents of my resume.
Performance
The Avant P5 is now one of my all-time favourite butt plugs; it is just so comfortable and enjoyable to wear. Once inside you it stays put no matter what you are doing.
This gave me the confidence to wear it out and about and I enjoyed some cheeky orgasms while out shopping.
I just adore that feeling when inserting it and it rests against you as you build up the pressure. It then makes you slowly dilate, more and more until you enjoy that delightful feeling of it popping inside. That always gets me incredibly horny.

This butt plug feels amazing when you insert it and it give a nice feeling of fullness when worn
I enjoy wearing butt plugs for extended periods of time as they focus my mind and remind me of my submissive state. The longest that I have worn this in one session was 14 hours, and that felt amazing. When I removed it, I had no discomfort at all, and I could have worn it for longer.
Wearing a butt plug is just so kinky, with no-one around you knowing your little secret, so you can secretly pleasure yourself.
Having sex while wearing it can only be described and mind-blowing. It makes everything tighter, I love that feeling of being so full up, and my Master enjoyed the tightness it caused in my pussy. He loves seeing me, and I am more than happy to oblige him.
With a butt plug, you can turn normal mundane everyday tasks into something exciting. The way that they always keep me aroused and give pleasure is something that I love. Butt plugs can be so much fun.
When it comes time to remove the Avant P5 it is an easy and straightforward task, it comes out easily yet stays put extremely well, even when I have enjoyed some incredibly powerful squirting orgasms. It is simply a fantastic shape.
You even get a five-year manufacturers warranty which is fantastic. They are that confident in their products and their quality control, and it shows. Not many manufacturers offer that level of peace of mind.
Joanne has found a new favourite butt plug in the shape of the Avant P5 Fluid Silicone Butt Plug from @BlushNovelties and @LatexLeather, give your butt a treat.
Click to Tweet

The Avant P5 Fluid Silicone Butt Plug has been a pleasure to review, it is a fantastic product
Key Features
Key features:
100% platinum cure silicone
Non-porous and both Phthalate and Latex free
Stunning "Gender Fluid" pride flag colours
Wide comfortable base for safety
Rounded tip and gentle taper for easy insertion
Stay put once worn
Final Thoughts
I was also blown away by how cheap this butt plug is at £28.99. It comes in at a price that is middle of the pack, but it is top dog regarding quality and design.
The Avant P5 Silicone Fluid Butt Plug is special, and it will give you years of pleasure. It has left me interested in trying the rest of the range out.
Check out the Avant designed sex toys over at Latex, Leather & Lace as there is something there for everyone and they all look as good as this stunning butt plug.
I have no problem at all in giving the Avant P5 Fluid Silicone Butt Plug a resounding recommendation to anyone looking for a new and beautiful butt plug.
I was sent these Avant P5 Silicone Fluid Butt Plug by Latex, Leather & Lace and I would like to thank them for giving me the opportunity to review it for them.
Joanne's rating
Where Can I Get One From?
Latex, Leather and Lace are a premier online retailer of kink and they carry a huge range of products made from the best manufacturers from around the globe. You can shop online or even in their walk-in shop in Barwell, Leicestershire. Why not drop by if you are local and check them out. They are very friendly indeed and are a wealth of knowledge and advice. Don't forget to say that Joanne says Hi.
Grab one of these fantastic butt plugs from Latex, Leather & Lace for just £28.99.
Check them out and don't forget to tell them that Joanne says "Hi".
Disclaimer - I was sent the Avant P5 Silicone Fluid Butt Plug by Latex, Leather & Lace to review free of charge and this has in no way affected the outcome of this review. This post contains affiliate links and if you purchase something when you follow one of these links I may receive a small commission at no cost to you. For more information check out my disclosure page.