As usual, this item arrived quickly, well packaged and very discreetly from AdultShopIt, they always take customer discretion very seriously, and my nosey neighbours and postie still have no idea of what a kinky minx I am.

This water-based lube comes in a very nice tube with a flip cap
I really enjoyed reviewing the Astroglide Spark Hybrid Lube and prefer gel lubes over the runnier kind for reasons I will mention in a moment, firstly though let's get the ingredients list out of the way.
The Astroglide Gel Personal Water-Base Lubricant contains:
Purified Water, Glycerin, Hydroxyethylcellulose, Chlorhexidine Gluconate, Methylparaben, Glucono Delta Lactone and Sodium Hydroxide.
Quickly moving your mouse over each ingredient will show you what I have managed to find out about each from various sources on the net. At first glance, they seem pretty nasty, but most of them are common ingredients in skin creams and makeup and just sound scary so they aren't a problem at all. Some of these ingredients are in there to moisturise, and this lube is marketed on its moisturising properties.
The exception is Glycerin and Methylparaben, glycerin is a sugar, and it is used as a sweetener, but if you are prone to yeast infections, it can aggravate this problem. I have no problem using it, but I know of others who do. There is a lot of conflicting information about parabens too, and while methylparaben is a chemical regularly used in cosmetics, it is often frowned upon in lubes.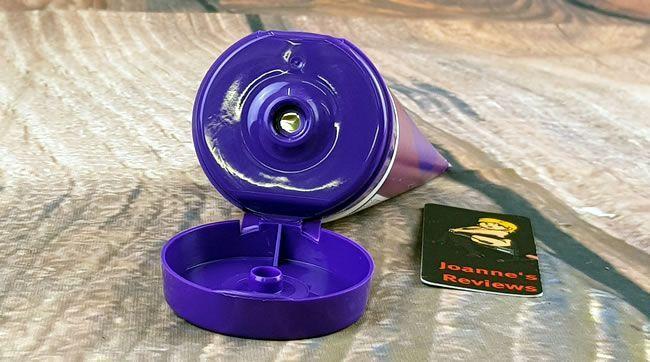 The flip cap is easy to use and seals the tube well
Most of the ingredients are there to balance the pH levels and to act as preservatives so that the bottle keeps well after you open it.
If those two ingredients are show stoppers for you though then there are other lubes available from AdultShopiIt, even from the Astroglide range so you might want to check out the Astroglide Natural Personal Lubricant 2.5 oz which only contains natural ingredients or Astroglide Glycerin & Paraben Free Personal Lubricant 2.5 oz.
I have used this lube vaginally while evaluating it for this review, but under normal circumstances, I would use it just for anal fun because of its fantastic viscosity and lubricating properties.
So, with that out of the way let me tell you about its packaging and more importantly its performance as an intimate lube.
It comes in a handy tube with a flip top lid. Before you first use it, you will need to remove the screw on lid and then peel off the hygiene seal on the end of the tube. This is in place so that you know that no-one has tampered with it or used it in any way before you receive it.

The tube has a hygiene seal that you need to remove before use
With that done merely screw the lid back on and then you can flip it open to apply lube where you need it. The flip cap seals very well once closed, and I have experienced no leaking in my bedside drawer at all.
The branding of the tube is entirely on brand for Astroglide with purples and blues giving it a nice look. But that's just the tube; you are interested in what's inside so enough about the packaging.
Performance
I had high hopes for this as a lube as the Astroglide Spark Hybrid Lube that I reviewed was fantastic especially for anal sex. The best thing about this lube is definitely its high viscosity, which means that it is easy to dispense just the right amount to a fingertip without it running down your finger by the time you have closed the lid.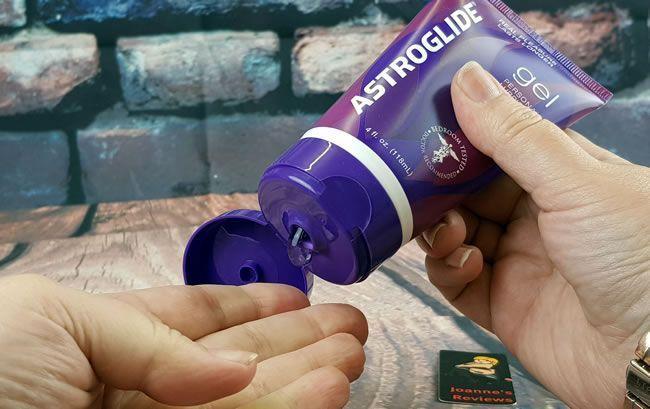 The viscosity of this lube makes it easy to apply just the right amount
Apply a drop of this lube to your finger, and it stays there, this means it is so easy to apply it precisely where you want it without it dripping off your finger all over the bedding or on your lingerie.
I mentioned earlier that I think this is an excellent anal lube and that is because of its viscosity, you can apply it to your anus with just a small amount going a long way. Often lube gets everywhere back there, all over your bum cheeks and on the bedding but with this lube staying put on your finger you can directly apply it where it is needed.
Once you apply the lube to your intimate parts, it instantly spreads out well, and it provides luxurious lubrication that is very smooth and pleasing.
I found that once applied to my clitoris, rubbing it felt fantastic with the lube allowing my fingers to glide effortlessly over my pleasure bud.
Like all water-based lubes this effect doesn't last forever though, and so you will need to keep applying it if enjoying long sessions of fun. It lasted as well as any other water-based lube I have tried.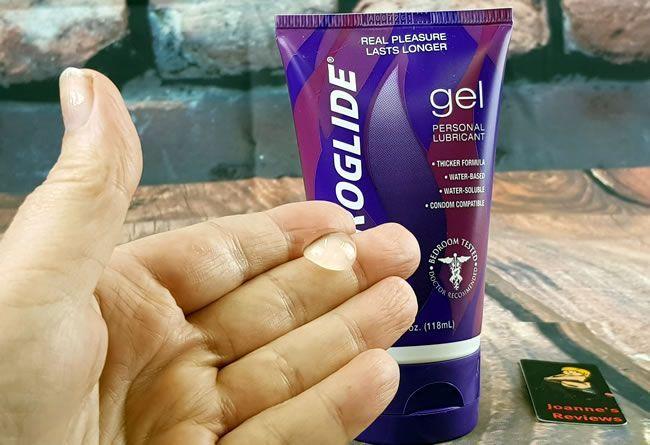 This lube stays where you want it and that makes it easy to apply and you don't waste any
During sex, it was a very pleasant lube allowing fast hard penetration without discomfort, and I have even used it on one of my fucking machines for some very high-speed fucking fun, and it performed very well indeed.
Anally it is excellent too, and its high viscosity is a massive bonus if used as an anal lube. Even after finishing this review I will continue to use it as an anal lube for myself and my partner.
It has a slight chemical smell to it and after taste testing it I was left with an unpleasant metallic taste in my mouth that lasted for quite some time so it is not a lube I would recommend for oral sex use.

This is a fantastic lube to apply to any sex toy or yourself as it doesn't run everywhere
As it dries out in use you are left with a sticky feeling but this washes off quickly, or you can even use a moistened towel to clean it off. After sex or masturbating with this lube I felt that my skin was soft and my vulva felt moisturised, and that will be due to the moisturising ingredients found in this lube.
This blend of water-based lube is compatible with natural rubber, latex and polyurethane condoms making it a safe choice if you use this form of barrier contraceptive.
Grab a bottle of Astroglide Gel Water-Based Lube from @AdultShopitUK.
Click to Tweet

This lube is a lot of fun and it gives a really smooth glide when used intimately
Key Features
Key features:
Water-based lube
Thick and easy to apply
Lasts well but leaves you sticky
Great flip top tube means no spills
Water soluble
Condom compatible
Final Thoughts
While its ingredients may be a show stopper for some people, I had no adverse reactions and I like it. I will be using it as an anal lube where its high viscosity makes it a perfect choice.
It provides excellent lubrication but as with all water-based lubes you need to keep topping it up, its moisturising properties could be felt after use, and that is a bonus.
Probably best not to go down on anyone after using it though as taste is not one of its endearing properties. That said though, if you are looking for a really thick water-based lube then this one is definitely worthy of consideration, if the ingredients don't work for you then there are other options available as AdultShopIt have a vast range of lubes to choose from.
I was sent this Astroglide Gel Thicker Formula Water-Based Lubricant by AdultShopIt and I would like to thank them for giving me the opportunity to review it for them.
Joanne's rating
Where Can I Get One From?
Grab one of these tubes of Astroglide Gel Thicker Formula Water-Based Lubricant from AdultShopIt for just £9.99 making it a very cost effective lube as you use only a small amount each time to play. Whilst there check out the rest of their lube range as there is something for everyone.
Check them out and don't forget to tell them that Joanne says "Hi".
Disclosure
This review does not contain affiliate links, for more information about affiliate links check out my disclosure page.