Uberkinky carry an extensive range of strap on harnesses from Aslan Leather and this one sits in the middle of the field in terms of costs and functionality and I was really looking forward to receiving it and getting to grips with it. I have a bisexual friend who has helped me out with a number of reviews and this was as good an excuse as any to get together with her again, all in the name of science of course.
Features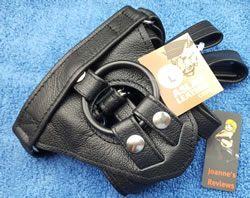 The first thing that I have to mention is the fact that I was very pleasantly surprised at just how soft the leather is on this harness. It looks and smells amazing, the finishing on it is very good indeed from the double stitching to the buckles. Everything gives it a quality look and feel that immediately wins you over and you just know it's going to be a lot of fun to use. It's only available in black but other colour choices are available in other strapons' from the Aslan Leather Range.
Like all good quality harnesses it features a rubber 'O' ring and this is secured to the harness by three push button clips and so it would be very easy to swap it for a larger or smaller one to fit dildos already in your collection.
Available in two sizes, I opted for the large which caters for hips 36 - 56 inches whilst the small fits hips 26 - 44 inches and I believe that these figures are a good representation of the sizes having used the large. The included ring is 4.5cm (1.77 inches) in diameter and I removed it and fitted it again easily although when you do fit a dildo the last clip is a bit of a bugger to secure but that is to be expected as it holds the dildo securely to the harness.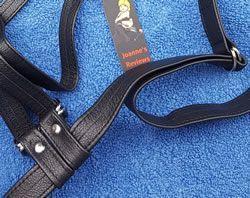 The double 'D' rings that are used on the hip and legs straps are easy to adjust and hold the leather straps securely in use and I found the harness didn't work use when in use. It was so nice to use a harness that stayed exactly where I wanted it and it meant I could really thrash around with it on.
The harness has no phthalates or latex in it and it is very easy to clean with warm soapy water. Once dried, buff the leather to a shine and ensure that it is completely dry before storing it away for next time.
It has a crotchless design having two legs straps that frame the buttocks in use and that means it can also be worn by a guy so that a dildo is held above his penis for some double penetration fun and games, this is something lacking in a lot of other harness designs
I have to admit to enjoying having my stunt cock wearing it and showing me just how much fun a strap on harness can be between a man and a woman without bringing up the subject of pegging, which it is also ideal for.
Wearing The Aslan Leather Driver Strap On Harness
Once adjusted this harness is a very snug fit and it holds the dildo tightly to your body allowing you to also enjoy the sensations as you thrust away.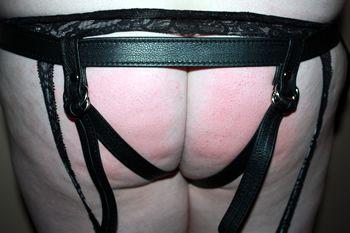 The leg straps sit comfortably between my legs and I have been told that they look great from behind as they frame my bum cheeks. They allow penetration whilst I am still wearing the harness which opens up lots of kinky possibilities as you can imagine. It's very easy to step into it and then to fit it in place and so you can quickly change what you are doing or even who is wearing it whilst having fun. The 'D' buckles are quick to release but a little fiddly to tighten as they really do grip the leather straps well so you need to feed the slack through them and then tighten them up.
Some harnesses, especially the ones with elasticated straps are very loose and you almost need to hold the dildo as you thrust but this one holds it securely to your body allowing you to grab your partners hips and really go to town on him or her. I relished the feeling of being able to fuck effectively and had a lot of fun just playing around in the bedroom waving my dildo around like a baby elephant plays with its truck. Childish I know but it was a heck of a lot of fun.
Sex Whilst Wearing The Aslan Leather Driver Strap On Harness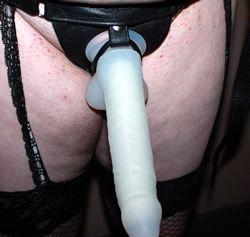 I cannot describe just how much fun I had with my female friend whilst wearing this harness and also whilst being at her mercy with her wearing it as well. A strap on can add a lot of fun to your lovemaking sessions and even though my stunt cock wouldn't let me peg him I had a lot of fun being fucked in different positions whilst wearing it and playing with my make believe cock.
Penetration by a cock or dildo is really easy whilst wearing the harness and when a guy wears it you can enjoy his cock and also a dildo either as double penetration or double vaginal penetration which is something that I really, really enjoy.
You have a lot of control over the dildo with this harness which means that you can deliver very precise strokes to your partner. It feels very smooth on your skin and doesn't rub or chafe at all and I honestly believe I will be hard pushed to find a more comfortable harness. This one is going to be my go to harness whenever the mood for some cock swinging girly fun is called for in the future.
Great Strap On Guides
Uberkinky are one of my favourite sex toy suppliers and I love their guides, they are an often cheeky look at sex topics but they carry a huge amount of very good advice and so these two guides may be of help to anyone reading this review: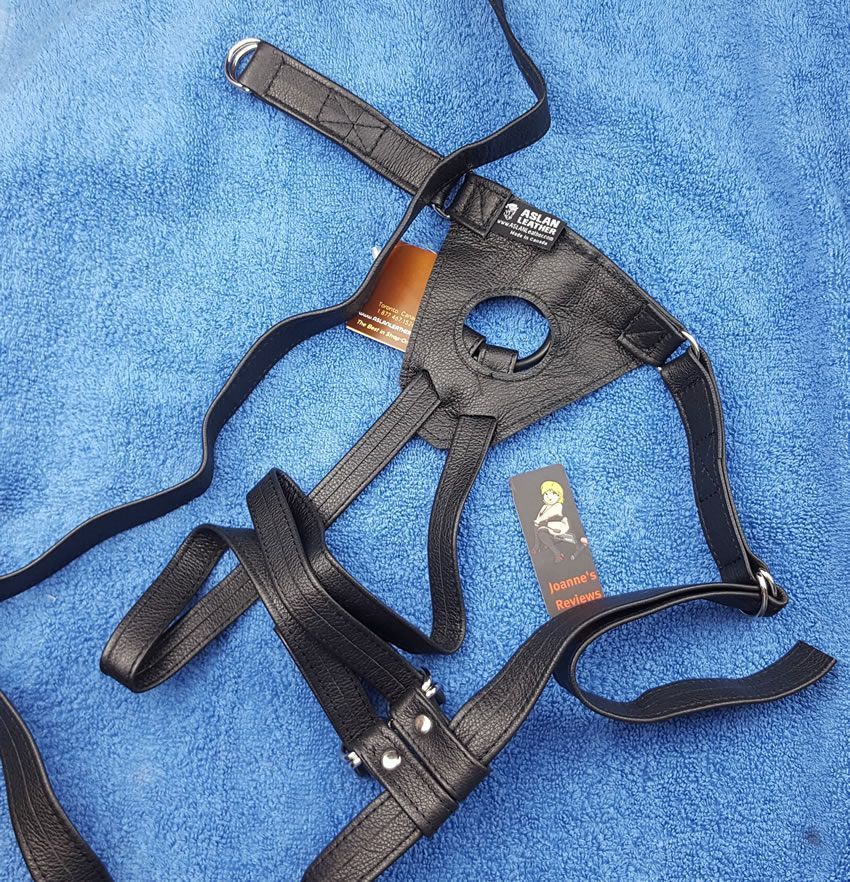 Key Features
Key features:
Quality soft leather with double stitching
Fully adjustable
Easy change 'O' ring
Leg straps
Crotchless design
Final Thoughts
I think that the Aslan Leather Driver Strap On Harness is a fantastic harness for anyone looking for a string and sturdy harness that is also soft against the skin and with the capability of taking different sized 'O' rings.
I was sent my Aslan Leather Driver Strap On Harness by Uberkinky in exchange for a fair and honest review and I hope that you have enjoyed reading this review and that is has hopefully left you curious to try one out for yourself.
Joanne's rating
Where Can I Get One From?

Grab a Aslan Leather Driver Strap On Harness for yourself from Uberkinky for only £59.99.
---

If you enjoyed reading this review then check out my other reviews of Uberkinky products:
Website links:
---