Delivery and packaging
This Rabbit Vibe arrived together with the Whisper Bullet Vibe in a plain cardboard box direct from Ann Summers.
Everything was nice and discreet as it should be of course when ordering sex toys online.
Just like the Whisper Bullet Vibrator, this one comes with a handy lockable storage bag. It arrives sealed in a plastic pouch with a cardboard wrapper around the bag showing product information.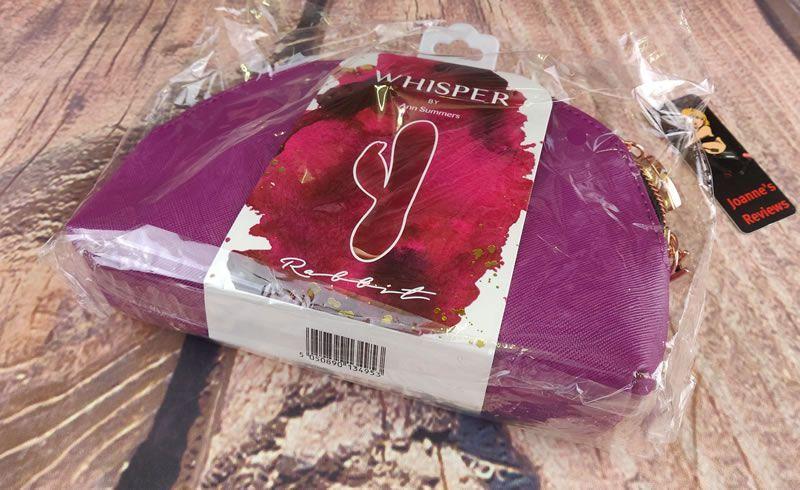 The lockable storage bag is fantastic and there is room inside for another sex toy too
This information card is bright and colourful, and it covers all the basics you would need to know when trying this toy for the first time. The storage bag is fantastic, and I would love it if Ann Summers sold them individually as I can see them being well received.
The storage bag comes with a gold coloured zipper with a gold padlock and two keys. This means you can lock your sex toy away from prying eyes for discretion. There is room inside for another sex toy as well - bonus.
The liner of the bag is easy to clean, and so it will be easy to keep your bag as clean as your rabbit.
Inside the bag, you will find the Whisper Rabbit inside a small plastic pouch, a magnetic charging cable and a set of easy to understand instructions. The font on the instructions is on the small side though, and I found it hard to read.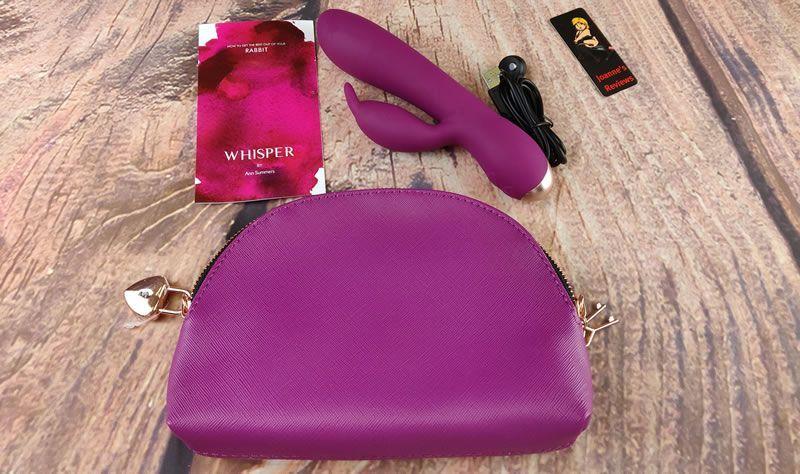 The lockable storage bag contains the rabbit, instructions and a charging cable
The rabbit arrives with a half charge, and as with all rechargeable sex toys, you should give it a full charge before use.
The magnetic USB charging cable snaps into place on two metal studs on the underside of the rabbit vibe. The magnets are powerful, which means it is less likely to disconnect as you put it down to charge, which is definitely a good thing.
An LED light indicates that charging is taking place, and it took just 45 minutes to reach a full charge when I charged this one up. The battery lasts a very long time too, which is great for long lazy lady-wanks.


The magnetic charging cable snaps securely to the rabbit vibe staying in place well
The Whisper Rabbit features two easy to operate controls, each of which has an icon to show you which it operates.
Each button operates one of the motors, and you can switch each on or off independently or cycle through the ten operating modes. This means you can just use the g-spot motor or the clitoral stimulator or both at the same time.
The only thing I don't like about the controls is you have to cycle through all of the settings if you miss the one that you want.
Materials and design
This is a classic rabbit style vibe containing two powerful motors. One in the tip which feels excellent against your g-spot and the other which set the rabbits ears rocking against your clitoris.

The controls are easy to locate and use in use
It is coated in a lovely blend of body-safe silicone. This means it is both latex and phthalate-free as well as being non-porous and easy to clean. The silicone itself is very nice with a slight draggy texture that feels great in use.
Use a good water-based lube with this rabbit, I can recommend Sliquid H2O or Secret Play Natural as I use them a lot as they are great for sensitive pussies.
Its small size also makes it ideal for anyone new to rabbits or insertable sex toys in general. It also makes it suitable as a travel companion. In fact, this one was recently taken to Germany by the delightful sub'r' where she also put it through its paces.
The rabbit ears are just right in terms of length when in use they really move around and feel nice against my clitoris.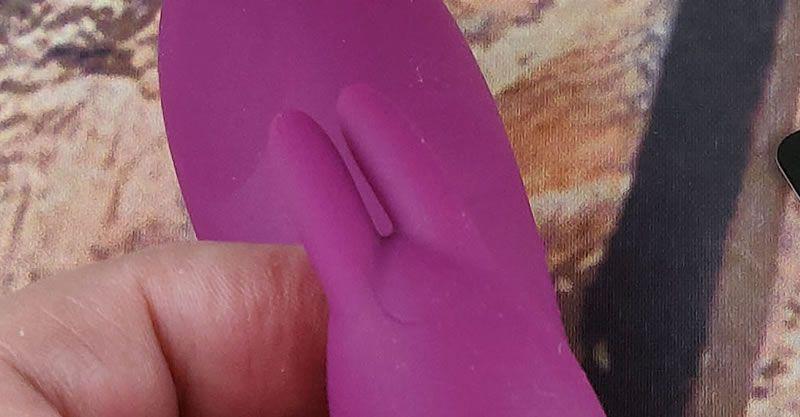 The rabbit ears feel sublime in use
Performance
Just as with the Whisper Bullet Vibe, I was a little disheartened at how loud this one is as well on full power.
On the lower power settings, it is very quiet so it would suit anyone who needed to be discreet. But, and there is always a but. If you crave the power of the higher settings it does get noisier, so please bear that in mind.
For a rabbit that is compact as this one, it is surprisingly powerful. I love the way that you can set different power levels in each motor, and these can combine to deliver some serious pleasure.
My preferred method of stimulation is to enjoy the g-spot motor in one of its pattern settings while enjoying the fluttering bunny ears on full power. Having strong constant vibration on my clitoris feels fantastic, and I love playing this way.
Using this rabbit this way really works well for me, and I have had some delicious orgasms with it.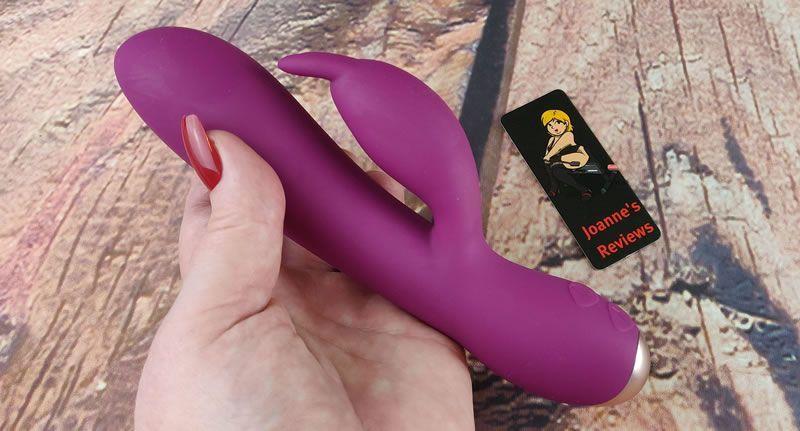 The Ann Summers Whisper Rabbit Vibe is very well proportioned
It is also fun to thrust in and out as well, just like any other rabbit.
For its small size, it packs a lot of power, and I was surprised by just how strong the vibrations can be. Those ears are the perfect size for me, too, and they feel divine against my clitoris.
We all differ slightly in our anatomy shape, and there is enough flex in the neck of the clitoral stimulator to make alignment easy. The length of the rabbit ears also helps to make finding your clit with it very easy indeed.
Check out the Whisper Rabbit Vibrator from @AnnSummers, it's powerful and comes with a delightful lockable storage bag.
Click to Tweet
Key Features
Key features:
Body-safe materials
USB magnetic charging
Two powerful motors with seperate controls
10 functions (three speeds and seven patterns)
Easy to use control buttons
Amazing lockable storage bag
I would recommend it to:
Anyone looking for a powerful rabbit vibe
Anyone who loves smaller rabbit vibrators
Anyone looking for a body-safe vibrator
Anyone who needs to lock away their sex toys
I wouldn't recommend it to:
Anyone who only likes rumbly vibrations
Anyone who dislikes rabbit vibes
Final Thoughts
I like the Whisper Rabbit Vibrator from Ann Summers, its small size and the lockable storage bag make it the perfect travel companion. It is also ideal for anyone in a busy household where you need to be discreet.
On lower power levels it is indeed very quiet, but on higher power levels this noise does increase.
I like being able to set different vibration patterns on my G-spot and on my clitoris, this feels sublime.
The body-safe materials and USB charging are also great features, and as I have said, the charging cable is fantastic.
If you are looking for a new rabbit vibe or buying your first one, then this should be it. I love it and have no problem giving it a solid recommendation.
I was sent this Whisper Rabbit Vibrator by Ann Summers and I would like to thank them for giving me the opportunity to review it for them.
Joanne's rating
Where Can I Get One From?
Grab one of these fantastic little rabbit vibrators direct from the Ann Summers website for just £65.
Check them out and don't forget to tell them that Joanne says "Hi".
Disclosure
Disclaimer - I was sent the Ann Summers Whisper Bullet Vibrator to review free of charge and this has in no way affected the outcome of this review. This post contains affiliate links and if you purchase something when you follow one of these links I may receive a small commission at no cost to you. For more information check out my disclosure page.