Delivery and packaging
This vibrator came straight from Ann Summers, and it arrived discreetly with its cousin in a plain box. There was no indication of what was inside or where it had come from which is excellent.
I often get packages left with my neighbour if I am not in, and it's nice to know she has no idea what was in the box.
The product packaging for the Ann Summer Whisper Vibrator is pretty minimalistic, and that is good for the environment.
It comes sealed in a plastic pouch with a cardboard wrapper around the bag with the product information on the back. The design of this sleeve is lovely, and it conveys everything you would need to know if buying this sex toy in a brick and mortar store.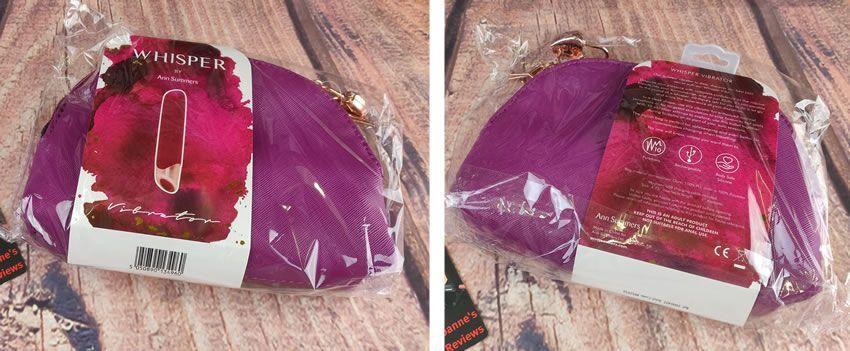 The Ann Summers Whisper Vibrator comes packaged in its storage bag
Now, as I have already mentioned the toy bag, I have to tell you more about it. I love it!
It is made from a delightful pink 100%Pu material, and it has a 100% polyester lining. Featuring a gold coloured zipper and a gold padlock with two keys so you can lock your toy away from prying eyes. It looks just like a chic cosmetics bag.
The toy bag is a great feature of this sex toy range, and I can see it selling well in their stores for this feature alone, let alone how good the toy is. It may be worth marketing these toy bags on their own as I love them.
Inside the bag, you get a set of easy to follow instructions, although the font is a bit small so if you have eyesight problems you may need help. You also get a nice magnetic USB charging lead too.
The Whisper Vibrator itself sits in a small opaque plastic pouch.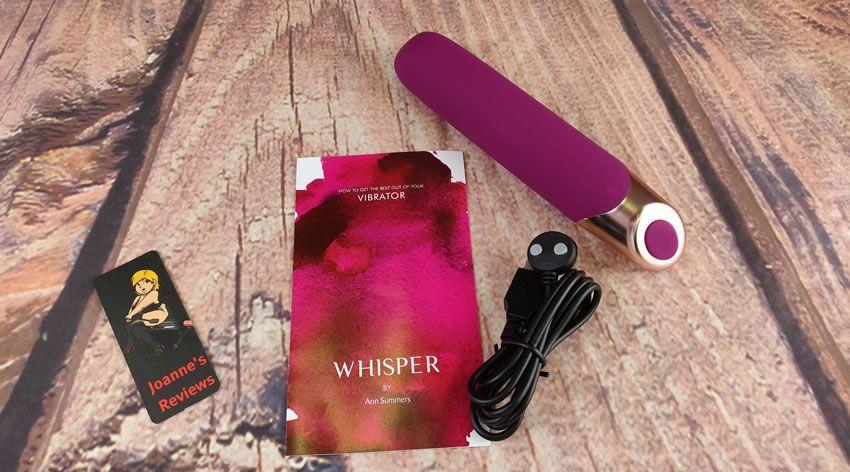 The Ann Summers Whisper Vibrator comes with a magnetic charging cable and instructions
Design and features
As its name suggests, the Whisper Vibrator is pretty quiet with the manufacturer claiming that it produces only 35db and that may be true on its lowest setting. But the noise level does rise as you cycle through the power settings making the more powerful ones quite noisy.
On its highest setting, I can just about hear it through a bedroom door, but when it is inside you the sound level drops drastically as you would imagine. It is quiet but if discretion is a must for you then you can't really enjoy it.
As I have mentioned, it is USB rechargeable, with the charging lead snapping magnetically to two metal studs on the underside of the vibe. These magnetic studs are very powerful, and this is probably the strongest ones that I have ever seen in a vibe, and that's a good thing.
Weaker connections often mean that your cable often loses contact and charging ceases. That isn't going to happen here though, so well done Ann Summers on creating the strongest magnetic charging system I have seen so far.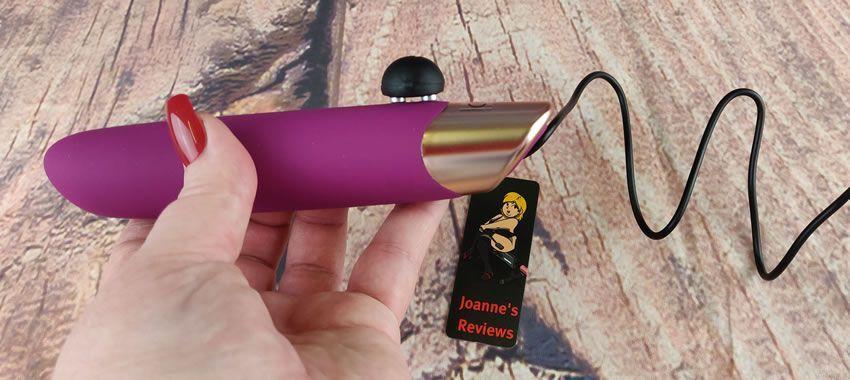 The Ann Summers Whisper Vibrator comes with a magnetic charging cable with strong magnets
A light flashes as it is charging to let you know its progress.
The bullet vibe has an insertable length of 4.75"/12cm which is enough for me to enjoy myself; it has a diameter of 1"/2.5cm.
It has an isosceles trapezoid profile (check me out, I'm a girly swot). Both ends angle in, and it looks lovely.
The top has a nicely rounded tip. However, it is still great for pinpoint precision. The sloping base carries the single operating button. This is used to switch it on and off again (long press) and to cycle through the ten operating modes (short press). This raised button is very tactile and delivers a crisp "click" when pressed.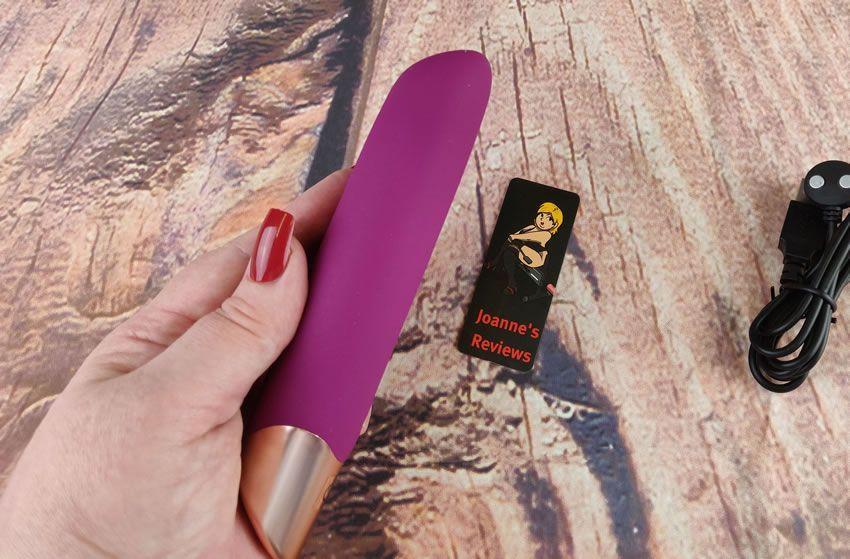 The Ann Summers Whisper Vibrator is a nice size and shape
The control end is made from ABS plastic, with the business end being covered in a beautiful blend of 100% body-safe silicone. These two materials are both non-porous as well as being free from latex and phthalates, which is definitely a good thing.
As with all bullet vibes, the shaft of the Whisper Vibrator is solid and not flexible. That said though the silicone coating has a little give in it which helps to give it a soft feel in use.
It is also waterproof and so that makes it an ideal bathtime companion. You can use it to relax stiff muscles or you can put it to a more intimate use, using it in the bath or shower is actually a lot of fun and I can highly recommend it.
Performance
I was genuinely impressed by the performance of the Whisper Vibrator, even though it was louder than I was expecting.
The motor generates some truly divine sensations that penetrate quite deeply. I wouldn't describe them as rumbly, but I also wouldn't describe them as buzzy. The vibrations lay in the middle of those two descriptions, and they feel great.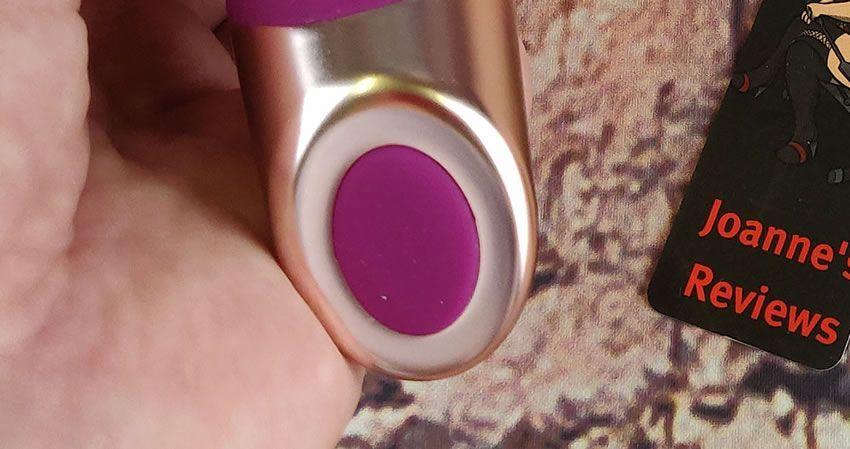 The control button is large, easy to use and very tactile
When you switch it on, the vibe defaults to its lowest steady power setting, and then you can cycle up through the other two constant settings. Further clicks will then take you through the seven patterns, some of which really rocked my boat. I would have preferred an up and down button though as I hate missing the setting I want, only to have to cycle through everything again but it is what it is.
Changing settings is easy, and once you get used to the programs, you can select the one you want pretty quickly.
Use a good water-based lube with this vibe such as Sliquid H2O or Secret Play Natural as it will enhance your play session tremendously. I always use lube even if just playing with my fingers as it makes things feel so much better.
I really like pressing the tip on my clitoris and relishing the deep vibrations, circling it also feels great too. I also tend to "dip" when using bullet vibes. As the clitoral stimulation becomes almost too much, I push the vibe into my vagina to enjoy some deeper vibrations. This gives my clit some much-needed breathing space before repeating again. I can pretty much edge for ages doing this and love long slow lady wanks like that.
When I want to come, I just press the flat part of the tip on my clitoris and let the pressure build until I cum hard. I have had some delicious orgasms using this bullet vibe this way. It also feels adorable on my nipples too.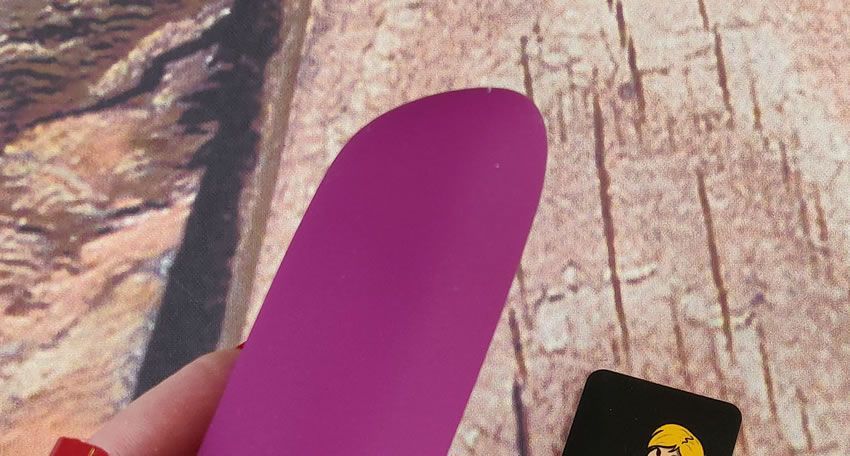 The tip is a nice shape for pinpoint precision and the flat side feel good on my clit
As Ann Summers points out one their packaging and in the instructions, this vibe is not suitable for anal play. Its lack of a flared base means inserting it anally is definitely too risky. Things tend to be sucked into your ass as you orgasm as opposed to being forced out of your vagina.
The vibrations that it generates really work well for me, and it is a vibe I will continue using even after writing this review.
Check out the Whisper Vibrator from @AnnSummers, it is powerful and comes with a delightful lockable storage bag.
Click to Tweet
Key Features
Key features:
Body-safe materials
USB magnetic charging
10 functions (three speeds and seven patterns)
Easy to use control button
Amazing lockable storage bag
I would recommend it to:
Anyone looking for a powerful bullet vibe
Anyone who loves thinner vibrators
Anyone looking for a body-safe vibrator
Anyone who needs to lock away their sex toys
I wouldn't recommend it to:
Anyone who only likes rumbly vibrations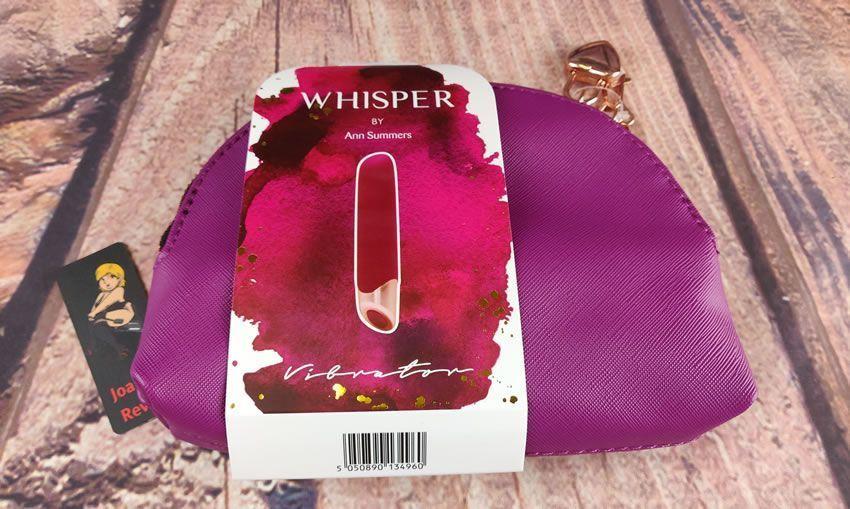 The lockable storage bag is fantastic and there is room inside for another sex toy too
Final Thoughts
The Whisper Vibrator is a very capable little bullet vibe that is well built and packs a punch. The storage bag is fantastic, and I wish I could buy them separately as they are so cool.
Ann Summers have come up with a very, very lovely bullet vibe that really hit the spot for me. I can use it for quickies or tease myself, edging for long periods with it.
The body-safe materials and USB charging are great features, and as I have said, the charging cable is amazeballs.
If you are looking for a new bullet vibe or buying your first one, then this should be it. I love it and have no problem giving it a solid recommendation.
I was sent this Whisper Vibrator by Ann Summers and I would like to thank them for giving me the opportunity to review it for them.
Joanne's rating
Where Can I Get One From?

Grab one of these fantastic little bullet vibrators direct from the Ann Summers website for just £50.
Check them out and don't forget to tell them that Joanne says "Hi".
Disclosure
Disclaimer - I was sent the Ann Summers Whisper Bullet Vibrator to review free of charge and this has in no way affected the outcome of this review. This post contains affiliate links and if you purchase something when you follow one of these links I may receive a small commission at no cost to you. For more information check out my disclosure page.