Delivery and packaging
As with everything that I have ever had arrive in the post from Ann Summers, their Nipple Covers came under plain cover. I am pleased with that as it is most peoples number one concern when ordering things off the internet.
The product packaging is rather nice but bland. The plain box does allow you to see the nipple pasties inside and that is great. If you are browsing for them in a brick and mortar Ann Summers store, you will be able to see the size and know if they will cover the whole of your areola.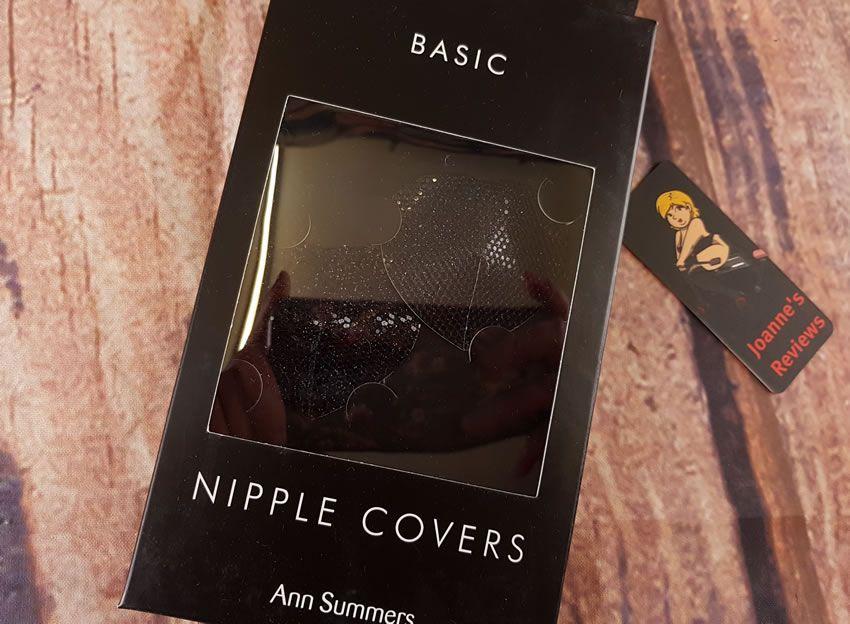 The plain dark box of the Nipple Covers from Ann Summers looks good
Materials
I love the glittery look of these nipple covers, and the fact they are black means that they will go with any outfit ;-)
The glittery coating does give them a very glamorous look that I love. Their heart shape is a nice touch, and it makes them even more fun in my eyes.
These are not thick and hard, but reasonably thin and they are slightly flexible to shape to most breast shapes easily. However, they are thick enough to not completely lose their shape.

The instructions recommend only wearing them for up to six hours at a time
The glue covers the entirety of the back of the nipple covers so they will stick to the nipple as well as the surrounding areola and skin.
Now the instructions state that it is best to try a bit of the glue tape on an area of skin before wearing them, but that isn't possible as the tape is already fitted to the nipple covers.
To fit them make sure that your nipples are dry and free from moisturisers, oils or perfumes and then simply peel off the backing tape on the nipple covers to reveal the glue.
It is best to fit them in front of a mirror or better still with the aid of a partner to ensure that they go on straight and at the same height.

The glue is covered by backing paper that is peeled off prior to use
The glue is pretty strong and when I fitted these nipple covers to the lovely sub'r' they stuck in place very well indeed.
These nipple covers are a good size and will cover the average size nipples. With a good profile that helps the glue stick to the skin securely.
Comfort and fit
They are very comfortable to wear, the glue holds them in place nicely, and they give a huge confidence boost if you are getting your boobs out.
They look so sexy, and while they do curtail nipple play, their very look and the hint of what is beneath them is bound to turn onlookers on.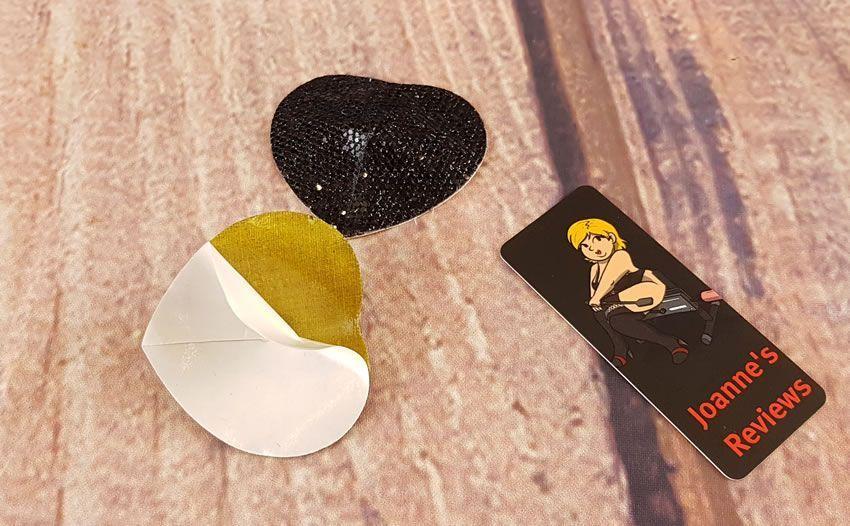 The backing paper is easy to remove prior to use
The glue is very sticky and should hold well for an evening of use and maybe even longer.
They do take a little bit of tender peeling to remove them though. I certainly don't recommend the plaster removal method of just pulling them off hard and fast - ouch! At this point in the review, all the men are probably grinning while the ladies are wincing lol.
I made sub'r' wear them to a swingers club where she got lots of attention while wearing them. They stood up to some light BDSM play as well with her breasts being lightly flogged.
They gave her confidence and made her feel very sexy indeed.
I would recommend keeping hold of the glue cover tape as if you are careful, you may even be able to get more than one use out of this set.
You can have so much fun with nipple pasties from @AnnSummers as Joanne and sub'r' found out.
Click to Tweet

The Ann Summers Nipple Covers look fantastic in use
Key Features
Key features:
Black glittery nipple pasties
Contoured for a comfortable fit
Strong adhesive backing
Can be re-used
Final Thoughts
These are available from Ann Summers for £8.00, and you can buy the double sided tape online so that you can use them over and over again.
Ann Summers has an excellent range of nipple pasties, some for burlesque performances and even special Christmas ones too.
Nipple Pasties can be a great option if you want to tease a partner or get your breasts out somewhere where hiding your nipples is a must.
I like them, they feel good, and I love the looks that they get you when others gaze upon your breasts and wonder what your nipples look like. They are a great way to tease others.
I was sent these Nipple Covers by Ann Summers and I would like to thank them for giving me the opportunity to review it for them.
Joanne's rating
Where Can I Get One From?

Grab one of these lovely Nipple Cover sets from Ann Summers for just £8.00 and enjoy some breasts out fun and games.
Check them out and don't forget to tell them that Joanne says "Hi".
Disclosure
Disclaimer - I was sent these Nipple Covers to review free of charge and this has in no way affected the outcome of this review. This post contains affiliate links and if you purchase something when you follow one of these links I may receive a small commission at no cost to you. For more information check out my disclosure page.