Delivery & Packaging
This rabbit vibrator arrived from Ann Summers in a plain cardboard box that carried no indication on the outside of it as to what lay within.
It's good to know that Ann Summers take customer discretion very seriously.
The product box is very plain and to be honest a bit un-inspiring. I do like the fact that you can see the rabbit vibrator through the transparent panel on the front though.

The packaging is clean but the back could have had more product information on it
This is fantastic as if you were to purchase one in one of the Ann Summers brick and mortar stores, you can see exactly what you are buying. By that, I mean you can see the size, girth and dimensions of the vibe to check that it would suit your anatomy. Rabbits can sometimes be a bit hit and miss because we all differ down there in terms of spacings and sizes that we enjoy.
The information on the back of the box is in a very small font which I found hard to read. I was a little surprised as there is lots of space for information, but I guess Ann Summers was going for a clean look. This doesn't help anyone with eyesight issues, though.
Materials and design
I just love rabbit vibes, and if you don't know what they are (where have you been hiding), they are a very popular style of vibrator.
They consist of an insertable vibrating section coupled with an external clitoral vibrator often featuring bunny ears that oscillates against the clitoris. Hence the name rabbit vibrator.
Inside the packaging your will find the Ann Summers Moregasm+ Petite Rampant Rabbit togther with a charging cable and a set of instructions.

You get the rabbit, a charging cable and a set of instructions, but no storage bag
Ann Summers made their name with the Rampant Rabbit range of sex toys, and this one is one of the latest iterations of this classic.
It is very lightweight, so great for anyone with arthritis, chronic illness or anyone who tires easily.
It is also very soft and flexible, which makes lining it up with my clitoris a straightforward task. I love the long bunny ears and also the cute little nose that feels great on my clitoris.
Coated in a delicious blend of body-safe silicone that feels fabulous when you drag your fingers along this toy. The slight draggy skin texture is great in use.
Silicone is our go-to material for sex toys as it is non-porous and both latex and phthalate-free, which means it is easy to clean. Being non-porous, the surface can't harbour bacteria, unlike cheaper sex toy materials. So using it really reduces the risk of thrush, UTI and other infections caused by porous sex toys.
On the subject of cleaning, just wash it in warm soapy water or use an anti-bacterial sex toy cleaner. This rabbit vibe is waterproof, so you have no problems giving it a thorough wash down after use to get rid of any vag-goo on it.
As with most silicone sex toys, it is a bit of a dust and lint magnet so keep the box to store it in or use a sealable sandwich bag which is how I keep my vibes as it takes up less space.
It is rechargeable and comes with a rather short USB charging cable. I found that this cable heated up after about 40 minutes of charging and I had to unplug it to cool down before continuing. I was a little surprised by this as usually Ann Summers charging cables are fine. I may have a bad one, but it is something to bear in mind the first time you charge yours up. Check the cable regularly.

The charging cable is inserted into the base of the rabbit vibrator
You have to find the hole that the cable plugs into and if you have eyesight problems that is a tricky task, refer to the instructions for the location of it.
As with all rechargeable, products give it a full charge before using it as this will ensure you get good battery life. It is always tempting to just grab it out of the box and start playing with the charge that is in it, but you are creating a problem later if you do.
You get six vibrating functions to play with, and a single button switches the rabbit on and off again. It also cycles through the six operating modes.
This is quite a noisy vibrator even on its lowest settings. Still, under a duvet, it can't be heard on the other side of a bedroom door on the lower settings. The noise means it may not be suitable for people living in shared accommodation though.
I love the size of this rabbit, it is well proportioned and has an insertable length of 4.5"/11.4cm and a diameter of 1.25"/3.2cm. This makes it an ideal size for people new to insertable sex toys or who just prefer smaller diameter rabbits over their bigger cousins. As it isn't a large and light weight rabbit vibe, it is also perfect as a travelling companion.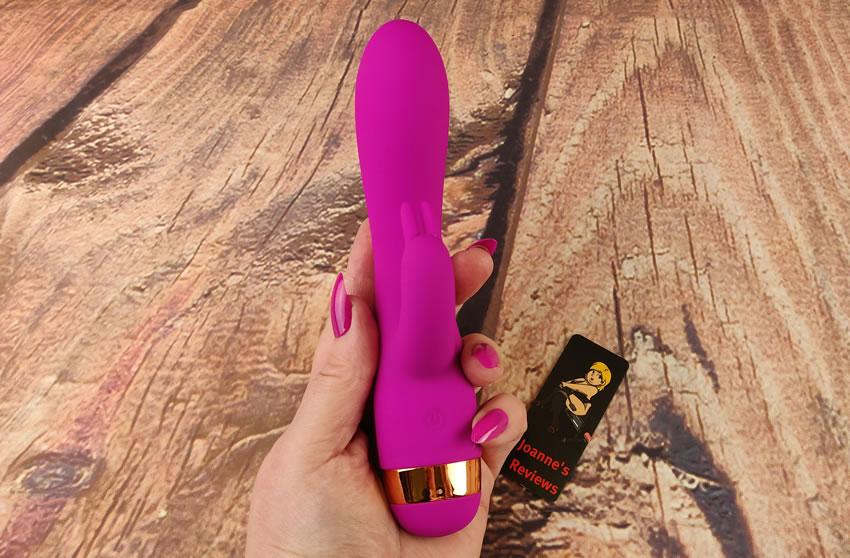 This is a very nicely proportioned rabbit vibe that is fun to use
In use, I would highly recommend using a good quality water-based lube such as Sliquid H2O or Secret Play Natural. Lube makes it easier to insert and also helps the ears stimulate your clitoris without irritation. Plus, everything is just better with a good quality lube.
As I alluded to earlier in this review, the Ann Summers Moregasm+ Petite Rampant Rabbit is a waterproof vibrator. That means you can use it to have some very naughty fun in either the bath or the shower. I love using mine in the tub, the combination of the vibrations and the water lapping at my bits really gets me off. I usually enjoy long slow lady wanks in the bath that last around twenty minutes and orgasming in the water is so much fun. Plus it is easy to clean myself up afterwards too.
Performance
I love Rabbit Vibes, the combination of penetration coupled with intense g-spot and clitoral stimulation rarely fails to get me off. I am happy to say that this rampant rabbit definitely hit the spot every time I used it on myself.

This is a very nicely sized rabbit that feels great (and it matches my nails too)
The six vibration settings are so much fun. I generally prefer to push this rabbit deep inside me, and I find it easy to align the clitoral stimulating ears with my clitoris. As I have a vertical clitoral hood piercing, direct clitoral contact is very powerful and over time has a numbing effect on me.
I therefore, prefer to place the ears just off to one side of my clit, drawing them in closer as I am about to cum to send me over the edge.
The internal vibrations are also very powerfull, and I love the sensations of both of the motors combining to stimulate me inside and out. Thrusting with it is also lots of fun.
The small size means that it is easy to hold and the single button makes operation very easy, just cycle through the power settings to get to the one you want.
You can use a rabbit is all sorts of positions, I like to lay on my side and insert it before clamping my thighs together to hold it in place. If I then thrust my hips, I can vary the penetration and also the pressure on my clitoris to good effect.
This rabbit excels in the bath for me though, and it has delivered some very nice "me time" in the bath.
Looking for a small but fun silicone rabbit vibe? Check out the @AnnSummers Moregasm+ Petite Rampant Rabbit Vibe. Joanne loves his little bunny ears and cute nose.
Click to Tweet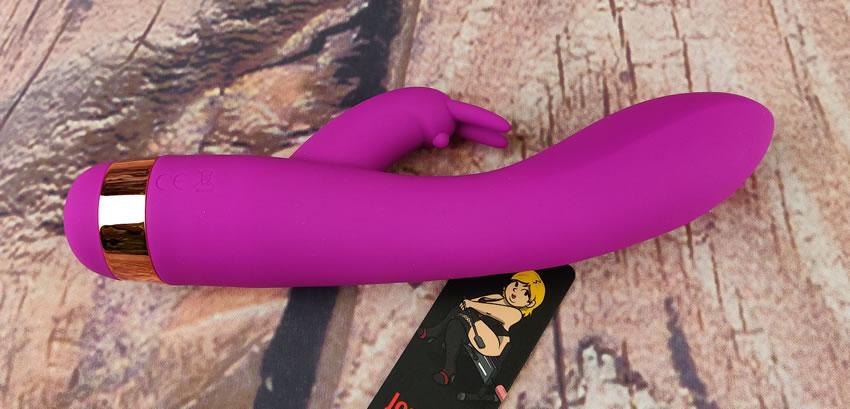 I like the Ann Summers Moregasm+ Petite Rampant Rabbit Vibrator
Key Features
Key features:
Six function rabbit vibrator
Coated in body-safe silicone
USB rechargeable
Waterproof
I would recommend it to:
Anyone who likes smaller rabbit vibrators
Anyone who enjoys penetration and clitoral stimulation
Anyone looking for a small vibrator to take with them when traveling
Anyone who enjoys sex toy play in the bath or shower
I wouldn't recommend it to:
Anyone looking for a large rabbit vibrator
Anyone looking for seperate motor controls
Final Thoughts
This is a lovely rabbit vibe, and it is ideal for anyone who travels a lot or who doesn't like their sex toys on the large size. It lasts a very long time on a full charge and delivers very nice vibrations where they are most needed.
The body-safe silicone coating is very nice, but like all silicone sex toys, it can be a bit of a dust and lint magnet, so keep the box.
I like the Ann Summers Moregasm + Petite Rampant Rabbit Vibrator, and I would like to thank Ann Summers for allowing us to review it for them.
Joanne's rating
Where Can I Get One From?
Grab one of these cracking little rabbit vibrators direct from Ann Summers for just £55 and enjoy some very pleasant sensations when you play with it.
Check them out and don't forget to tell them that Joanne says "Hi".
Disclosure
Disclaimer - I was sent the Ann Summers Moregasm+ Petite Rampant Rabbit Vibrator to review free of charge and this has in no way affected the outcome of this review. This post contains affiliate links and if you purchase something when you follow one of these links I may receive a small commission at no cost to you. For more information check out my disclosure page.