Ann Summers - Moregasm+ Boost Rampant Rabbit Review
A powerful body-safe rabbit vibe from the home of the rampant rabbit
Stimulate your pussy and clit with the Moregasm+ Boost Rampant Rabbit from Ann Summers. I love it when I get asked to review rabbit vibrators, and so I jumped at the chance to review this one when Ann Summers asked.
Vibrators like this do get my juices flowing, as I love to feel the vibrations inside and out. I find internal and clitoral stimulations delightful so rabbit vibes work well for me.
"The curve of the toy means that it is not only easy to slide in and out, but with a small change of angle, it hits the g-spot amazingly well."

Joanne
I didn't have to wait long for it to arrive and I couldn't wait to try it out. The first thing I did after taking the pictures was to charge it ready to play before jumping into bed with a bottle of lube and this rabbit.
So, read on to find out what I think of this particular rabbit vibe.
Delivery and Packaging
Just like everything else Ann Summers have sent me, this vibrator arrived in a plain box. It carried no indication as to the contents on the outside of the box.
This discretion is essential to anyone ordering sex toys online, and it is good to see that Ann Summers take this seriously.
The Moregasm+ came well packaged, in a sturdy box to keep it safe in transit. I love the fact that the front of the box has a window through which you can see the actual rabbit vibe so you know how big it is.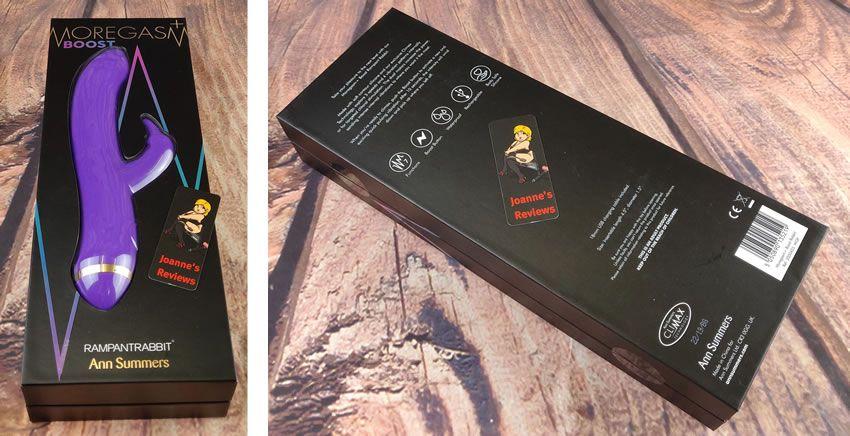 The packaging of this rabbit is clear and easy to understand
It comes in a sealed, attractive presentation box so that you can easily see the contents with additional information on the back of the box to help guide your decision in a brick and mortar store.
Design and Materials
The Moregasm+ Boost Rampant Rabbit is coated with a soft silicone coating, making it body-safe, non-porous and easy to clean. Silicone is my go-to sex toy material as it is both latex and phthalate-free. This makes it perfect for anyone with a sensitive pussy like mine.
Only use a good water-based lube with any silicone toy, there are lots of different ones on offer, but I always recommend either Secret Play Natural or Sliquid H2O, as they are great if you are sensitive.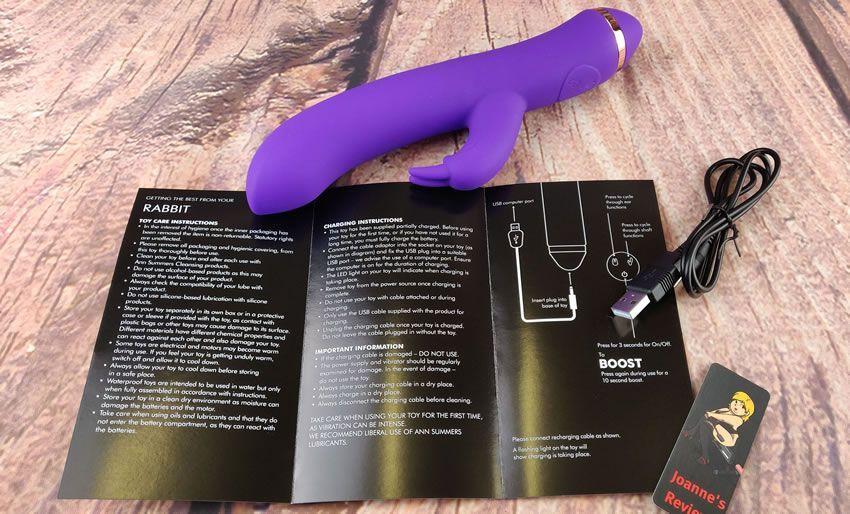 Inside the box you will find the rabbit vibe, a charging cable and a set of easy to follow instructions
The Moregasm+ Boost Rampant Rabbit come with a USB charger cable with a small pin connector which pushes into the base of the toy. The power button flashes when charging, then changes to a solid glow to let you know when it is charged.
Like all rechargeable sex toys give this one a full charge before first using it as doing so will extend the life of the battery.
With three separate speeds to explore and four vibration patterns to explore using the dual motors, you can feel the power.


The charging cable is easy to insert and stays put when you rest the vibrator on a surface
Don't forget the boost button; this gives you 10 seconds of a quick pulsing vibration to help add some more fun to this Rampant Rabbit. After which it goes back to the settings it was last on. I find it fun to use just as I am about to orgasm, the added power kicks me over the edge into a fantastic orgasm, and it is a fun feature.
I would have liked to have a couple of more speeds to enjoy, but the dual motors do mean that you can have two different settings for the vibrator and the clit stim if you prefer. This allows you to blend the sensations to give lots of variety.
The fact it is waterproof makes it very easy to clean. Just wash it in warm soapy water or use an anti-bacterial sex toy cleaner on it.
The smooth, sleek design with a slightly fatter tip, gentle curve and the small gold coloured strip at the base make for a very pleasing looking toy. The rabbit ears are a perfect length for me and feel amazing plus the little bubble nose hits the spot just right.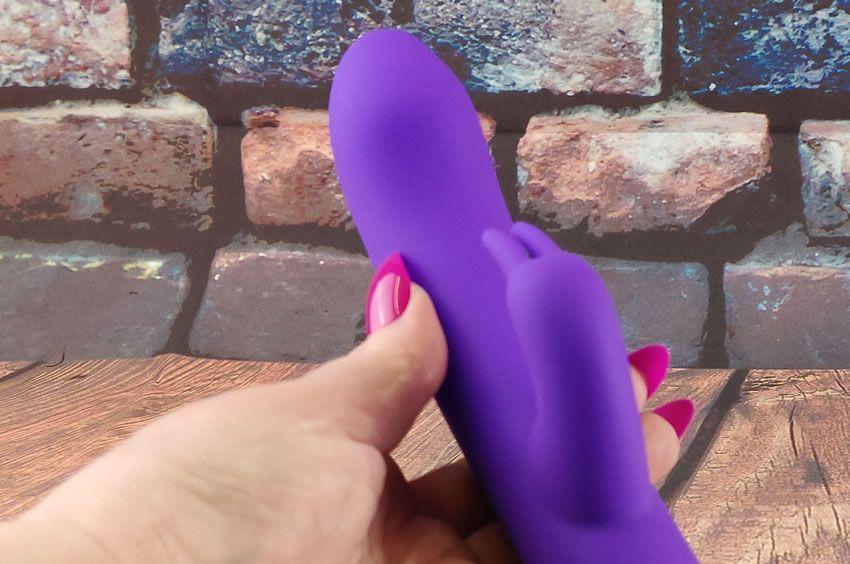 The bulbous tip of this rabbit feels fantastic against my g-spot
Performance
The Moregasm+ Boost is a nice weight and can be held comfortably and securely in use, even with a little lube on your hands. The curve of the toy means that it is not only easy to slide in and out, but with a small change of angle, it hits the g-spot amazingly well.
The buttons look nice, although I did find it a little fiddly to find the right button when in use as they don't stand out and are a bit close to each other. But after a few days of play, I soon got the hang of finding the buttons quickly.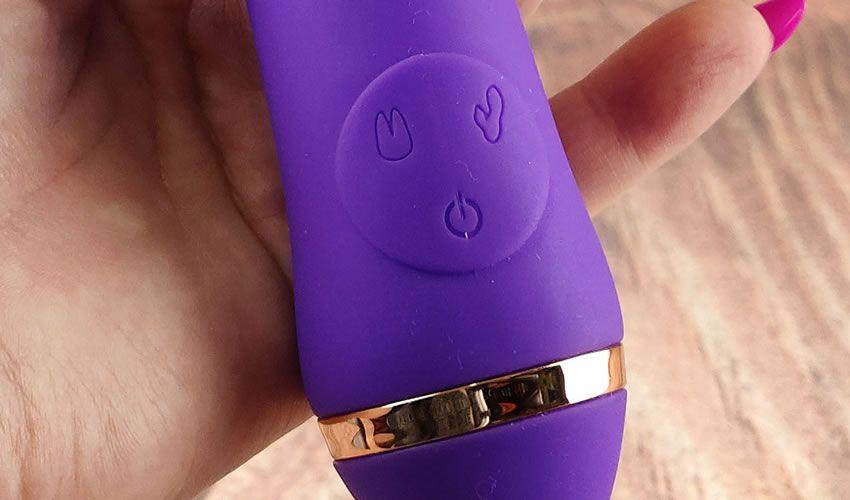 The buttons are small and take a little getting used to but I got there in the end
To switch on you need to press and hold the power button, this will then light up so that you know it's powered on. You then select either the clit or main vibrator buttons to choose the vibrations and where you want them.
If you want to switch off the clit stim and not the vibrator, or the other way around, there is no option of doing this. This was a little disappointing. I had to power off the entire toy and start again.
The other feature that I enjoyed was the boost setting. If you press the power button again in use, it sets the boost option, sending powerful vibrations over the entire toy for approximately 10 seconds.
When holding the toy, it isn't super quiet, however, once inserted it is a lot quieter, so you don't have to worry about people hearing it outside a closed-door (unless you have your windows open LOL).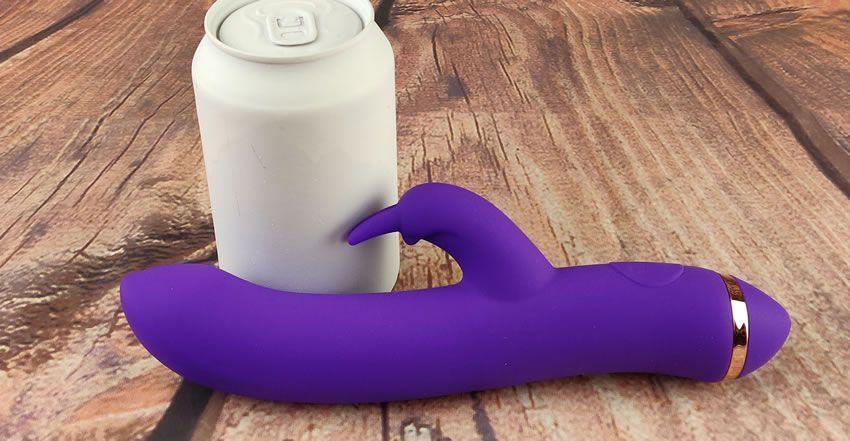 This is a nicely sized rabbit vibe that isn't intimidating
The vibrations are felt mainly in the head of the vibrator and have a lovely deep rumbly feel. However, the boost sends much stronger vibrations along the whole length of the vibrator. If I try to compare the vibrations the strongest normal setting, maybe a car driving over cobblestones, but the boost are like an earthquake (vibrator style).
There is some flexibility which enables you to move it around comfortably while maintaining its shape. I enjoyed moving it around to increase the sensations, especially on my g-spot. I had no problems reaching orgasm with this rabbit vibe, and on low settings, I can edge myself for long periods before hitting the boost button to send me crashing into a nice orgasm.
The Moregasm+ Boost Rampant Rabbit from @AnnSummers delivers some delightful sensations, go on, check out the review of this lovely rabbit vibe.
Click to Tweet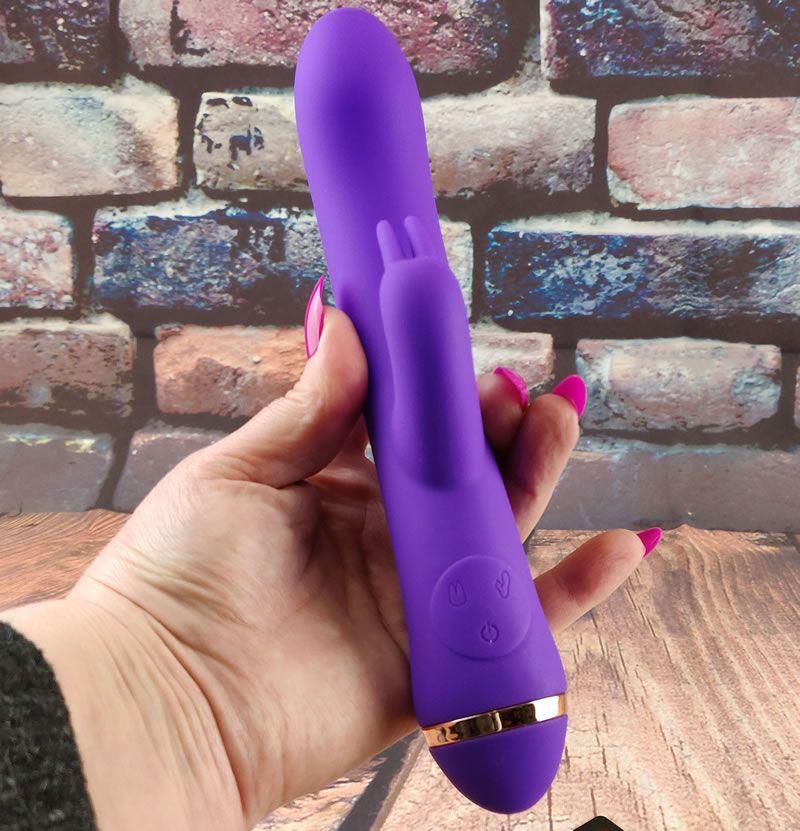 I have had a thoroughly enjoyable time reviewing this very capable little rabbit vibe
Key Features
Key features:
Body-safe materials
Two powerful motors with separate controls
Boost function
Seven functions (three speeds and four patterns)
Waterproof
I would recommend it to:
Anyone looking for a powerful rabbit vibe
Anyone looking for a rabbit vibrator with that something special
Anyone looking for a body-safe vibrator
Anyone who likes to play with their vibrator in the bath
I wouldn't recommend it to:
Anyone who dislikes rabbit vibes
Anyone who wants high-speed vibes
Anyone who dislikes rumbly vibrations
Final Thoughts
I like the Moregasm+ Boost Rampant Rabbit from Ann Summers, it's a good size, and the boost function does make it much more fun to play.
I like the separate dual motors so I can choose different settings. The size and shape were perfect for my body form, and the clitoral ears feel divine.
The body-safe materials and being waterproof gives you more choice on where to play.
I was sent this Moregasm+ Boost Rampant Rabbit Vibrator by Ann Summers, and I would like to thank them for giving me the opportunity to review it for them.
Joanne's rating
8.2Overall9Design8Features8Functionality8Ease of use8Price
Where Can I Get One From?

Grab one of these very capable Moregasm+ Boost Rampant Rabbit Vibrators for £85.00 and enjoy some bunny 'me' time.
Check them out and don't forget to tell them that Joanne says "Hi".
Disclosure
Disclaimer - I was sent the Moregasm+ Boost Rampant Rabbit to review free of charge and this has in no way affected the outcome of this review. This post contains affiliate links and if you purchase something when you follow one of these links I may receive a small commission at no cost to you. For more information check out my disclosure page.
---
---
Additional Info
Overall Rating:

8.2
You May Find These Articles Interesting