Sold by Unboundbabes, a radical group of women who run a sex shop like no-one else's. It's very nicely priced at only $32 which means that it won't break the bank.
Mine arrived quickly in plain packaging and upon opening it I was greeted by a very nice presentation box tied up with a blue ribbon carrying the unbound logo. I was already impressed before I even opened it.
Inside the box I found everything wrapped neatly inside some branded tissue paper. There is a piece of card showing Amelie Earhart and some instructions are written on the back.
The necklace comes wrapped in more tissue paper inside its own hessian drawstring bag. This bag carries the unbound logo and one of Amelia's most famous quotes - "Adventure is worthwhile in itself". That is something that I believe is still true even today.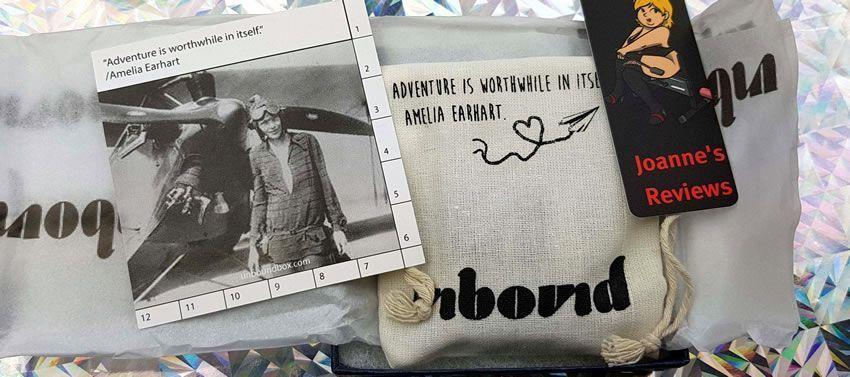 I was blown away when I finally unwrapped the necklace. It's made out of brass and then plated in 18k gold and silver and it looks stunning. I love the way that the silver is a nice contrast with the gold sunburst giving it a very classy look.
The chain has a standard clasp for opening and closing it again, at the end of the chain is a silver unbound logo together with an aeroplane which is a nice nod to Amelia.
The main feature though is the 18k gold sunburst surrounded by a silver cage. The sunburst features two rotating wheels and this is the kinky bit. It can be opened up to form a very effective pinwheel for some glorious BDSM play. This sunburst also looks a bit like a compass rose and it will get nice comments when you wear it out and about as it's just beautiful.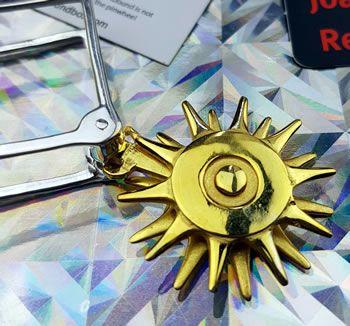 Running the pinwheel over your skin feels delicious and it can be used for some very nice sensation play. You can get as kinky as you want with it.
The sunburst locks into its storage position and when you open it again it locks in that position. I have had many comments about how nice it looks and no-one guessed what it's real use is. I wear it as a day collar and it fulfils that use perfectly. I know it is a BDSM item and so does my dominant but I can wear it out and about as it just looks like a fine piece of jewellery.
The silver cage is quite soft so care must be taken not to drop it or crush it. If it does bend though, it can be easily straightened again.
The needles on the two rotating pinwheels are not very sharp but that doesn't detract from its effectiveness as a pinwheel. The two pinwheels can rotate independently of each other and it delivers crisp sensations when rolled across your skin. My areolas and labia are two favourites of mine for this prickly treatment.
I love the fact that I can wear this in public and just touching it brings back so many sexy playtime memories. It is also nice to be able to hand it over to a play partner and have them tease me with it.
If you are looking for a different present for yourself or a loved one then this is certainly something to consider. Unboundbabes do a whole range of kinky jewellery so they are definitely with checking out. I just liked this one because of its pinwheel and also the ode to Amelia Earhart.
Key Features
Key features:
Brass with 18k gold and silver plating
Hidden pinwheel for soft BDSM play
Stunning Design
Comes with a gold chain and two silver charms
Final Thoughts
I really like this piece of kinky jewellery, I wear it as a day colalr and that means a lot to me. It looks amazing, carries a hidden secret and it's a tool to tease and please me. I love that I can actually wear a BDSM tool out and about without receiving anything but comments about how nice my necklace looks - "where did you get it from?"
It's the perfect day collar for a submissive to wear whilst in public.
Joanne's rating
Where Can I Get One From?
Grab one of these amazing pieces of BDSM jewellery at unboundbabes.com, check out the rest of their jewellery range for some very leasant surprises.
Check them out and don't forget to tell them that Joanne says "Hi".
Disclosure
This review does not contain affiliate links, for more information about affiliate links check out my disclosure page.