After a short, while sub 'r' emerged wearing this outfit and the decision was made there and then that this was the outfit for her and she loves it.

This is the maids outfit that sub 'r' chose whilst visiting Latex, Leather & Lace
I got to examine the outfit when they got home, and I must say that I am very impressed with both the materials and the finish.
It's made out of stretchy PVC with lace edging and trimmings. This gives it a bit of a Parisian French Maid look, and sub 'r' just looks so cute when wearing it.
I gave the outfit a very critical eye, looking at the stitching, the zip and the features that give it its look and character, and I was impressed. As it's £74.99, I knew that it would be a great outfit leaving all of the cheap Anne Summers things in its shade, but I wasn't expecting it to be as good as it is.
The stitching is all extremely neat and strong, the zip is very good quality, and it functions very well indeed. The zip and neck strap make putting this outfit on a quick and easy task.
One feature I love is the fact that the neck strap is fastened at the back with velcro around the back of the neck so that at a moments notice it can be undone for that "Boodies Out" look. This is ideal as Stunt Cock likes to practice shibari (at a very basic level) and it is good that the front of the outfit can be dropped at a moments notice for some rope play.
You get a lace choker with this outfit that is fastened with velcro again, and it looks incredible when coupled with a black leather collar. When they are both are worn together, they look like one item, and it's a fantastic look that really goes well with this outfit.
The pinafore has a black bootlace string through it that you tie behind your back. It's edged in the same white lace as on the edge of the dress, and this brightens up the front beautifully. The pinafore is the finishing touch that completes the outfit.
The stretch of the fabric means that you can afford to put on a few extra pounds while wearing it and it also causes it to hug your body nicely which feels very good indeed.
It has now been worn on at least twelve occasions in various clubs and dungeon scenes, and it still looks as good as new.

It's a very comfortable outfit that puts any submissive in her place and sub 'r' loves it
It's really easy to clean; the front wipes down easily if you get any spills on it and it buffs up to a high shine quickly and effortlessly.
The beauty of an outfit such as this is the fantasy element, especially in a BDSM scene. Maids, after all, are submissive in their action, they respond to commands and perform tasks to please their employer and to cater and fully satisfy their needs.
The open back means that things like pinwheels or a violet wand can be easily used and just drop the front for access to the breasts. When your maid is placed over a spanking frame or bench the hem of the skirt can be easily folded up and back to reveal the buttocks for some discipline or corporal punishment if your maid has displeased you.
Now put a real submissive into a stunning PVC maids outfit, and the scope for kinky fuckery is endless. Any submissive wearing an outfit like this will instantly be transformed into a fantasy world of submission and control while looking stunning in the shiny material. This is definitely true of sub 'r' whose whole demeanour changes when she puts this outfit on being more submissive than normal which believe me sounds funny, but it is true.

This is a super sexy black wet look PVC French Maid costume dress with white lace hem
This is now the favourite outfit for submissive 'r', and she looks so sweet in it, almost as though butter wouldn't melt in her mouth, but I know otherwise LOL. I must admit as well that it is also my favourite outfit that she has as it looks amazing on her.
This is an outfit that is now over six months old now (naughty me, I should have reviewed it earlier) but interestingly it still looks as good as new. It hasn't aged at all and sub 'r' likes to wear it as often as she can. She calls it her uniform and I must admit that as far as uniforms go this one looks hot as hell on her.
Latex, Leather & Lace also have two other maids outfits on their site but these are more lacey, and sub 'r' wanted PVC as she loves the feeling and looks of it.
If you get the chance I highly recommend taking a trip to the Latex, Leather & Lace showroom in Barwell, Leicestershire as you are guaranteed a warm welcome, and you can check out their wares in comfort and style. There is nothing like actually getting your hands on things or trying them on before buying.
Spice up your club or bedroom play with this PVC wetlook Maids outfit with lace trim from @LatexLeather.
Click to Tweet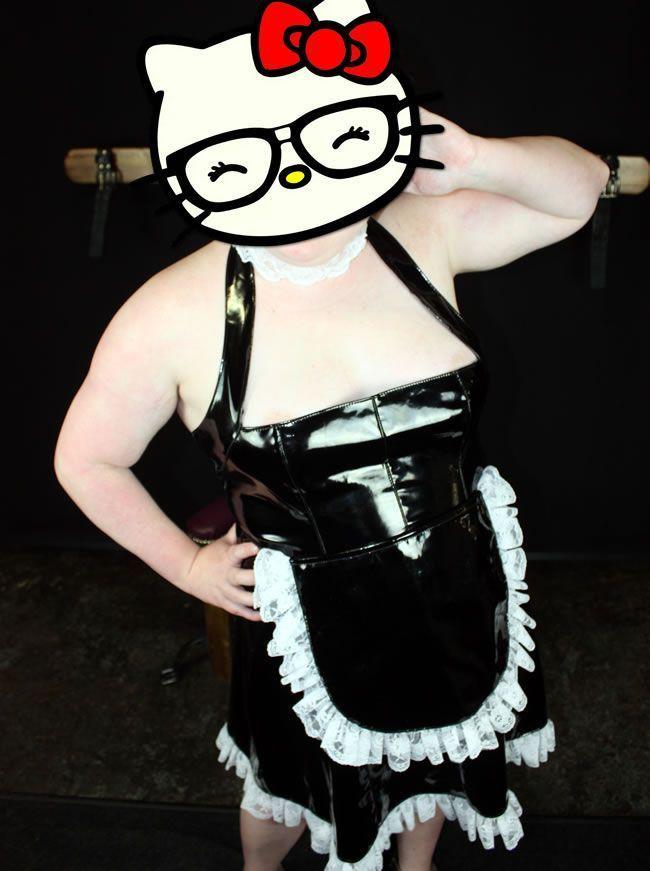 All of us love this amazing French Maid costume, it's fantastic
Key Features
Key features:
Soft and stretchy wetlook PVC
White lace trim
Includes lace choker and pinafore
Velcro neck strap for easy exposure
Sturdy zip and stitching
Final Thoughts
The Allure Plus Size PVC French Maid Costume is a fantastic dress that carries a character all of its own. Simply put it on to instantly defer to a dominant and to perform your services as a kinky maid. Its quality is superb, and this one has had a lot of use in clubs and dungeons, and it gets a solid recommendation from me.
Check out the other offerings in the Allure range at Latex, Leather & Lace for some other very nice options. I think it is time that we got sub 'r' something else from the range.
We bought the Allure Plus Size PVC French Maid Costume from the lovely team at Latex, Leather & Lace and I'd definitely recommend dropping by to see them if you are anywhere near barwell in Leicestershire.
Joanne's rating
Where Can I Get One From?
Latex, Leather and Lace are a premier online retailer of kink and they carry a huge range of products made from the best manufacturers from around the globe. You can shop online or even in their walk-in shop in Barwell, Leicestershire. Why not drop by if you are local and check them out. They are very friendly indeed and are a wealth of knowledge and advice. Don't forget to say that Joanne says Hi.
Grab one of these Allure Plus Size PVC French Maid Costumes for just £74.99 from Latex, Leather and Lace. You get a fantastic costume that will give you lots of pleasure for a long time to come.
Be sure to look at their amazing range of kinky shoes and boots. So check them out and don't forget to tell them that Joanne says "Hi".
Disclaimer - I bought the Allure Plus Size PVC French Maid Costume to review and this has in no way affected the outcome of this review. This post contains affiliate links and if you purchase something when you follow one of these links I may receive a small commission at no cost to you. For more information check out my disclosure page.