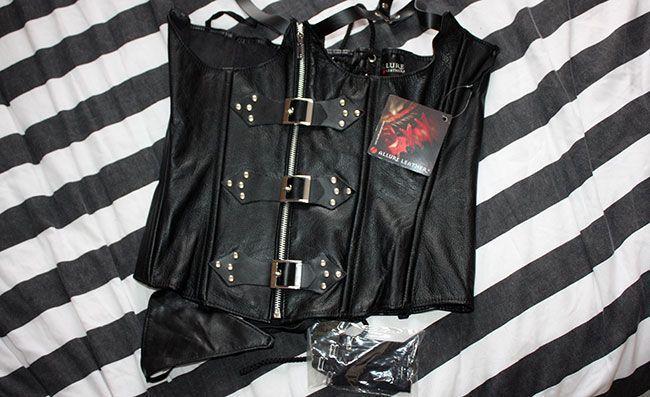 This Allure Corset looks fabulous and is fantastic quality
Stunt Cock took sub'r' to visit Latex, Leather & Lace to get the sizing right and to give her a treat and both of them thoroughly enjoyed their trip.
The owners Patrick and Anna are fantastic and are just so personable. They both have the knack of putting you immediately at rest which is great as they often have visitors who have never visited an adult boutique before. These new visitors arrive nervously and leave as friends which as far as shopping goes is fantastic.
This is the second visit that we have made to their physical store in Barwell, Leicestershire and their boutique keeps going from strength to strength, their array of delights is impressive. One of the things I like about them most is their ethical approach to sex toys. They will only sell body safe products and lubes, and that is to be commended.
If you want to go to a friendly adult store that has a no pressure approach to their daily business, then I can highly recommend a visit to Latex, Leather & Lace. On their last visit sub'r' came away with the stunning Allure Plus Size PVC French Maid Costume and she still loves wearing it.

I love the fittings on this corset, they give it a striking look
Now sub'r' has had her eye on this corset ever since her first visit there last year and it was nice to see her face light up when it was taken off the hanger and handed to her to try on in their comfortable changing room.
The Allure Leather Cupless Buckle and Zip Corset is a cupless design, and so it's excellent for exhibitionists out there. The leather used is incredibly soft and supple, and the body of it is lined with a very soft comfortable layer that really makes this an extremely comfortable corset to wear.
It frames your breasts and has an adjustable halter neck with two pop studs giving you some adjustability. The leather straps that frame the breasts end at two very nice looking stainless steel rings that compliment the corsets look.
This is a corset that as you put it on you get shivers of excitement down your spine and when you check yourself out in the mirror a smile that can't be suppressed spreads across your face. It looks so very sexy.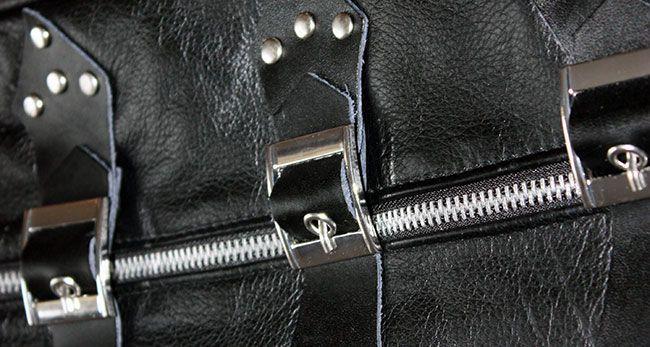 The straps and buckles reinforce the zip and give a stunning look
The front of the corset has three buckles that cover a sturdy zip which makes putting the corset on and taking it off again really easy. Each side of the buckles is secured with three shiny rivets that again compliment the look, and it is truly stunning. The buckles create a feature on the corset that tries to draw the eyes away from the exposed breasts, but they don't seem to work on Stunt Cock as his eyes always seem to drift to just above them.
This corset has it all, high-quality leather and shiny steel fittings that give it a BDSM look.
The bones of the corset are flexible which makes this corset very comfortable to wear and they allow the corset to conform to the body shape of sub'r' without discomfort.
The rear of the corset features steel eyelets through which the drawcord is threaded. It comes with a bootlace style cord which is not too difficult to draw and close the corset, but Anna gave us some great advice.
Replace this cord with lace as it slides through the eyelets much more efficiently which means it is easier and quicker to close the corset. I think that we will get some red lace to thread through the holes for a high contrast kinky look.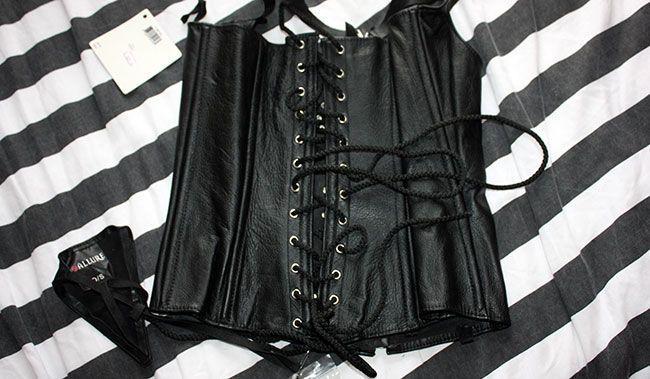 The corset is easy to lace up but swap the cord for lack
The Allure Leather Cupless Buckle and Zip Corset comes with some clip on and adjustable garters for stockings and also a matching g-string pair of panties. I don't think that sub'r' will need the panties and Stunt Cock grabbed them and put the triangular patch over one eye while making pirate "Rrrrrrr" sounds. He can be such a big kid at times.
As both myself and sub'r' are corset virgins, it was good to actually visit Latex, Leather & Lace as the fantastic Anna gave us so much good advice about them and in particular how to quickly close and tie the corset correctly. Anna is lovely, and she is also a wealth of knowledge on anything clothing or adult product related.
This corset looks fantastic on sub'r', and it has the added benefit of making her feel so sexy and confident too. Having her breasts exposed means that from a BDSM standpoint lots of fun can be had with her nipples and with a little rope some breast binding can be enjoyed too.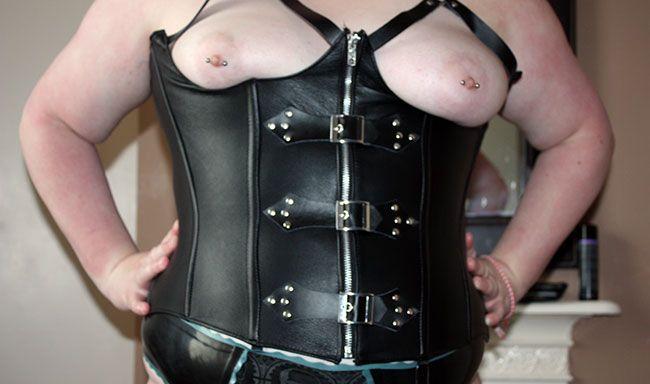 sub'r' loves her new corset and has already had so much fun in it
A corset is supposed to be sexy, but it also hugs you so tightly that you are always reminded of its presence as it embraces your form. They are so much fun for that very reason and tightened correctly you will be amazed at how much your waistline can shrink.
The Allure Leather Cupless Buckle and Zip Corset is fantastic quality, the materials and workmanship are great with tidy, neat stitching and lots of very nice details. The leather is subtle, and the lining is really a great touch that makes this corset a classy addition to anyone's wardrobe.
Having enjoyed this corset so much sub'r' wants to try more corsets and I don't mind that as long as they heighten her submissive look and don't look too domly. This one is perfect for her, and she loves wearing it to swingers clubs and fetish events.
The rest of the Allure range at Latex, Leather & Lace looks just as good as this corset. The range of designs is incredible, and they all look so sexy, check out the Allure shoe range as well as they are also incredibly hot.
This corset with its exposed breasts from @LatexLeather is ideal for submissives and looks incredible.
Click to Tweet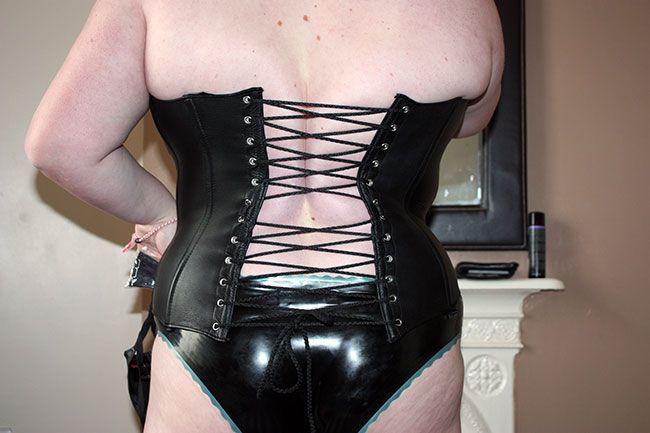 A corset just feels so sexy and if you never experienced one I urge you to do so
Key Features
Key features:
High qality leather
Easy tighten lace up corset
Sturdy zip and three buckles
Detachable garters and matching g-string panties supplied
Comfortbale and sexy to wear
Final Thoughts
We are utterly delighted with the Allure Leather Cupless Buckle and Zip Corset from Latex, Leather and Lace. It looks fantastic but what I like about it more is just how sexy it makes sub'r' look and feel. She loves the feeling of it tightly squeezing her, and she also enjoys the admiring glances she receives in it when wearing it at clubs.
This is a corset that will last a long time as it is such good quality and if you are looking for a leather corset that is both comfortable and sexy, you will be hard pushed to find a better one. It is excellent value for money, and it will be getting a lot of regular use for a long time to come.
We bought this Allure Leather Cupless Buckle and Zip Corset from Patrick at Latex, Leather and Lace and it has been a delight reviewing them for them.
Joanne's rating
Where Can I Get One From?
Grab one of these amazing Allure Leather Cupless Buckle and Zip Corset from Latex, Leather and Lace. It will cost you £149.99 from the Latex, Leather & Lace website, I can highly recommend visiting their boutique in Barwell, Leicestershire if you can to try one on in person.
Check them out and don't forget to tell them that Joanne says "Hi".
Disclaimer - We bought this Allure Leather Cupless Buckle and Zip Corset from Latex, Leather and Lace to review and this has in no way affected the outcome of this review. This post contains affiliate links and if you purchase something when you follow one of these links I may receive a small commission at no cost to you. For more information check out my disclosure page.