I am used to calling pacifiers or binkies, dummies or sometimes diddies, but in this review, I will call them by their product name, and that is a pacifier.
Pacifiers are used by lots of littles for precisely the same reason that they are used on babies and young children. They help littles relax and regress into their little role and mindset.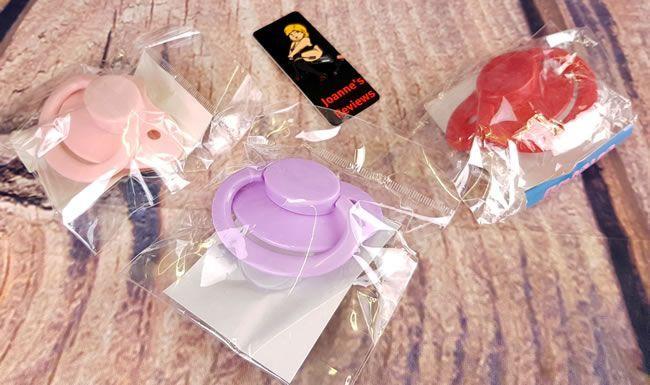 I was sent three pacifiers to review and they come sealed in clear packs with instructions
Pacifiers at some sites are very expensive, but I am delighted to inform you that this set of three pacifiers is available from OnesiesDownUnder for just £11.19, that's just £3.73 each which is fantastic value for money. Obviously, you need to factor in postage fees, but if you are ordering these and some other items from OnesiesDownUnder, then you can still save lots of money compared with other suppliers available.
Before I go into the pacifiers themselves let me tell you a bit about the delivery. I received a selection of products, and these arrived well packaged in one of those clothes self-sealing plain grey plastic bags.
It was delivered by an international courier which was DHL and the customs form stated clothing and toys which is very discreet. The best bit is the sender was simply stated as "Andrew" with no mention at all about OnesiesDownUnder which gives you peace of mind about how discreetly deliveries are handled.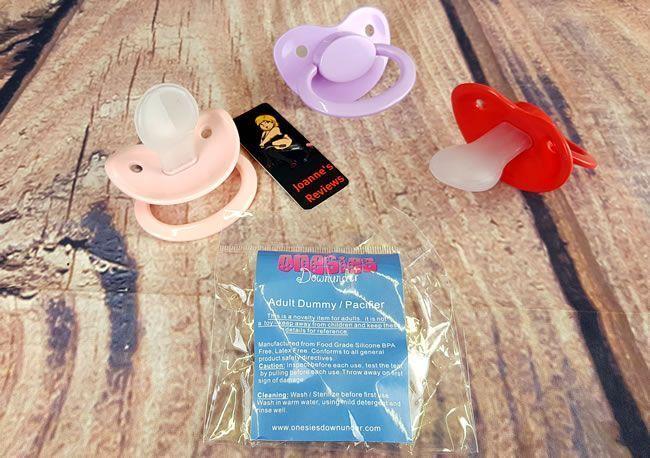 The instructions are clear and concise and the colours are bright
If you are ordering from the UK you may have to pay a customs fee on your order, in the past I have found these to be a bit hit and miss so you may get a charge or you may end up just paying a small customs clearance fee, mine was £3.15 which wasn't too bad.
Now onto the pacifiers themselves, each arrives sealed in its own bag for hygiene reasons which gives you confidence but wash them anyway or even sterilise them before use.
Each comes with an information label covering necessary safety information together with material information. I am delighted to be able to say that the teat is made out of food-grade silicone and it is latex and BPA free making it safe to use as you would expect.
As with any pacifier, you should inspect it before use and discard it if the teat becomes loose at all.

Always check the security of the teat before use, discard a pacifier with a loose teat
Cleaning is simple just wash with warm soapy water and then sterilise before use. We use Milton fluid as I think it is the best you can use but you may have your own preference.
The design of the opaque teat is comfortable for extended periods of use in your little's mouth. I did try one myself just to confirm that, and I also found it comfortable to suck on. The teat measures in at 2"/5cm long by 1.2"/3cm wide and it is very resilient, this is a pacifier that your little can really chew and chomp on without causing damage.
The shield on the pacifier is large and plastic, it has a nose cut out and also two safety holes to aid breathing with it in your mouth, and I think that is a fantastic feature. The shield is 2.6"/6.65cm wide by 1.9"/4.75cm tall and fits comfortably against the face.

The large shield is really in proportion to a little's face and looks great
OnesiesDownUnder has a fantastic array of different coloured pacifiers including glitter ones as well as bright and also dark colours so there should be something for everyone. You can buy them individually as well as packs of two, three or four pacifiers. There are at least 33 different colours to choose from, and there are lots of gender-neutral choices.
You can save a lot of money if you buy the multi-packs, single pacifiers cost £5.58, but that drops to just £3.36 if you buy them in the quad packs. A pack of three costs just £11.25 which is great value.
One great feature of these pacifiers is the fact that you can prise the components apart so that you can mix and match to make some unique colour combinations. Why not let your little choose his or her colours combinations and then assemble it to give them their own personalised pacifier. This is also great if you want to strip it down to its base components for a deep clean. When you put it all back together, the teat is held very tightly in place.

The range of colours available at Onsiesdownunder is amazing, these ones look fantastic
When I had finished taking these photos, I sterilised them all and then let Little "Rae" see them for the first time, and her face lit up. She has been so excited to be helping review some DDLG products with me. At first, she couldn't make up her mind which one to use first, but she soon settled on the pretty pink one which is what I had been expecting.
As soon as it went into her mouth her eyes closed and a smile spread across her face partially covered by the pacifiers guard but you could see it none the less. She loves them and has actually thrown her old one out preferring the new ones from OnesiesDownUnder which to be honest I can understand as these ones are just perfect for her.
She loves the soft teat and the way that it fits snuggly on her face giving her a very innocent angelic look. She likes to use the pacifiers when colouring and painting and they help to relax her, and it is a pleasure to see her in this relaxed state.

Little Rae is delighted with these pacifiers and tried the pink one first
Littel Rae's Thoughts
"I love these diddies, they are so comfortable and the teat sits in my mouth very comfortably. I don't get sore teeth when using them over long periods of time and unlike some smaller diddies I have used they don't have a tendency to fall out if sucking on it quickly whilst distracted. I like to chew my diddies and there is no sign of damage on the teat after several days of use. The plastic parts are nice and smooth and comfortable against my skin and I love pulling them apart (under supervision) to swap parts to customise them. I love these diddies from Onesiesdownunder."

Little Rae

Little Rae loves how comfortable and how good these pacifiers look
Check out the amazing range of pacifiers from @OnesieDownunder, Joanne and her little reviewed three to see how good they really are.
Click to Tweet
Key Features
Key features:
Food grade silicone teat
BPA free plastic components
Massive range of colours available
Can be stripped down and bits swapped with another to personalise the pacifier

These are very good pacifiers and Little Rae loves them all
Final Thoughts
These pacifiers are fantastic value for money and also excellent quality. Each is made out of body-safe materials, and I love the way that you can mix and match components to personalise them.
Little "Rae" loves her new pacifiers, and it is so lovely to see her so relaxed while sucking on one and seeing her contented look. They really help her to regress into her little state of mind, and for that reason alone I love them.
If you are looking for some fantastic DDLG products, then check out the incredible range of pacifiers together with some of the cutest onesies and twosies I have ever seen (reviews coming soon) and even bibs and pacifier retainers.
There is something down at OnesiesDownUnder for everyone. Check them out and tell them that Joanne sent you.
I was sent these Pacifiers by OnesiesDownUnder and I would like to thank them for giving me the opportunity to review this set for them.
Joanne's rating
Where Can I Get One From?
Grab one or even a set of pacifiers from OnesiesDownUnder from just £3.36 if buying the quad pack, a single pacifier is only £5.58 which is excellent value for money especially when you buy the packs.
The range of colours in mindblowing with everything from dark tones to gender-neutral to glittery effects. Being able to customise gives you almost limitless opportunities to personalise your own.
Check out the fantastic designs of their Onesies, Twosies and bibs. I have no problem in giving OnesiesDownUnder a huge thumbs up and a strong recommendation for anyone in the DDLG or ABDL scenes.
Check them out and don't forget to tell them that Joanne says "Hi".
Disclosure
This review does not contain affiliate links, for more information about affiliate links check out my disclosure page.