I love nipple play, it is the gender free sex organ made for loving
Well, they're made for loving and nurturing actually. The most amazingly fantastic thing about nipples is that we all have them. They are also definitely under stimulated in lots of us. I am talking directly to you, penis owners.
Yes, penis owners, nipple play is not just for us vaginistas. You can enjoy some tweaking, clamping and sucking play as well. Trust me you may want to take notes, this may come as a shock to you.
I'm going to cover some of the great ways that we can pleasure our twin love buddies. I'm also going to suggest some further reading for anyone looking to give take their play to the next level.
Firstly though let's just talk about what nipples are and what makes them so much fun.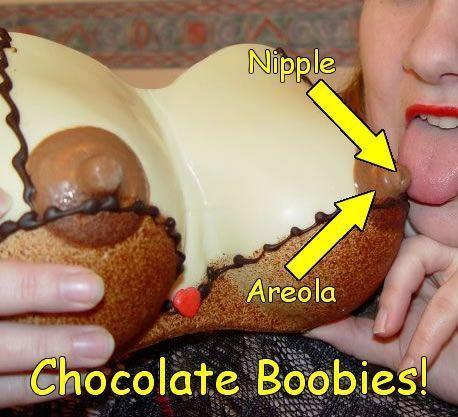 There are hundreds of nerve endings in a nipple and that makes them very sensitive to sensation play. This makes them hot spots for pleasure in all genders. Research has shown that nipples stimulation can mimic the same responses in the brain caused by direct genital stimulation.
That means they have a hotline to the pleasure centre of your brain. So it's hardly surprising then that so many people get aroused when their nipples are touched. With the right stimulation, you can experience an orgasm through nipple stimulation alone.
This diagram shows the basic biology of the breast and nipple through the medium of chocolate. It is common to all genders.
Here are a few ideas for nipple play together with products that I have reviewed. I will also include some links to relevant products for that style of play.
Finger Play
We can all enjoy some self-stimulation or stimulation by our partners using our hands and fingers. Try gently running a fingertip around your areola, then use your fingernail to see the different sensations.
Try adding some lube or saliva into the equation for some slippery nipple fun. Warm yourself up using your fingers first before even considering any equipment.
The most sensitive parts are first the nipple, followed by the areola and then the breast tissue. Stimulate and rub all three areas.
Squeeze your nipples, twist your nipples. Basically, give them a good going over. Some people enjoy having them squeezed rhythmically whilst others enjoy a little twisting action. Experiment to see what gets you aroused. Your nipples will fill with blood as you play with them causing them to get harder and erect just like a penis does.
Tongues, teeth and suckling
Having a mouth exploring your nipples can feel incredible. A wet tongue feels delicious teasing your nipple or circling your areola. Gently sucking on an erect nipple can also be mindblowing, You can even use your teeth to gently scrape and nibble on a nipple.
Go gently though as they are very sensitive. Often if you have large breasts you can self-stimulate your nipples this way. If you can't do that then you will need the help of a partner. Oral nipple stimulation is one of my favourite activities, both giving and receiving.
Always ask someone before biting or nibbling and start with your teeth closer to the breast. Use your teeth around the areola rather than the tip of the nipple to start with and go gently listening to your partner.
Vibrator play
You can use any vibrator on your nipples, try stimulating the areola and well as the nipple itself and you will enjoy some fantastic sensations.
As your nipples get harder so the sensations will change and your nipples will get more sensitive.
Temperature play
I'm talking hot and cold here, having your partner drink a cold drink before sucking your nipples. Alternatively get them to drink a hot drink or alternate for some very diverse sensations. You can use icecubes for nipple play but keep it moving and don't do it for too long otherwise you risk a cold injury. Temperature play can be a lot of fun especially if you are restrained.
You can add some fun whilst sucking on a nipple by wetting it then blowing on it to chill it. Then suck it into your mouth to warm it up again. This simple technique works wonders for some quick temperature play. Top Tip - try it down below as well the next time you go down on a wet pussy.
Nipple clamps
Now we're talking some serious fun, you know you mean business when play needs equipment. Clamping a nipple can feel exquisite or painful depending on how it's done. If you don't like it intense then place the clamp behind the nipple so that it clamps the areola. For more intense stimulation clamp the nipple directly. With any sort of clamping always release the pressure regularly so that blood can flow back into the tissue.
A simple peg is often the first thing people use on their nipples and these can feel good. You can then move on to purpose made nipple clamps made out of plastic, metal or even wood. One I love the nipple sticks made by Kink Craft, I have reviewed a set of these and they not only look stunning but they feel great. They are also adjustable. I have also used a nipple stick to clamp my clitoris and that was amazing.
The header of this article features a set of spring-loaded crocodile clips with bells attached. This style of clamp is popular for a reason - they work well and they sound great too. This type of clamp often has screws so that you can adjust the strength of the clamping action.
You can get nipple clamps attached to gags such as the O-ring Gag & Nipple Clamps that I recently reviewed. For some really intense play, you can try magnetic nipple orbs, be warned though that these magnets are very strong.
When you remove a clamp the blood rushes back into the nipple and this feels very intense and is my favourite part of the clamping process.
Nipple Suckers
Taking having your nipples sucked to the extreme can be a lot of fun and using a nipple sucker can feel very intense. It's also a visual treat as the nipple and areola engorge with blood. They expand to a much larger size than they would normally do. When the suction is released the swelling stays and this makes your nipples much more sensitive.
Health
Nipples come in all shapes and sizes and yours will be perfectly normal no matter what shape they are. That said though you should regularly check your breasts and nipples for changes. Seeking medical advice if you are worried about anything at all to do with them.
Conclusion
Nipple play may not be everybody's kettle of fish but if you don't try it you can't say that it isn't for you. I strongly suggest that the next time you masturbate you include some nipple play. Who knows, it may give you the best orgasm of your life.
Why not add a comment below to let me know how you prefer to have your nipples stimulated, that way you can give ideas and help to other readers.
Other Reading
3 women discuss their nipple orgasms