When I decided on making an enclosure, I only planned on putting one printer in it, but I thought why not make it bigger so I can put two inside. This makes sense as it means costs will be shared rather than making two enclosures.
I have renovated an old Creality CR10S, and that is much taller than my Ender 3 so the enclosure needed some thought. This machine has a bigger bed than my Ender 3 and it means I will be able to manufacture front panels for DIY control boxes and things like that out of ABS.
Features
I decided to design an enclosure that ticked all of these boxes.
I want to reduce drafts and increase ambient air temperature.
I need adequate lighting inside the enclosure.
I want to be able to monitor the temperature and humidity of the enclosure.
I want to be able to extract warm air to maintain a constant temperature.
I want to filter the extracted air to get rid of Styrene or any other chemical fumes.
I want to store filament in the enclosure.
I need to move the printer's electronics outside of the enclosure as they don't like too much heat.
I want to mount the printer's controls outside the enclosure.
I want to control each printer using Octoprint on a Raspberry Pi.
I want it to look the mutts nuts - of course.
Now that is a tall order, and if I can pull it off (no pun intended), it should be very nice indeed and allow me to create some even kinkier creations.
Some of the things on the list I have already tackled. Such as controlling my printers with a Raspberry Pi and Octoprint, I already use this to control my prints.
While searching for solutions for the heat sensing and extraction requirements, I came across a fantastic project by a guy called Jure Korber. He has created an Arduino controlled environmental monitoring system for printer enclosures and to support him I have bought one of his PCB's and I will be using it on my enclosure.
---
Check out his amazing project on Thingiverse - Universal 3D Printer Smart Enclosure by JKSniper February 13, 2018
---
I will be able to monitor both the temperature and humidity in both the filament storage section and also the printer enclosure on a touch screen. So I can control the extraction fan through it too as well as some LED lighting. This will add that geeky WOW element to the enclosure as the printers are working.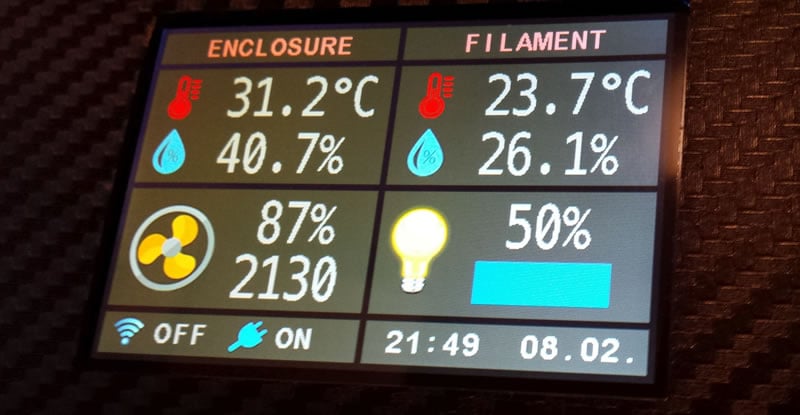 This control panel appeals to the inner GeekGirl in me LOL
For moving the electronics for both printers outside the enclosure, I will be using some sort of plastic enclosure for them with a huge kick-ass fan to keep them cool.
I think I have the project sorted in my head and I am acquiring all the bits and bobs I need to create it but I am going to wait until I move into my new office before putting it all together. I'd hate to build it then have to take it apart again to move it, so I need to be patient - not something I am good at.
Update: 22/07/20
Well, the bits and bobs keep arriving for the enclosure build. I now have the PWM fans which will be used to vent air from the enclosure if it gets too warm and also to cool both printers motherboards and power supplies.
I was most excited when a package was pushed through the letterbox by the postie this morning as I was eating my breakfast. It was the Smart 3D Enclosure Mainboard, and it is fantastic. The quality of the board itself and the components are first class. The soldering on the back is perfect. I love the fact that all of the connections are named front and back on the board.
I took a moment to burn the operating program into the Arduino Nano after editing some of the variables in it to my liking, and that went smoothly. I then fitted it to the board, and it looks great.
Jure has done a brilliant job with the design of the mainboard and the complete package. When you buy one you get build notes, instructions, build photos and everything you need to get started including a very detailed bill of materials.
Anyway, here is a pic of the Arduino Nano and the mainboard itself for your delight.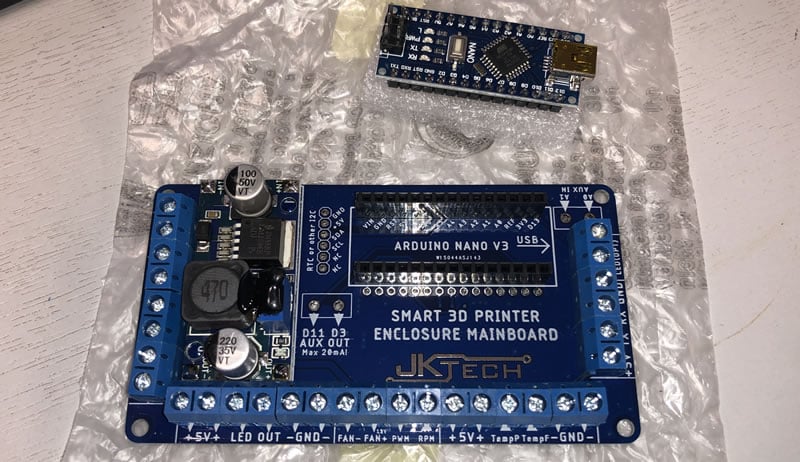 Image showing the main board for the control system
Today I start sawing wood for the enclosure shelf, and I begin to mock up the build. I can't screw everything down tight as I am moving offices in just over a week so the final assembly will have to wait until them. I will take the time between now and then to ponder cable routes and how I am going to mount the hardware.
Update: 02/08/20
This project went on hold for a while as I have just moved offices and I couldn't assemble the enclosure as it would have been a waste of time as I would have had to strip it down again for the move. Well, I am now settled into my new office (I still have a bit of tidying to do though) and so today I put in some work on the enclosure. I assembled the main frame and built the shelf for the material store at the top of the enclosure. It is looking great, the next step will be to add insulation to the print bay and the runners for the sliding doors.
It is a big boy that will swallow a Creality CR-10S and an Ender 3 side by side. Here is a pic of the build so far.

Image showing the assembled enclosure with the top shelf added
Update: 05/08/20
So today I wired up the enclosure controller to one of the heat and humidity sensors, a section of LED lighting and the screen to power it up and check the system works. I am delighted with the look and functions on the screen. All of the controls can be accessed through the touch screen and it is animated for things like the fan RPM. It looks pretty cool so now I need to install it into the enclosure and 3D print an box and mount for the screen.

Image showing enclosure control system
So check out my latest update on my 3D Printer Enclosure Project here.
Check out @JoannesReviews, she is making a DIY 3D printer enclosure with some pretty cool features.
Click to Tweet