Fan and Filter
I have fitted the fan, and the filter is in an enclosure and adaptor that I designed in Fusion 360 to allow me to attach a flexible hose to vent air outside the room when printing materials like ABS.
It works a treat, and it is one thing that is now finished and ticked off the list.

I had fun designing the filter holder and hose adaptor
Electronics Enclosure
I have designed the enclosure for the main electronics and power supply for the printer enclosure and lighting.
The main body has now been printed (37 hour print) in white PLA, and it is in place; it features holes where hot air can escape to help cool the power supplies.
I have designed the lid, and that will have a 120mm PC cooling fan on it to blow cooling air through the entire electronics enclosure to keep it all cool. I will start printing that tomorrow.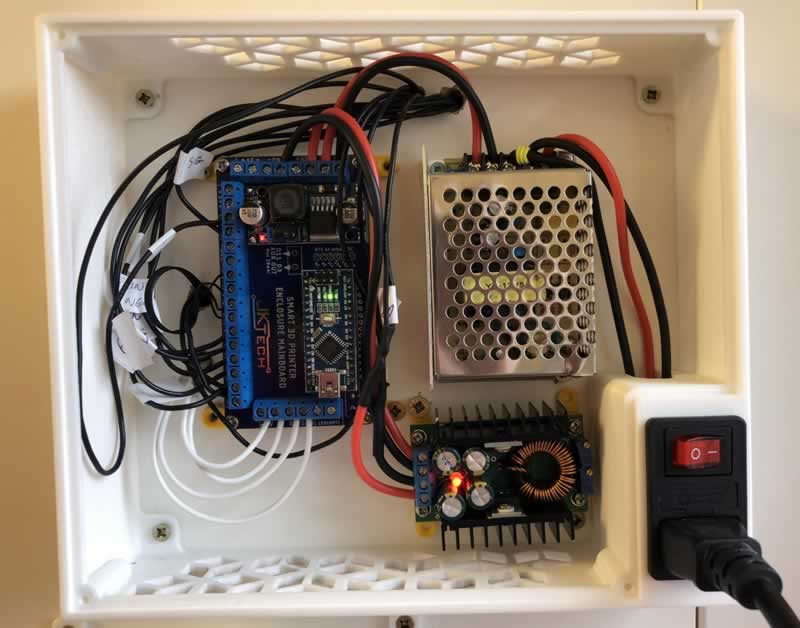 The case came out very nice indeed, I just need to print the lid out now
Control Panel
The control panel is finished and mounted although I may redo the coat of carbon fibre (fake) covering on the screens box.
As you can see, the interface is easy to read, and it is a touch screen so that I can change settings very quickly.
I love how it looks, and it is great to watch the temperatures rise as I am printing things in the enclosure; if it gets too warm, I just up the fan speed to get rid of some of the hot air.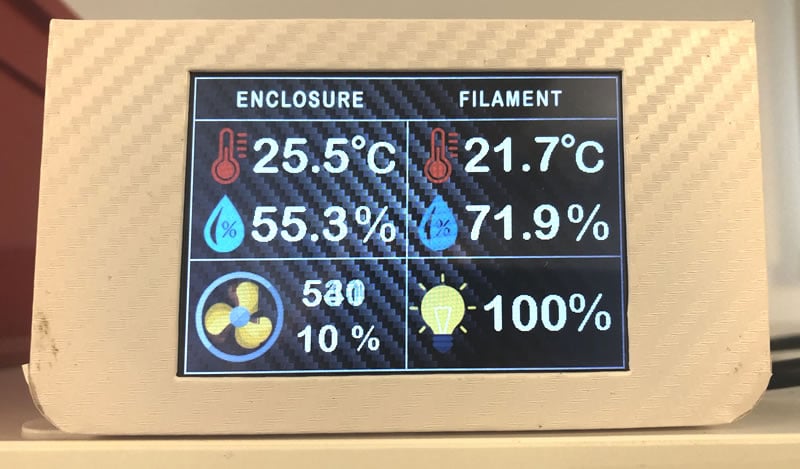 The touch screen controls are easy to operate
Cable Management
I needed to take as much of the electronics for the 3D printer outside of the enclosure. I took the opportunity to upgrade some of them.
But I had a problem. How could I get the cables from the outside of the printer enclosure to the printer inside?
Luckily as a sex toy reviewer, I had the answer available to hand. I sacrificed an old Fleshlight cutting it down and turning it into both a talking point for visitors and a handy cable gland.
I couldn't stop giggling as I fitted it and fed the cables through and it is doing a great job.
I am quite proud of myself for that solution and no doubt it will become a great talking point for guests to my office.


I bet the creator of this Fleshlight never imagined it would be used for this LOL
Check out Joanne's update about her 3D printer enclosure project that she is working on. @JoannesReviews
Click to Tweet