UPDATE 7/10/18: E-Stim Systems have just released their E-Stim Connect service a completely free system which makes it easy to connect the 2B to anyone in the world via the internet. So you can let someone remote stim you, safely and securely. Check out my review of the E-Stim Connect Service.
As this is such a lengthy review, I thought that I should make some quick links just in case anyone wants to jump to a particular section without having to read it in full. I do recommend that you read the whole review though so that you get a balanced view of the 2B control box and the Bonus Pack:
Delivery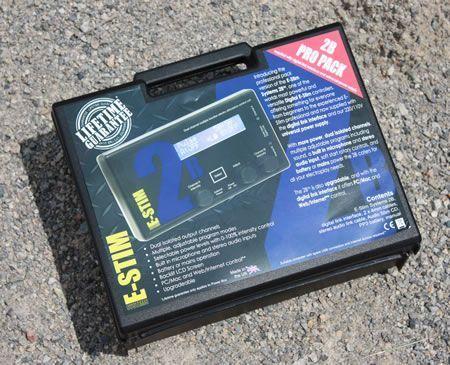 It might not be of much interest to some readers, but for others, it will be a huge concern which is why I am going to mention it here. When you buy anything from E-Stim Systems your purchase always arrives quickly and within the very discreet packaging. I have had numerous deliveries from them now, and they have never let me down. So if you are concerned about discretion with your delivery, then you needn't worry it will be fine.
As well as being discreet, the packaging also does an excellent job of protecting your purchase. I have never received anything that was damaged on route from E-Stim Systems. This is surprising as I sometimes think that my local post office has an internal rugby league thing going on judging by the condition of the packaging on some toys I have received to review.
I do like the storage box that the 2B control box comes in, all of the kit is stored inside, and the outer advertising can be removed to just leave the black box with E-Stim Sytems in yellow emblazoned on it. Mine is one of the old style boxes, the new ones are much more stylish, but they serve the same purpose.
Note: Since writing this review E-Stim Systems have changed the storage box to a much sleeker one that is shown further down this review in the "Package Contents" section.

Joanne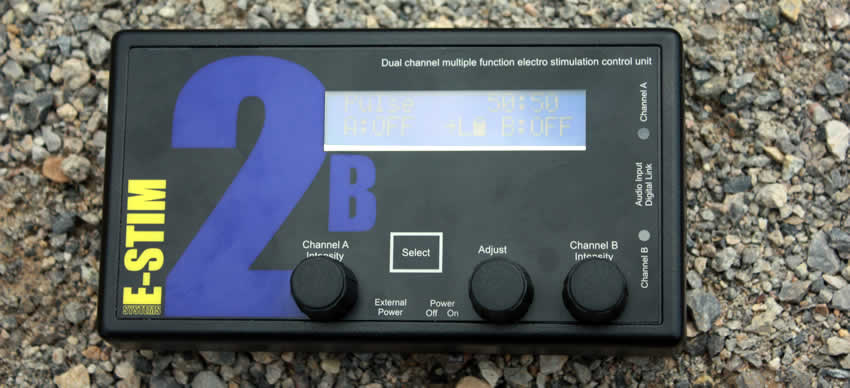 What Is The 2B?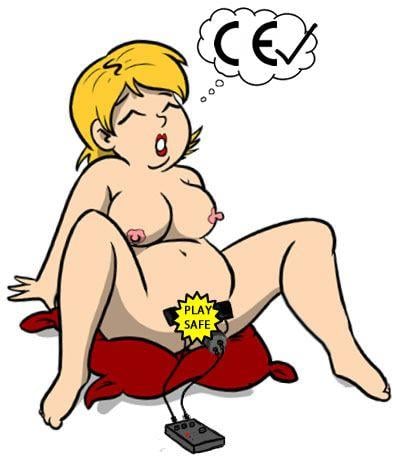 In a nutshell, the 2B is an e-stim control box, and the control box or unit is the core of any electrosex activity, it provides a safe current to the electrodes that you are using to allow you to experience pleasure or pain and everything between the two. If you are new to the world of E-Stim, then check out this article - Beginners Guide To E-Stim From a Female Prospective for a quick introduction to the activity. The 2B is CE approved and safe to use, E-stim Systems have put a lot of thought into the safety aspects of electro play.
E-Stim Systems also offer a lifetime guarantee on the 2B and even free shipping within the UK and Europe which is excellent news.
Package Contents
The 2B Power Box is available for purchase on its own as just a control unit for just £299 which is great if you already have a lot of e-stim equipment and you want to upgrade just your control box. I opted for the 2B Bonus Pack at £378 as this comes with extra leads for my existing electrodes and also the Digital Link System - more on that later in the review. I opted for this kit as I wanted to review all of the capabilities of the 2B.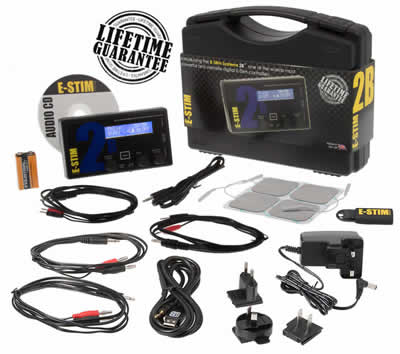 The 2B Bonus Pack comes with:
1 x 2B Control Box
4 x Self Adhesive Electrode Pads
2 x 3.5mm to 2mm output cables
2 x 3.5mm to 4mm output cables
1 x 3.5mm Stereo input cable
1 x USB Digital Link Interface
1 x 4GB USB Stick
1 x PP3 Battery
1 x Audio CD
1 x Carry Case
1 x Mains power supply
User guide
Performance & Use
Well to start with I will just state for the record that the 2B blew me away regarding both its functionality and its features. In use, though you get to appreciate the range of sensations that it can deliver from gentle tickling sensations to full-on cramps and pain. It is highly controllable, and the controls are straightforward to use and understand. You switch it on after either inserting a PP3 9V battery (included) or connecting it to the included mains adaptor. The blue display then lights up, and the unit goes through a short self-test phase where it tells you which firmware update it is running (mine was initially at version 2.104). If you do use the mains adaptor, you can expect an increase in the output power of about 30%, and obviously, you then won't have to worry about the battery running flat during an extended play session.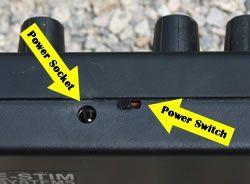 I like using a battery though as it means one less cable to get caught up in as let's face it, there are enough cables already when you are using both channels and maybe the audio input. The only gripe I have about the 2B is the rattly battery in its compartment. I know it's a small picky thing and I'm very tempted to cut up a small piece of foam and stick in my battery compartment to keep the blinking thing quiet. I guess it's one thing that you have to expect with a battery that you can change yourself instead of having an internal fixed rechargeable battery. I like having the ability to change batteries though instead of having to wait to recharge internal batteries, so it's something that while being just a small niggle for me I am more than happy to put up with.

It has two operating power levels which are great for both beginners and power queens. It's straightforward to switch from one to the other through the settings menu. During use, you will see a letter 'L' or 'H' in the centre of the display to let you know which operating power-band it is currently set to 'Low' or 'High'. This setting is remembered between uses even after removing the battery, so once you find which one works best for you, then you don't have to worry about continually having to set it up again each time you use the 2B. As an e-stim wuss, I found the lower power level perfectly fine for my tastes, but I have played with the high levels usually in a BDSM scene for some genuinely demonic sessions.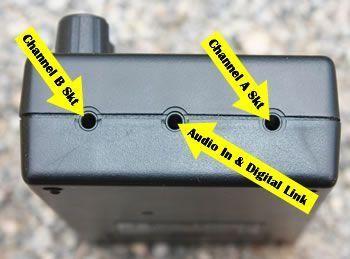 In use, you can quickly move from program to program efficiently through the intuitive menu, and you soon get the hang of using just the three knobs and the tactile button. Having two outputs gives excellent flexibility for using multiple electrodes, or you can even hook up two people at the same time if that's your thing. I enjoy using an insertable bipolar electrode either vaginally or anally together with adhesive pads on either side of my vulva about inline with my clitoris (I am sure you can form a picture in your head without me needing to show you a picture). This combination of internal and external stimulation feels incredible to me and being able to set different output settings for each channel is fantastic as I can fine tune each set of electrodes. I have lost count of the number of hours that have flown by while I have been masturbating, I mean doing my research for this review.
Now to give you an example of how easy the 2B is to operate, I had it hooked up, and I had been using it on and off for about two weeks experiencing some incredible orgasms before I even opened the instructions (yes I know - naughty Joanne, terrible reviewer Joanne). What I am trying to say is that it's so easy to use that it's only when you want to explore the real power and flexibility of the 2B and you want to experiment with the Digital Link System that you even need the instructions. Anyone can get it working straight out of the box and for something as technically advanced as the 2B that's testimony to how much effort has gone into the simple but incredibly effective user interface and menu. That said though when you do open the manual up and start reading it, you'll find it well written and easy to understand and it covers all areas of the 2B's operation and functionality.
The sensations generated by this control box can be much more intense than those generated by my ElectroPebble or ElextroHelix. The way that you can easily adjust the output and ramp it up by percentage of total output is great. It makes it very easy to find the exact setting that tips you over the edge into a true hand's-free orgasm.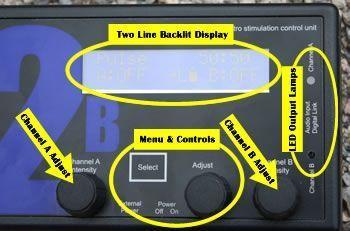 With seventeen set programmes to enjoy and use you will never get bored. My personal favourites are 'Waterfall' and 'Squeeze', these two for me at least are best served with a large bipolar electrode enjoyed vaginally, and it feels amazing. There is so much power in the 2B I can only use mine on the lower setting up to around 70% depending on the electrode that I'm using and its position. The high setting must be a real dream for all the electro-queens out there or for using on errant submissives. I can see the 2B taking pride of place in any Dominatrix's dungeon as a means of tormenting their subs before delivering hands-free orgasms to those that deserve that special treat. Add some restraints to your e-stim play, and you can spice things up a lot.
The 2B has an internal microphone and also the ability for you to attach it to any music player by a standard 3.5mm socket, and it will translate your music, songs or stereo estim files into the extremely enjoyable pulsed output, this is very effective indeed. The machine also comes with a CD full of specially designed audio tracks that maximise this function of the 2B, and this was a real eye-opener for me in that it outperformed my expectations so make sure that you give this feature a try. You can tweak the sensitivity and output through the settings menu to tailor the audio to your requirements, and it's a lot of fun. Having the internal microphone means that it can be used to punish a submissive for example if he or she merely makes a noise so it can be used with music or for some serious BDSM fun and games.
Top Tip: In audio mode, you can have a lot of fun with an insertable Bi-polar electrode and a crop or paddle with the 2B delivering pulses in time with the blows on your submissive's behind, even their squeals of delight or groans of despair will elicit a shock.

Joanne
I like the way that the housing for the 2B is an off the shelf box that has been expertly machined in-house to contain the 2B rather than a bespoke design, this keeps costs down for the customer and also means that E-Stim Systems have complete control over the manufacturing process at their manufacturing facility in Watford. While the 2B does have a hefty price tag when you mentally break it down regarding what it takes to hand make something like this you will see that it is very good value for money as it has exceptional features and continues to be developed.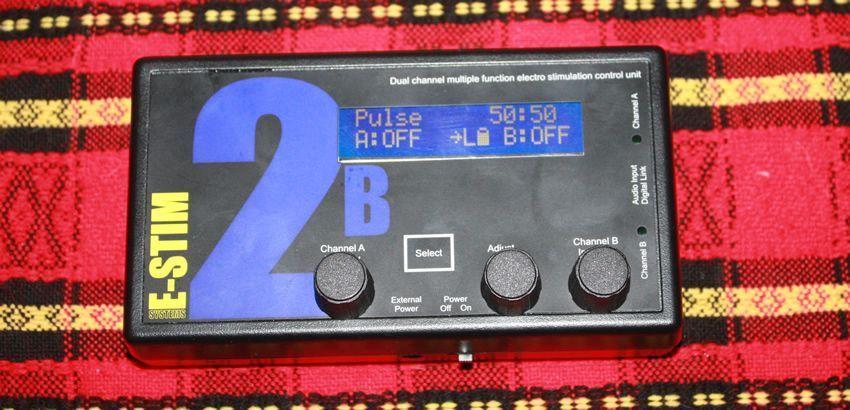 Digital Link Interface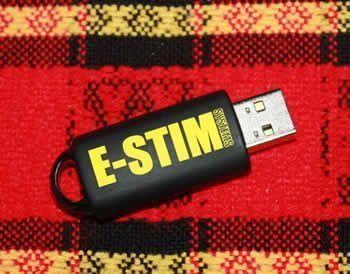 The Digital Link Interface is a USB driver that allows you to connect your 2B control box to your PC or Mac using a USB cable. While that might not sound all that exciting at first when you realise that it then allows you to do lots of clever things like installing the latest firmware yourself without having to return your 2B to E-Stim Systems it is. It also allows you to control of your 2B through your computer using the Commander software or even controlling it from afar over the internet.
The commander software and bootloader comes on a very smart little E-Stim Systems branded USB that I love. It contains all of the files and instructions for adding the commander software and drivers so that your set-up should be flawless. You can always fall back on the excellent customer support from E-Stim Systems (which is excellent) if you do have an issue getting it working at your end.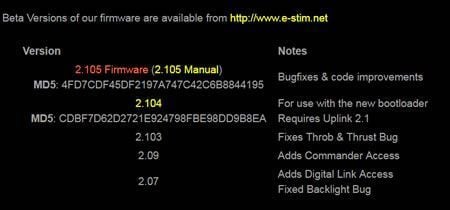 The instructions for installing the driver for the Digital Link Cable were easy to follow, and on my Windows PC, it was pretty much plug and play with Windows automatically installing the drivers that I needed.
Just the ability to update the firmware (or internal operating system) of the unit means that you can easily keep your machine in tune with new developments of its features and capabilities to address any problems or improvements that E-Stim Systems make to the 2B and I put that feature to the test as well.
As I stated at the start of this review my 2B was Version 2.104, and so I decided to download the latest firmware version from E-Stim Systems, and I tested just how easy it is to update your control box. Once I had downloaded the new Firmware I installed the Uplink 2.1 software which is included on the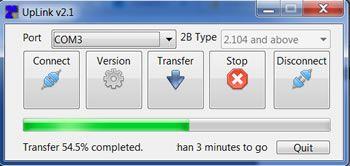 USB memory stick and it's also available on the manufacturers website. I followed the included instructions and connected my 2B before telling the Uplink to update my control box. Six minutes later I was given a success message, and my 2B Control Box is now running the latest firmware Version 2.105, it was simplicity itself, and this demonstrates a key feature of the 2B, its upgradeability.
Now just a final comment on the versatility of the 2B, the manufacturer's website has an excellent forum for exchanging ideas and advice on all things e-stim, and there are several software developers actively working on ways to increased the functionality of the 2B, and all of this is free to check out and enjoy. Visit the E-Stim Forum.
Commander Software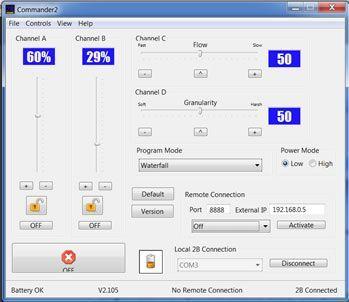 The Commander software is straightforward to install and use, it is also straightforward to understand, and it is this software that allows you to do some amazing things with your 2B. Apart from being able to control your 2B from the Commanders graphical user interface which is easier to use than the built-in menu system on the 2B you can use this software to either control another 2B remotely or you can allow someone to control your 2B remotely. This is a fascinating concept for let's say online Dominatrix's or anyone in a long distance relationship (LDR).
Once installed I just connect my 2B to the Digital Link Cable and then switch it on before opening up the Commander software to play. It connects straight away, and I like the way that all of the most frequently needed controls are all on the same page and it's effortless to switch programs and power levels. The Commander can be set as either a Master or Slave if you are doing a remote session and that is telling it which Commander program is the one connected to the 2B and which one acts as the controller.
It's the Commander software and its ability to allow remote control that adds a new dimension to the 2B. It means that if say, you were in a LDR or provide webcam services, for instance, you can use the 2B with it being controlled by someone from anywhere in the world as long as they've got an internet connection. As it is a peer to peer setup when using the 2B your data and usage is never seen by the manufacturers and this is worth noting in this era of data mining and data analysis. Your details are secure, and your data is never shared with a third party, this is a principle that some big manufacturers have paid lip-service to and the public and financial backlash has been massive for them. E-Stim Systems have been very ethical in their approach to this concern, and they are to be commended for that.
Third Party Apps and Files
There is a thriving community of developers for the 2B, and most developers post updates on the E-Stim Systems main forum so keep checking the forum if you own one. This is one of the best resources for files and builds projects, and it is well worth checking out. Check out Nigels E-Stim Page.
The 2B E-stim Control Box from @EstimSystems is the giver of joy and hands free orgasms. It is an incredible e-stim control box with so many features.
Click to Tweet
Key Features
Key features:
Dual channel outputs
Easy operation
17 built in routines
Audio input by cable or through the built in microphone
Connect to your PC or Mac and control it over the internet
Lifetime Guarantee
Mains or battery operated
Made in the UK
Recommendations
I would strongly recommend this control box to anyone who:
Is looking for a powerful e-stim control box.
Is looking for a dual channel control box with audio.
Likes the best things in life.
Wants a control box that can be upgraded at home.
I wouldn't recommend this control box to anyone who:
Cannot justify the price.
Final Thoughts
This review has been a real voyage of discovery for me, I have learnt that not all control boxes are created as equals. The 2B is the prestige control box that I imagined it would be, its extensive functions and features still blow me away and even after three months of using it I am still finding new ways to enjoy it.
The fact that you can upgrade the operating system at home with the digital link system means that it is a control box that will stay at the front of the pack for a long time to come as E-Stim Systems continue to improve it over time. It would make an ideal addition to any professional Dominatrix's dungeon equipment or anyone's bedside drawer for that matter, and it can be used as a tool to inflict pleasure or pain from afar as well as in person.
Being able to operate it from anywhere with an internet connection means that anyone in a LDR has a kinky way of playing with their partner and bringing some intimacy to their relationship even while apart and that's a great feature.
One thing is for sure; this is my go-to control box every time I fancy giving myself some hands-free orgasms, and it will take something seriously impressive to come along to knock it off that spot. If that were to happen though I wouldn't be surprised if it were the next creation of E-Stim Systems that does it.
If after reading this review you decide to buy one for yourself then I do hope that you enjoy it and I would love to hear your thoughts and comments about it in the comments area down below.
I bought my 2B direct from the manufacturer E-Stim Systems and whilst it is available elsewhere I prefer to cut out the middle man and deal with the makers of this extremely powerful e-stim control box.
Joanne's rating
Where Can I Get One From?
If you are looking to buy a 2B and you are within the UK/EU then check it out in their online shop 2B™ Power Box or grab the same setup that I have, the 2B™ Bonus Pack.
If you are in the USA/Canada then E-Stim Systems have got you covered and you will save 20% by not having to pay VAT. Buy the 2B™ Power Box or the 2B™ Bonus Pack
From their humble beginnings in a garage back in 2004 E-Stim Systems has grown and grown with an army of loyal customers. They manufacture their goods themselves in the UK, and that gives them total control of their range of equipment, they even offer a lifetime guarantee (how's that for confidence).
Check them out and don't forget to tell them that Joanne says "Hi".
Check out my Beginners Ultimate Guide To Getting The Most Out Of The E-Stim Systems 2B.
---
If you enjoyed reading this review then check out my other reviews of E-Stim Systems products:
CONTROL BOXES
PUSSY & ASS ELECTRODES
PENIS/BALL PLAY
OTHER
Website links:
---
Disclosure
This review contains affiliate links; these links allow me to get a small commission if anyone uses them and then goes on to buy one of these units at no added expense to the shopper. It is common practice to use affiliate links and the small fees I earn this way go towards the running costs of my site, anything left over goes towards buying in more toys to review.